The string of late March failures is humbling for those who have peered down from the top of the WCHA standings at the close of the 28-game schedule in recent years.
2003. Michigan 5, Colorado College 3.
2002. Michigan 5, Denver 3.
2000. Boston College 4, Wisconsin 1.
1999. Boston College 3, North Dakota 1.
1998. Michigan 4, North Dakota 3.
That's five of the past six league regular-season champions out of the NCAA tournament in the regionals. At some point, it's not a coincidence anymore.
At least Colorado College got an NCAA victory last season, thanks to the tournament expansion that gave the Tigers a first-round game instead of a bye. North Dakota bucked the trend in 2001, going all the way to the national title game in Albany, N.Y., before falling to BC in overtime. But Sioux fans will tell you that the losses in 1998 and 1999 were hard enough, given the quality team UND had through the regular season.
So, taking recent history into account, answer this: What team in its right mind and with eyes on the NCAA title would want to win the MacNaughton Cup?
"It's so grinding playing in the WCHA every year that to win that WCHA championship is pretty awesome. … It's almost tougher, people have said, to win that than the NCAA."
— UND coach Dean Blais
If, as Denver coach George Gwozdecky claimed so often in his team's run to the league title two seasons ago, the WCHA regular-season title is the hardest thing to win in college hockey, is the night-in, night-out struggle to get the silver cup taking too much out of its holder and giving those who have been excused from the chase early a better angle at the NCAA plaque?
And have we stumbled across the secret to success at Minnesota, where Don Lucia has gathered his team late in the season in the last two years, told them they weren't going to win the MacNaughton Cup and moved their thinking onto larger pursuits? Two national championship rings, with a legitimate claim to being the favorite to win it all again this season, are reasons enough to believe in the way the Gophers have been doing things.
"I've been on both sides of it," Lucia said, "and I've just seen the teams in our league, for whatever reason, the team that's won our regular-season title is kind of burned out by the end of the year.
"It's hard to win the league, but it really is a grind and it can take it out of you," Lucia added. "A lot of people, including me, felt CC was the best team in the country in early February [last season]. They weren't the same team a month later. Why, I don't know. As a coach, sometimes you can't put any one thing on it. Maybe the kids get tired or mentally tired — who knows what the reason being."
All teams are going to get tired by the end of the season, but it's possible that the effort needed to win the MacNaughton Cup takes just enough out of a team to make them a little easier to beat in the NCAAs.
"It's so grinding playing in the WCHA every year that to win that WCHA championship is pretty awesome," North Dakota coach Dean Blais said. "It's almost tougher, people have said, to win that than the NCAA. It's tough, tough competition."
On paper, if there's a team out there this season poised to become the first to win the WCHA-NCAA double since North Dakota in 1997, it's Minnesota. Even before the final horn sounded on the Gophers' 5-1 national championship victory on April 12, there were musings going around HSBC Arena, many of them ending with "three-peat."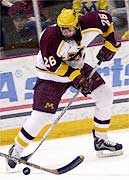 That was before the Gophers lost Paul Martin, who would have been their top defenseman, to the pros and starting goaltender Travis Weber to a departure from school. Still, of the 20 players that dressed for the final game last season, 17 are still around, including rising star Thomas Vanek.
The Gophers are the favorites to win the MacNaughton Cup, but it may be better for them if they don't.
The rest of the WCHA this season? It's a gray area. How gray? "Real gray," one league coach said.
North Dakota and Colorado College have to be considered legitimate contenders for the league title. The Sioux, with the dynamite forward pairing of Zach Parise and Brandon Bochenski, could challenge for both the WCHA and national titles, but only if there's someone minding the net capably this season.
CC lost a lot of its offensive production when Peter Sejna signed a pro contract, but first-team goaltender Curtis McElhinney is back to hold down a Tigers defense that also features first-round NHL draft pick Mark Stuart.
There are the teams that have a lot to live up to after their 2002-03 seasons. Minnesota State put forward quite a run last season, making its first trip to the Division I national tournament. They'll try to top that this season behind Shane Joseph, the nation's top returning scorer. Minnesota-Duluth held on to a top-half finish and got to the Final Five, with Isaac Reichmuth making a believer of everyone who saw him play.
There are teams that might not live down their 2002-03 seasons anytime soon. The one-victory record and 35-game winless streak by Alaska-Anchorage will go down as one of the ugliest sagas in recent memory. Mike Eaves' first season at Wisconsin will be remembered more for the off-ice dramas that led to one player leaving the team and another arrested, and that may be somewhat fortunate considering, on the ice, it was the worst showing for the Badgers ever in the WCHA.
Then there are the teams that defy classification. Will Denver bounce back to the top half of the WCHA with Connor James back for his senior season? Will St. Cloud State find any stability — something it had little of in a turbulent 2002-03 season that still ended in a spot in the NCAAs? And will new coach Jamie Russell be a breath of fresh air at Michigan Tech, or just another new face?
Here's a look at the 52nd edition of the WCHA, listed in order of predicted finish. Click on a team's name for its preview.
Coach: Don Lucia, 17th season overall, fifth at Minnesota
2002-03 overall record: 28-8-9
2002-03 WCHA record: 15-6-7, 37 points
2002-03 WCHA finish: Tied for second, won tiebreaker with Minnesota State
2003-04 predicted finish: First
The short story: Given the little importance the Gophers place on the regular-season championship, don't count on them to win it. But right now, it's tough to pick anyone else.
He said it: "We have question marks like everyone else," Lucia said. "If a goaltender can step forward, if we have some defensemen emerge and can make that next step, then we should have a pretty good team."

Coach: Dean Blais, 10th season overall and at North Dakota
2002-03 overall record: 26-12-5
2002-03 WCHA record: 14-9-5, 33 points
2002-03 WCHA finish: Fourth
2003-04 predicted finish: Second
The short story: Add some goaltending and defense to the Parise-Bochenski offensive duo, and the Sioux might have something going.
He said it: "I'm confident that our forwards can score goals and our goaltending's going to be good enough … that if they can be anywhere close to 90 [in save percentage] and give up two or three [goals per game], we'll be in good shape," Blais said.
Coach: Scott Owens, fifth season overall and at Colorado College
2002-03 overall record: 30-7-5
2002-03 WCHA record: 19-4-5, 43 points
2002-03 WCHA finish: First
2003-04 predicted finish: Third
The short story: All was not lost when Sejna signed, but it's going to be a struggle to match last season's output.
He said it: "We've got quite a few questions, really," Owens said. "We're just replacing so many go-to guys and so much scoring. We've got to figure out how we're going to be able to pick up that slack a little bit. Granted, they won't all be playing, but we have 17 freshmen and sophomores on our roster, and [we're] trying to get those guys experienced as quickly as possible."
Coach: Scott Sandelin, fourth season overall and at Minnesota-Duluth
2002-03 overall record: 22-15-5
2002-03 WCHA record: 14-10-4, 32 points
2002-03 WCHA finish: Fifth
2003-04 predicted finish: Fourth
The short story: Much of last year's team returns, but Sandelin is guarding against his team thinking another top-five spot will be easy to come by.
He said it: "If you think you're this type of team and you play that way, we're going to be in eighth or ninth place," Sandelin said. "That's my job to not let them think that and remedy it quickly. That's why I'm really excited about playing a North Dakota and a Boston College early. That type of thing can be a real positive both ways."
Coach: Troy Jutting, fourth season overall and at Minnesota State
2002-03 overall record: 20-11-10
2002-03 WCHA record: 15-6-7, 37 points
2002-03 WCHA finish: Tied for second, lost tiebreaker with Minnesota
2003-04 predicted finish: Fifth
The short story: They won't be taking anyone by surprise this season, but the Mavericks still could have a good season without Grant Stevenson.
He said it: "You can start to sense that hockey's just around the corner here in town, and I think people are excited to see where we go from here," said Jutting, who noted a jump in season ticket sales this season. "That's our goal as a program, to keep taking steps forward so that we're a competitive team within this league year in and year out."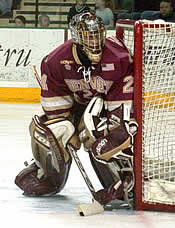 Coach: George Gwozdecky, 18th season overall, 10th at Denver
2002-03 overall record: 21-14-6
2002-03 WCHA record: 11-11-6, 28 points
2002-03 WCHA finish: Seventh
2003-04 predicted finish: Sixth
The short story: The pain of the inevitable graduation of star goaltender Wade Dubielewicz is softened by having Adam Berkhoel around, but the Pioneers could struggle offensively.
He said it: "I don't know if it's ideal, but it's a very comforting thought for the head coach to be able to sit back and not be as concerned about, 'OK, who's going to stop the pucks for us tonight?" Gwozdecky said about his goaltending situation.
Coach: Mike Eaves, second season overall and at Wisconsin
2002-03 overall record: 13-23-4
2002-03 WCHA record: 7-17-4, 18 points
2002-03 WCHA finish: Eighth
2003-04 predicted finish: Seventh
The short story: Can a freshman class have a big impact? Probably not right away. The Badgers might be a year or two away from getting back to the top.
He said it: "They talk about that success doesn't come at bargain prices," Eaves said. "A price has to be paid. … From the time we started in the spring, we had some guys that were here close to 16 weeks training. So we come back looking to control the things we can control and our strength factor and conditioning factor."
Coach: Craig Dahl, 23rd season overall, 17th at St. Cloud State
2002-03 overall record: 17-16-5
2002-03 WCHA record: 12-11-5, 29 points
2002-03 WCHA finish: Sixth
2003-04 predicted finish: Eighth
The short story: Players formerly known as third-liners now will have to be the go-to players, and that could spell trouble for a team that just got by last season.
He said it: "We lost big to graduation and whatnot," Dahl said. "We're going to be certainly very, very young and in a bit of a rebuilding phase, I think."
Coach: Jamie Russell, first season overall and at Michigan Tech
2002-03 overall record: 10-24-4
2002-03 WCHA record: 7-18-3, 17 points
2002-03 WCHA finish: Ninth
2003-04 predicted finish: Ninth
The short story: It's coaching regime No. 3 for this year's Huskies seniors. Russell will try to get this program closer to success, but it's a tough road.
He said it: "You've got to start with commitment, sacrifice, work ethic, character," Russell said. "Those are the building blocks to your program."
Coach: John Hill, third season overall and at Alaska-Anchorage
2002-03 overall record: 1-28-7
2002-03 WCHA record: 0-22-6, six points
2002-03 WCHA finish: 10th
2003-04 predicted finish: 10th
The short story: The good news: It almost literally can't get worse. The bad news: It likely won't get much better for another year.
He said it: "I think we're going to be significantly better, but it's going to be important to score some goals and win early, because those are the things we did not do last year," Hill said. "We're confident in our goaltending. I believe we'll do a good job on special teams. Can we score some goals?"