The structure of the ECAC is balanced. Six Ivy League programs. Six non-Ivies. Yet, last season, Cornell, Harvard, Dartmouth, Yale and Brown finished one through five. The best non-Ivy team was Union, and the Dutchmen were no better than .500 in the league. In fact, the aforementioned quintet were the only ECAC clubs to finish with winning overall records.
A fluke, you say?
Don't count on it.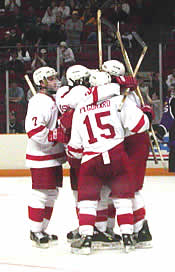 The ECAC's Preseason Media Poll predicts all five clubs will finish in the top five again. The Big Red and Crimson are early favorites to wage another season-long battle for first, but Brown could easily ride preseason All-Conference selection Yann Danis' goaltending to a surprise conference title.
Both the media poll and the ECAC Coaches' Poll place Harvard atop the league, with an additional strong national poll presence for the Crimson. Could this be the year they finally put it all together — regular season and postseason? The "experts" seem to think so, but head coach Mark Mazzoleni isn't overly excited.
"Preseason rankings are for you guys," said Mazzoleni in reference to the media. "That's for you guys to use to generate excitement. Other teams use the rankings to rally around when playing top teams. Our goal is always the same: to win the Beanpot, the regular season and postseason championships and to make it to the NCAA tournament and advance."
Thus far, Harvard's only been able to capture the ECAC tournament title — two years ago in an upset over Cornell — so there is much to strive for this season. Even with such lofty goals, Mazzoleni will continue to remind his players of the little points that have a big impact.
"There's a small margin of error between winning and coming up on the short end," he preaches. "We don't want to look past anyone."
And as the ECAC proves each year, there are plenty of teams that will be ready to steal a victory or two from the Crimson.
Hey, Who's Running This Place, Anyway?
Clarkson, Colgate, Union and Vermont all have new head coaches, but in typical ECAC fashion, there isn't a stranger among them.

The Golden Knights turned to a former assistant, George Roll, to help wash away the memory of a disastrous 2002-03 season. Clarkson dismissed longtime bench boss Mark Morris after an on-ice incident with Zach Schwan and the season fell apart under interim coach Fred Parker. In fairness to Parker, however, he was elevated from his assistant's role with no prior college head coaching experience.
Enter Roll, an assistant under Morris during Clarkson's impressive run in the early- to mid-1990s.
"I think the biggest thing is just to move forward," explained Roll. "It's a fresh start for everybody involved, the players and myself included. I don't have any preconceptions of any of the individuals on the team and just look forward to moving forward and letting them know what my philosophy is as a coach, and where I expect the program to go.
"I am thrilled to be back at Clarkson," said Roll. "I had a great eight years as an assistant here and certainly would like to bring the program back to the level we were at during that time."
The most recent coaching change took place in Hamilton, N.Y., where Don Vaughan recently became interim Athletic Director after 11 seasons guiding the Raiders. Assistant (sensing a theme?) Stan Moore was named interim head coach.
Clarkson, Colgate, Union and Vermont all have new head coaches, but in typical ECAC fashion, there isn't a stranger among them.
Moore is no stranger to calling the shots, however. An assistant under Vaughan for nine years, Moore spent the 1996-98 campaigns as head coach of Union. He led the Dutchmen to a combined 24-35-7 record, including an 18-13-3 mark in 1996-97 for which he was named ECAC Coach of the Year.
Speaking of Union, another first-time ECAC head coach was welcomed into the fold this summer when former Harvard assistant, and a key member of the staff that rejuvenated the Crimson program, Nate Leaman took over in Schenectady, N.Y.
The Dutchmen are coming off three consecutive seasons with double-digit wins, a first for the program's Division I existence. The newcomer will have his work cut out for him, but Leaman brings a track record of thriving within strong programs (Harvard and Maine) and under skilled coaches (Mark Mazzoleni and the late Shawn Walsh). The rookie also has a strong recruiting background — an especially desirable trait at Union — having been the main recruiter with the Crimson in 2002-03 and assisting in the recruitment of 12 NHL draft picks.
The man Leaman replaces, Kevin Sneddon, a Harvard grad (again, are you picking up on these trends?), moves up New England to take over for Mike Gilligan at Vermont.
Sneddon is only the third head coach in the last 39 years for the Catamounts and brings a strong resume from consistently improving teams at Union. He compiled a 50-99-18 record with the Dutchmen, but his teams increased their win totals in each of his five seasons behind the bench. Sneddon guided Union to its third .500 or better record in 12 Division I seasons.
With new leadership at the University and in the athletic department, Sneddon will have far more (massive understatement) support than was ever possible at Union. On the flip side, he's also been handed the keys to a program that reached the Frozen Four (1996), then had to forfeit half its season (2000) all within four years. Since 1997, the Catamounts have had three seasons of 20 or more losses and two more of 18. In its previous 23 years at the Division I level, Vermont had lost 18 or more only six times.
It will be a tough task, but, as Sneddon points out, he'll have some help.
"I am very confident that we have developed one of college hockey's best assistant coaching trios," he explained proudly. "I've been blessed with great assistants throughout my career, and once again, I find myself surrounded by great people."
We Pick 'Em, They Play 'Em
In this, my first column as ECAC Correspondent, I knew I'd get to this point eventually. This is the first in what will be a season of predictions — standings for now, games to come later. I've built a nice shelter in my office in which to hide once I start to be proven wrong on a week-to-week basis. But for now, I've shaken the magic 8-ball, visited a fortune teller and even read some tea leaves, so without further ado, here are our picks for how the league will shake out come March.
Click on any team's name for its individual season preview, and let the e-mails begin …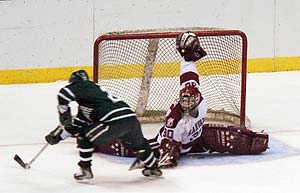 1. Harvard Crimson — If they can stay consistent, the true test will come in the postseason.
2. Cornell Big Red — Lost some key pieces, but still among the elite.
3. Dartmouth Big Green — Hugh Jessiman is poised to have a monster year. If the goaltending is consistent, the burly winger who can already taste the NHL will carry them far.
4. Clarkson Golden Knights — Impossible to predict which team will show up this season, but the coaching staff is the best in years and there is a lot more talent here than recent history suggests.
5. Brown Bears — We're talkin' no worse than fifth. Yann Danis could lift them into second or make a run at the top spot.
6. Union Dutchmen — Young coach, young players. Nate Leaman has a lot to prove, but having watched him at Harvard the last few years, it's obvious he's ready for the challenge.
7. Yale Bulldogs — The loss of Chris Higgins will really hurt, but in the crazy ECAC, they could be a tiebreaker away from home ice.
8. Colgate Raiders — Still very young and will struggle at times, but interim coach Stan Moore could do wonders.
9. Vermont Catamounts — It took coach Kevin Sneddon two years to establish a system and culture at Union. It'll take about as long in Burlington.
10. Rensselaer Engineers — Still solid in goal, but the lack of scoring will even things out.
11. St. Lawrence Saints — Sorry, Joe Marsh, we wish the crystal ball had a better prediction.
12. Princeton Tigers — There's much more work to be done here.
Bonus Predictions
There must be something in the water. Or maybe it's just the cosmic madness caused by the Red Sox and Cubs both being in the playoffs. Either way, we're throwing in bonus predictions on this week's Vermont/Boston College and St. Lawrence/Miami-Ohio matchups. Call us crazy, but we think the Catamounts will come out blazing for Sneddon in his Burlington debut. UVM 4, BC 3. Unfortunately, we don't see great things for the Saints. Miami 6, SLU 2.