There's a temptation to look at this loaded Boston College roster and start thinking ahead to the Frozen Four in Boston. Are all the pieces in place to make it two national championships in four years? Will the clanged crossbars and extra-skater goals go the Eagles' way this time? Will they even need those breaks with dominant players like Ben Eaves, his brother Patrick, Tony Voce and J.D. Forrest?
Perchance to dream for BC fans.
Coach Jerry York laughs, however, and says, "October looks hard enough for me right now."
He certainly has a point. Injuries, slumps, and goaltenders who suddenly can't stop a beach ball have felled favorites before. Besides, October's schedule is an eye-opener. Before hosting Notre Dame to close out the month, the Eagles go on the road for games at Vermont (sans an exhibition game tune-up), Minnesota-Duluth, two at North Dakota, and most likely Michigan State (in the Ice Breaker championship game).
If BC emerges from October undefeated, it'll be too late to hop on the bandwagon. All the seats will be taken.
The obvious strength begins up front where the theme is instant offense. Ben Eaves ranks as one of the top three or four players in the country, the proverbial Larry Bird – Wayne Gretzky type of offensive threat who makes everyone around him better. He can finish himself or creatively dish off to goalscorers like his brother Patrick (10 goals in 14 games) or Voce (23 goals). If that trio isn't clicking, then there are juniors Ryan Shannon (38 points) and Dave Spina (37) leading the rest of the pack. To put that in perspective, Spina would be the top returning scorer on all but two other Hockey East teams, but ranks as threat number four or five in the BC offensive arsenal.
"We certainly have some players that produce a lot of offense," York says. "We're creative, we're quick and we're strong on our skates. Those are great combinations to have.
"Ben and Tony [are back]. Patrick Eaves is going to have a sensational year; he's fully recovered [from his neck injury]. Shannon and Spina are going to be two key kids for us. We've got excellent depth in the forward lines."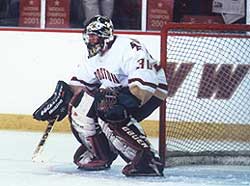 The blue line features a nice mix of skill and size with Forrest leading the skill department and 6-4, 215-pound Andrew Alberts leading the size.
"We're not quite as deep as I'd like defensively, not like with the forwards," York says. "We have our four key guys. John Adams and Andrew Alberts, our two juniors from Minnesota, [will be one pair]. Peter Harold has had some back spasms, but I thought he had a very good freshman year. He'll team with J.D. Forrest. We're really looking for Brett Peterson and Greg Lauze to step up and help us so we have some depth on the blue line."
Matti Kaltiainen returns as the top goaltender with freshman Joe Pearce taking over the backup role. Kaltiainen is rarely mentioned in discussions of the league's top goalies, but has progressed in his two years and did post the league's best goals against average, 2.20. Still, he'll need to step up his game to answer the postseason questions since BC will be facing netminders who are considered among the league and country's elite.
"Matti is primed and ready," York says. "He's got two years under his belt. The last part of last season he earned a lot of confidence from his teammates and feels better about his game. I think the NCAA experience helps goaltenders, too, so that's a real plus for him. Joe Pearce has the potential to help us down the road, but I think Matti will be our number one guy."
So will the Eagles live up to the lofty expectations set for them?
"I'd rather have high expectations than low expectations because that means you've got good players," York says with a smile. "We take great pride in the fact that three years ago, after we won the championship, we lost three-quarters of our club — a big, big senior class and undergraduates turning pro — but two years later we were in the final eight. We rebuilt really well and this year we have a good chance to reach a lot of goals that we've set for ourselves."