"BC is clearly the team to beat in our league."
— New Hampshire coach Dick Umile
"BC, on paper, is far and above everyone else in the league."
— Boston University coach Jack Parker
"BC is BC. They have everything coming back."
— Merrimack coach Chris Serino
"There's no question BC is the number one team. I think everyone sees that. On paper, they have the premier players in the league. Everyone is chasing them."
— Massachusetts coach Don "Toot" Cahoon
"Boston College is clearly the favorite."
— Providence coach Paul Pooley
"BC is returning 97.4 percent of its offense. I like them."
— UMass-Lowell coach Blaise MacDonald
"I'm excited about BC. I think they could win it all in Boston."
"
— Blaise MacDonald
"October looks hard enough for me right now."
— Boston College coach Jerry York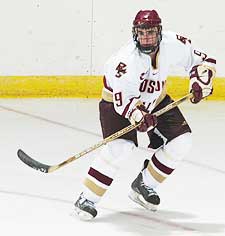 Let's just say that braggadocio is not one of Jerry York's strong suits. Because if he ever were inclined to do a little trash-talking, this would be the year he'd be virtually certain to back it up.
Most seasons it's a question of which of "the usual suspects" will be most likely to finish atop Hockey East with no clear-cut favorite. This year, as the quotes above attest, Boston College is the no-brainer, slam-dunk, empty-net, hands-down choice.
On paper, that is. There is, of course, that need to actually play the games since preseason predictions are barely worth the paper (or electrons) they appear on. That said, though, the Eagles bring back virtually the entire team that tied UNH for first place. Now, though, they're another year more mature with a few additions to boot. As a result, BC deserves almost prohibitive favorite status.
So if the Eagles are alone in tier one, who comes next?
Tier two features New Hampshire and Boston University. And perhaps Maine, too, but for discussion purposes the Black Bears are relegated to tier three.
Both UNH and BU suffered significant losses, but have such counterbalancing strengths that they appear to be solid home ice teams that will also earn high-seeded berths in the NCAA tournament.
Tier three includes Maine and Massachusetts. The Black Bears could join BU and UNH as the fourth home ice team as they have so routinely done in the past, but there were significant losses this past offseason and the historically strong recruiting classes at Maine will need to again make their immediate impact for that program to again be a force at the national level.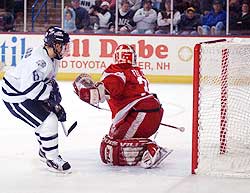 Massachusetts might have been a stronger candidate for home ice had Matt Anderson not been lost for the season. Even so, this is a team with major upside.
Tier four likely includes Northeastern and Providence. Both teams have major questions that should hold them back from serious challenges for home ice, but they still have the makings of strong goaltending, if nothing else.
Which is the problem for the tier five teams, UMass-Lowell and Merrimack. Both are young squads which lineups that share many characteristics with Northeastern's and Providence's. The difference is that both the River Hawks and the Warriors face major, major questions between the pipes.
Here, then, is a brief look at the nine schools, in order of predicted finish, with links provided for more detailed analysis of each team.
Offensive firepower galore makes the Eagles this year's juggernaut. A strong defense and good goaltending completes the picture. Weaknesses? The defensive depth could be better and in the postseason the goaltender battles are likely to favor BC's opponents.
The Wildcats have big holes to fill, but plenty of strengths remain. Exceptional goaltending, rock-solid defense and a strong scoring punch combine to make UNH a national contender once again.
Goaltending, strong defense and offense-by-committee will be the Terrier calling cards. The lack of a big-time scorer could again haunt them and much rests on the highly regarded defensive recruits, but BU still looks like a solid bet.

4. Maine
The Black Bears could fall out of the nation's top 10 if just a few things go wrong. Still, they boast what should be top-notch goaltending and if the freshmen perform like Maine freshmen of yore, count on home ice, another NCAA tournament berth and maybe more.
Does the progress continue? Can goaltender Gabe Winer make the next step forward? How badly does the loss of Matt Anderson affect the team's scoring depth? The Minutemen elicit one question after another. They remind you of a thriller that you can't guess the ending of no matter how hard you try.
6. Northeastern
If you subscribe to the theory that the junior year is when most players take their biggest step forward, then you understand why the Huskies could be the most improved team in the league. The pieces to a roughly .500 season would appear to be in place.
7. Providence
The conventional wisdom picks the Friars one position higher, but this writer is more bullish on Northeastern than others. That said, if the Friar offense comes together it wouldn't be a shock to see them seriously challenge for home ice. If it doesn't, though…
8. UMass-Lowell
Goaltending, goaltending, goaltending. Combine that major concern with a team consisting almost entirely of freshmen and sophomores and you get a rebuilding year.
9. Merrimack
Once again: goaltending, goaltending, goaltending. With more experience than Lowell, the Warriors could certainly flip-flop with the River Hawks.