St. Norbert ended a streak of preliminary round losses in the NCAAs to advance to its first championship game. But other streaks were both extended and snapped in the Green Knights' 4-1 win over Plattsburgh on Friday.
What a Streak!
With today's win, St. Norbert is 185-0-4 in its last 189 games when leading after two periods. Did knowing that they have that kind of success heading into the third period up 2-1 give the Green Knights an extra boost of confidence?
"It's a string I'm sure these guys have read about," said St. Norbert coach Tim Coghlin, "but we have never talked about it. Ever. I'm not big on streaks and strings. I'm big on 'let's go play the way we have to play.'"
While even Coghlin isn't sure how far back the string goes, and while the style of play his teams have had may evolved over the years, he said that there is one constant: "I think there's a lot of attitude involved in that and there's a lot of mental prepartion that goes into being strong at the right time of the game."
Streaks Extended and Ended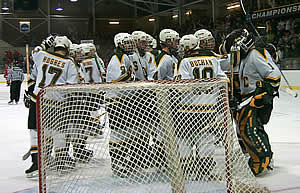 St. Norbert enters the championship Saturday with an eight-game winning streak, including two regular season wins, four league playoff games — among them a 2-0 win over Wisconsin-River Falls for the Peters cup — and a 3-0 shutout of those same Falcons in the NCAA quarterfinal.
Plattsburgh entered the weekend on a seven-game winning streak and 11 straight games unbeaten. The last three wins for the Cardinals had come in overtime.
St. Norbert has spent 54 consecutive weeks in the USCHO.com poll, and has never been lower than No. 3.
Plattsburgh has won 20 games or more in ten straight seasons.
On The Road Again
St. Norbert has been the highest seed two years in a row, and both times has had to travel to Norwich for the championship. Last year, the Green Knights lost to the host and eventual champion Cadets in the semifinal round, 6-3.
The last time the NCAA playoffs were held in the west region was in 2000, when Norwich won its first championship at Wis.-Superior's Wessman Arena.
Perennial Playoff Participants
This is St. Norbert's sixth trip to the Division III championship in eight seasons and its second straight final four appearance; Plattsburgh has been to the NCAA's seven of those years, with five final fours and a national championship in 2001. The Cardinals have made 15 trips to the NCAA's overall, and 10 frozen four appearances, with two national titles.
Rookies Step Up
St. Norbert lost five senior defensemen to graduation last year, making the semifinal loss that season especially tough. But Coghlin was able to replenish a squad with five freshmen who stepped up from the start.
"The five freshmen did tonight what they've done all season," said junior All-American defenseman Ryan Tew. "They got the job done. They're playing like seniors."
Record Setters
Chancy Colquhoun set a school record at St. Norbert with seven shutouts this season, and tied the Green Knights' career record with eight.
Jason Deitsch added a goal and an assist to increase his season total to 53 points. His 34 assists through today's game increased his St. Norbert all-time season assist record. Deitsch is only the second Green Knight to top the 50-point mark for a campaign; Rob Smillie did it in 1997-98 and again the following year.
Send Him a Card
Coghlin, a two-time All-American selection as a defenseman, was a player on the national champion team at Wis.-Stevens Point in 1989. He'll celebrate his 40th birthday next Wednesday.
Outgunned
Plattsburgh's leading scorer, sophomore David Friel, had 24 goals and 12 assists in 30 games coming into the weekend, but was held scoreless against St. Norbert.
Today was just the tenth time in 31 games that Plattsburgh had been outshot. In the Cardinals' 2001 championship run, they were outshot in all four NCAA playoff games.