Going into the third period of this Frozen Four semifinal, Minnesota-Duluth had every reason to believe that it was destined to have its shot at the National Championship on Saturday.
The Bulldogs had dominated Denver in the first period and enjoyed a 3-1 lead with 20 minutes to go. They had beaten Denver twice in their own building earlier this season. They already had two goals from the only Hober Baker finalist among the Frozen Four teams, and that player — Junior Lessard — narrowly missed wrapping up the game with a hat-trick goal with 40 seconds left in the second period.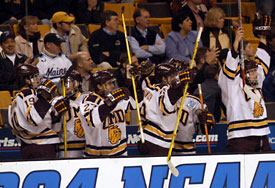 For that matter, the Bulldogs came into the third period with an astonishing and almost impeccable 25-0-1 record this season when leading games after 40 minutes of play. Yet three goals in a span of just five minutes, 55 seconds left UMD in a state of shock and derailed the grand dream.
What happened? Junior Lessard solved quite a few goalies this season, but he didn't have an easy answer for this heartbreaking loss.
"You've got to give [Denver] credit; they never quit," Lessard said. "Maybe we were starting to look too far ahead. I think we got away from what we had been doing all game, from what had made us successful. They got a couple of quick goals, and we were getting a little too quiet. They came out really strong in the third period, and that made a big difference. I don't know. It's hard to explain."
The question was also a head-scratcher for the nation's leading playmaker, centerman Evan Schwabe.
"They got one and got on a roll, and we couldn't seem to stop it," he said. "It's hard to explain; we just sat back a little too much and gave them some momentum."
Minnesota-Duluth Coach Scott Sandelin managed to be somewhat philosophical about the third-period collapse.
"It's a game of momentum — crazy bounces, different things happen, and you build off that," Sandelin said. "You've got some momentum, some defensive breakdowns — obviously we lost the faceoff on the second goal, kind of a shot from the point that I don't think Isaac ever saw those things happen. That's hockey.
"You've got to have a lot luck, and you've got to have a complete game. That little stretch there probably cost us the opportunity to win, but the amazing stat is that that was our first loss going into the third period with a lead. It's crazy how a stat like that pops into your head when you're standing there. Certainly it's a disappointment, but hopefully something we can learn from."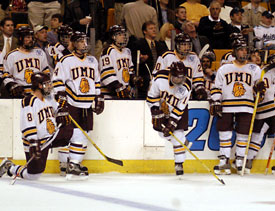 Standing outside the Bulldog locker room, which was filled with stunned UMD players staring blankly and reflecting on their disappointment, goalie Isaac Reichmuth spoke candidly but also tried to keep it all in perspective.
"It was a tough loss," Reichmuth said. "It was one of the biggest games any of us has played in, for this program especially. So not only to lose it but to lose it the way we did…"
Amidst the pain, was it possible to still think of this Frozen Four appearance as a building block for future success?
"Yeah, I mean it is," Reichmuth said, shrugging and admitting the point, albeit begrudgingly. "That's what you want to tell yourself, especially after you lose. But we've got a lot of young players still, and a lot of returning guys next year, and it's going to be a good experience for us for the future. It's definitely a building block, but it's a tough one to swallow."
All the same, this one has to be a viewed as a missed opportunity that will haunt these players for a good while
"Definitely," Reichmuth said. "We all know how tough it is to get here, and to have a 3-1 lead in the semi-final game going into the third period and to blow it, it's pretty painful."
Reichmuth went on to summarize the momentum swing in that fateful stretch of 5:55.
"They won a couple of battles, and they got a couple bounces it seemed to me," the sophomore goaltender said. "On the last one, it's kind of a dead play and all of a sudden the guy's walking to the net all alone. We made a couple of mistakes, and they capitalized on their chances. We didn't give them very many, but the ones that they got they definitely took advantage of."
At least Reichmuth gets a few more possible cracks at this tournament. Meanwhile, Lessard and Bulldog Captain Beau Geisler have now completed four-year careers that featured one of the most remarkable turnarounds of any current program in college hockey.
"It's rough, you know," Geisler said, as he quietly got dressed. "We came in here thinking that we'd win it all, and we came up short today. I wish the best of luck to Denver."
Amidst the disappointment, Geisler still leaves with a great feeling of achievement on behalf of the program.
"I'm proud of everything we've accomplished here as a team," Geisler said. "It's amazing to be here in Boston playing in the Frozen Four. That was one our goals this year — to win the Frozen Four. That's a pretty high goal, and the guys came close. We came together; we worked hard in the offseason. It's great for this team, and I'm proud of everyone here."
At least Lessard still has an excellent shot at a formidable consolation prize tomorrow afternoon.
"There's something to look forward to still, because I think the Hockey Baker is a team effort as well, not only one guy," Lessard said. "The season I had this year, everyone contributed. I think it would be nice still to get it just so I can share it with the other guys."
"We took another step," Sandelin said. "Obviously we didn't accomplish what we came here to accomplish, but what can I say? These guys have made a true commitment to this program, and they deserve to be here. I'm very proud of our players and our program, and hopefully this means a lot of good things in the future for UMD."
Don't be surprised if opportunity knocks again soon for Minnesota-Duluth.