And now the real fun begins …
With league play dominating the schedule moving forward into January and February, we are starting to see the interesting match-ups that will help determine the contenders and pretenders in each of the respective D-III conferences. Last week saw Babson win at Colby, Conn. College win at Williams and Amherst beat previously unbeaten Trinity on the road.
Coaches know there are no guaranteed wins and for the ECAC East and NESCAC teams, playing two games within a 24-hour span means teams need to be focused and ready to play.
As Colby head coach Jim Tortorella notes, "We can't worry about anyone else. We need to take care of our own business and focus on getting better each week. Sure we can check the internet and do some scoreboard watching but trying to play our best hockey moving into February will determine where we end up. Like the past few years, it will probably come down to the last week of the season in figuring out the playoff positions and home-ice seeds."
I am sure most coaches are striving for the same thing so this probably ensures some great games and surely some great performers with so much riding on games each week.
Amherst Coming of Age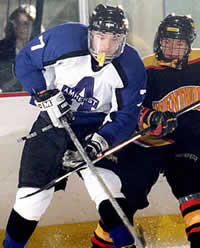 Prior to Tuesday night's 7-5 loss against Hamilton, the Amherst Lord Jeffs were one of the two unbeaten teams in NESCAC conference play. Currently tied with Colby and Trinity for third in the league standings with ten points, coach Jack Arena's team is growing up and getting solid play from a number of different sources leading to consistent play and wins. As expected, Amherst has been led by its senior captain Beau Kretzman. Kretzman is averaging two points per game with 7 goals and 15 assists for 22 points in just eleven games.
While scoring has been expected from Kretzman, freshman Kyle Schoppel has been a beneficiary of playing on the same line with him. "We moved Kyle up to play on Beau's line and he is leading the team in goals," stated Arena. "That gave us the opportunity to move AJ Greco to our second line and give us some more balance on our lines. There isn't much difference in our second to fourth lines — they have all been productive and have scored some big goals."
Another significant change for Amherst has been the emergence of senior Jonathan Hill as a defenseman. After three seasons as a forward, Hill gladly moved back to the blueline to help out his team and currently is tied for the team lead with Kretzman having posted 15 assists in his first eleven games. "It's kind of funny that in moving Jonathan back he has already exceeded his total points for any of his seasons as a forward," noted Arena. "He has played real well for us with what is still a young group and obviously has contributed a lot offensively."
The final piece of the puzzle for Amherst's emergence has been the solid play of their two goaltenders. Sophomore Josh Fillman and junior Sean Lynch have been steady behind the maturing group of defensemen that includes two sophomores and a freshman. "Our group has definitely improved over last year," stated Arena. "We have been less conscious of changing our style to protect our younger players and they are responding with consistent efforts every game."
After beating Trinity last Friday, Amherst followed up with another win at Wesleyan on Saturday afternoon. Arena was pleased with the performance in both games and thinks it bodes well for the remainder of the season. "If anyone saw the first two periods against Trinity and then watched the third period they wouldn't have recognized the team on the ice. We got down 2-0 early and fought back. That was a big win for us and one we can build on," commented Arena. The building process continues on the road this weekend at Southern Maine and Salem State.
Senior Hawks Lead the Way
For the unbeaten St. Anselm Hawks, the upcoming schedule will define where the D-II program sits among its D-III brethren. At 10-0-1, the Hawks are currently tied with perennial league leader Norwich for top spot in the conference and coach Ed Seney knows his team will be tested by its most difficult competition over the next month. "Last year we went 7-3 against the NESCACs, and we are off to a good start at 3-0-1 this year," stated Seney. "We had a good win against Colby and tied Bowdoin and have really won the games we were supposed to win. Starting this weekend we will be really tested with Trinity and a Wesleyan team we haven't beaten in three years. It doesn't get any easier the following week with Middlebury, a team we have never beaten and Williams on the road — we are really going to find out what this team is capable of."
Leading the way for the Hawks this year are three senior forwards. Bostjan Kolaric, John Cronin and Brian Keeley are all among the team leaders in point production and have provided critical leadership for a young group of forwards. Leading scorer Kolaric has nineteen points in eleven games and currently has points in fourteen straight contests dating back to last season. "Bos is really representative of this team," notes Seney. "He has worked really hard and it is great to see these guys have some success. It's a great bunch of kids who are having a lot of fun this season."
Kolaric, a native of Slovenia, has been attending school in the US since high school. Having prepped at Berkshire, Kolaric has virtually become an American with his extended time here. "It's interesting that I don't think Bos's parents have ever seen him play over here," commented Seney. "For most kids who have their parents at any number of games, you would think it might bother him, but it doesn't. He just shows up at the rink for practice or games excited to be there and play. He's really been a great kid and captain."
Forward isn't the only place that St. Anselm has been rock solid. Sophomore sensations Brian Dobler and Brett Smith are paired up on defense and both are in the top five in team scoring while combining for six power play goals. The duo really plays well together and they have pushed each other to play better according to Seney. Anchoring the defense in front of senior goalie Jim Merola, Seney has confidence in his team's ability to be competitive against anyone and is looking forward to the challenges ahead. "This is why we play the games. Although we are a D-II school, we want to show that we can compete at the highest level against the competition, D-II or D-III. We'll let the administrators figure out where we belong in the long run but for now we just want to prove we can win against the best our schedule offers."
Penmen Senior Showing Newcomers the Ropes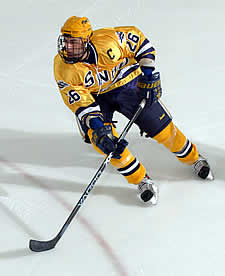 For SNHU senior Pat Doherty, a stint in a summer hockey league was very influential in his motivation for having a great season in his last year at the collegiate level. "Pat played in a summer league that had a good number of D-I kids playing this past summer," stated head coach Rene LeClerc. "He really built his confidence against some stiff competition and came into the season really doing a lot of the little things that we always felt he could do on a consistent basis. He has been terrific off the ice and on the ice and has helped immensely in getting our freshmen forwards ready to play every night."
Doherty leads the Penmen with 17 goals in just fourteen games including one game-winning goal to go with six power play goals and one shorthanded goal. He also has just four minutes in penalties while logging significant ice time in all situations. "Pat has been terrific this season along with seniors Chris Russo and Jason Olitch," notes LeClerc. The other two forwards round out the top three scorers for SNHU.
Despite Tuesday night's loss to league leader Curry, SNHU is off to a 10-2-2 start and have shown their its strength during the third period. While scoring 78 goals in their first fourteen games, the Penmen have scored 33 of them in the third period — outscoring their opponents by an amazing 22 goals in the final period. The SNHU squad will need to continue their strong overall play and with challenging league opponents Fitchburg State, Plymouth State and UMass-Dartmouth all on deck in the next week followed by key D-II match-ups with St. Anselm and St. Michael's. With eight of the remaining games at home, the Penmen hope to challenge for a lead position both in the ECAC Northeast on paper and the Northeast-10 for the D-II tournament at the end of the regular season.
Leopards Change Spots
Wentworth entered the break with definite downward momentum following a 10-1 pasting at the hands of Elmira. Since coming back, the Leopards have reeled off three straight wins including solid road wins against non-conference foes Geneseo and Brockport and a convincing 7-2 victory on Wednesday against league foe Fitchburg State. Momentum has been a big change but a bigger change for Wentworth has been the personnel playing coming out of the break.
"We're down to 23 guys from 28," said head coach Jonathan Deptula. "With some injuries and departures, we have had to change some things around especially on the defensive end of the ice. We had only four healthy bodies on the blue line and have moved a couple of forwards back on defense." Freshman Aidan Penner and senior Ben Gorton both have moved back to give some needed depth to a strong core group anchored by Mike Prsa, Blayne Goodman and Tony Pacelli.
Another interesting adjustment on the defensive end is the emergence of senior Shawn Metheral as a defensive or checking center. "Shawn has done a lot during his career here at Wentworth especially on the offensive end of the ice, stated Deptula. He's realized that in his final semester, he wants to do whatever will help the team most in trying to win another league title. He has really pushed himself and displayed some great ability to be an effective defensive forward which was not an area he worked much on in past seasons." Having recovered from a shoulder injury, Metheral is an example of the "grit" Deptula feels his team will need down the stretch if they are to compete for the top spot in the ECAC Northeast. With a difficult match-up at revived Plattsburgh on Saturday and a showdown with league leader Curry a week away, Wentworth will need to continue their improved play if they want to maintain a shot at conference supremacy and an opportunity to play more hockey in March.
Showdowns in Maine
The best action of the weekend may be found on the campuses of Bowdoin and Colby where the nation's No. 1 team, Middlebury, will be looking to extend its current unbeaten streak. The three schools are all among the top three in the competitive NESCAC conference and have historically played some terrific games regardless of the venue.
For Middlebury, the trip "downeast" is the first action away from Kenyon Arena in over a month and opens a five-game in nine-day stretch that also includes travel partner Williams on Tuesday and ECAC East foes St. Anselm and New England College next weekend.
Friday's match-up between Middlebury and Bowdoin features the nation's top scoring offense against the top defensive team in the country. The Polar Bears have scored 61 goals in just 10 games while the stingy Middlebury defense has surrendered just 11 goals in 10 games. Based on past regular season games, expect this one to be tight. This match-up may just test the theory about what wins more games — offense or defense.