While the D-word (Dynasty) has been thrown around quite a lot here in New England based on recent New England Patriot results and three Super Bowl Championships in the past four years, you can find appropriate use for it in the D-III hockey world in these parts as well. After all, just take a look at recent conference champions, NCAA participants and most importantly, national championship teams in the past ten years and two names jump to the head-of-the-class: Middlebury and Norwich. Eight of the past ten national titles find residence in Vermont with the current national championship team in Middlebury. Both teams have established themselves as the pre-eminent teams at their level in New England and have created benchmarking opportunities for competitors around New England to step-up and be measured compared with the best.
This year Norwich, in somewhat of a rebuilding year, has found the chemistry in a young team maturing around some very talented upperclassmen including captain Kurtis McLean and rejuvenated Mario Chinelli, and is playing its best hockey at the right time of the year. Since back-to-back losses to open the New Year, Norwich has gone 9-0-1 in its last ten games, having handily defeated two quality teams in Colby and Bowdoin this past weekend. Almost in quiet fashion the Cadets have taken control of the ECAC East and sit in their familiar position atop the conference with just four games to go. The road for the NCAA auto-bid looks once again to be going through Northfield, Vermont. Not that there aren't teams that can make a run at upsetting the Cadets — there are! But it won't be easy on the road against a team that knows how to win big hockey games.
For Middlebury, also rebuilding after graduating some key pieces from last season's championship squad, the road to the NCAA's is much more difficult and convoluted. Since the start of the NESCAC tournament, the Panthers have been the number one seed every season and won the title every year but one — a 2003 loss to Trinity. They have been in the NCAA tournament every year since becoming eligible in 1995 and may have to pull a rabbit out of their hat to get back this year. Currently sitting in second place behind Trinity, tied with Bowdoin, Middlebury has already suffered four NESCAC conference losses this season with the most recent setback coming at Hamilton on Saturday. The Panthers can still make the top spot, but are going to need some help to get there. They will need to beat league leader Trinity on Friday night and win out against Wesleyan, St. Michael's and Norwich while hoping that someone upends the Bantams and Polar Bears. If the standings hold to form, the conference tournament will be someplace other than the confines of Kenyon Arena for the very first time and based on the league balance this season – anything could happen in the hunt for the NCAA auto-bid.
A tale of two champions so to speak — One playing their best hockey of the season at the right time and one looking to rekindle the magic that has seen them playing important games in March. It doesn't get much better than this!
Continental Soldier
For Hamilton head coach Phil Grady, this season has been a battle for healthy bodies and consistent play. The Continentals have recently got both going in their favor and have leveraged the play of their junior sniper Gus Katsuras into making a late run for a home-ice playoff berth.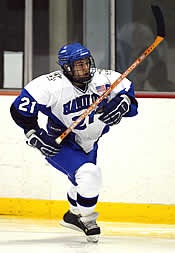 This past weekend Hamilton took care of business at home with a 3-1 win over Williams on Friday night followed by a 3-2 victory of Middlebury on Saturday afternoon. Six total goals of offense for Hamilton with Katsuras netting five of them. "Gus is a special player, no doubt about that," beamed Grady. "He's only a junior but reached the 100-point plateau for his career in the game against Middlebury on Saturday. There have only been 24 guys that have reached that mark here at Hamilton and Gus still has a 'year plus' to build on his accomplishments. He plays every shift like it is his only shift. He sees a lot of ice time whether its even strength, power play or shorthanded situations. He has a knack for finding the puck on his stick at the key times of the game and he definitely knows how to finish." For the season, Katsuras leads the Continentals with nineteen goals and fifteen assists for thirty-four points in twenty games.
Katsuras has had to help account for the fact that since opening night at Babson, Hamilton has not dressed its complete line-up in a game until playing Williams last Friday. "It's nice to get some bodies back and have the kids play well at this time of the year," said Grady. "We tell the kids not to wait to the playoffs to play playoff hockey. Everyone is bringing that level of intensity right now because so much is riding on each and every game."
Also stepping up for Hamilton has been sophomore defenseman John Gordon. Gordon has become the quarterback on the power-play unit and has collected five goals to go with nineteen assists for twenty-four points. Grady has been impressed with the play of his second year blueliner: "John has overcome two or three nagging injuries and has been a big stabilizing force in the back for us. John and another sophomore Chris Clarkson have really stepped up this year and are a big reason we are in the hunt right down to the last weekend."
With four games remaining, the Continentals face some challenges in reaching for a home-ice berth. Road games at Tufts and Conn College precede the season home finale weekend against Colby and Bowdoin. If last week's home performance is any indication of Hamilton's potential performance, don't count out the Continentals in the wide-open NESCAC race.
So Much for the Coin Toss!
While there are still important conference games to be played in determining playoff participants and seeds in the ECAC Northeast, the dreaded possibility of a coin toss between Wentworth and Curry to determine the number one seed based on equal tiebreaker qualifications was all but thrown out after Wentworth suffered a 5-3 home defeat against UMass-Dartmouth on Wednesday night. Having surrendered a 3-0 advantage in the final period and a half, the Leopards now face the possibility of being the three seed and face a potential semi-final rematch with UMD on its home ice. UMD has a game in hand on the Leopards and could leapfrog Wentworth by winning out during the final weeks of the regular season.
For league leader Curry, who remains focused on keeping the top spot and home ice throughout the playoffs, they look to continue a 38 game regular season unbeaten streak in the conference over the course of their final three league contests. Most important for Curry would be to get some injured players back in the line-up before the playoffs begin. "We are pretty banged up right now," commented head coach Rob Davies. "We've got a bunch of guys that are getting ready to come back and a couple of guys who are gone for the season. Right now, it's a good thing we have some depth and some extra guys on the roster who can fill in for us." Meanwhile, the Colonels have been relying on some veteran players who continue to add to their impressive offensive numbers. Seniors Brian Doherty, Michael O'Sullivan, Sean Pero and Chester Ferreira continue to provide continuity and strong efforts each night for Curry. Coming into the playoff hunt, look for their leadership and experience to pay dividends for the Colonels in their bid to return to the NCAA tournament, this time as conference champions.
Pilgrims Rallying at Right Time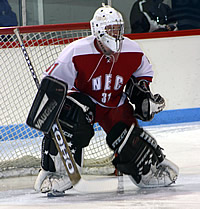 For New England College, much has been expected since its emergence as a consistent league power within ECAC East. This year started out incredibly slow for coach Tom Carroll's team, who only recently moved its way up into the top three teams in the league coming down the stretch for the playoffs. Still battling with Southern Maine, a team they defeated this past weekend 5-4, to stay in the three spot and avoid an early second round match-up with league-leader Norwich, the Pilgrims have four games to continue building momentum and earn some important points in the process.
The Pilgrims started the season at 5-8-0 through mid-January where they suffered a tough 5-3 loss to Trinity. Since then, the NEC squad has been on a roll, going 7-1-0 in its last eight games and moving form the bottom half of the standings to third, just three points behind second place Babson with four games to play in the schedule. In fact, with a little "puck luck" in Vermont this weekend against archrival Norwich, the season finale with Babson could have seeding and home ice implications for both teams.
Expectations early in the year rested on senior netminder Michael Shimek to carry the Pilgrims as he has during the past seasons. This year, Shimek just couldn't get into a good groove and the netminding duties have been taken over by sophomore Scott Gray.
Gray is 9-2 since taking over between the pipes and has an impressive 2.47 goals against average and .922 save percentage. "Scott's done a nice job with his opportunity to play this year. He's played steady for us and has benefited from our improved overall play especially on special teams," said Carroll. "He's earned the job and helped us get some nice wins." Team defense has also improved led by senior defenseman Nick Fouts. The team has allowed just 23 goals in the past eight games while scoring 35.
Offensively, the Pilgrims have been sparked by newcomer Mike Carmody, who has twelve goals and 15 assists for twenty-seven points — tied for the team lead this season. "Mike is a really skilled centerman who has adjusted well to the college game as a freshman," said Carroll. "He has battled through some nagging injuries and the flu bug to spark us a little bit when we have had some problems with other centers being down. He's really getting chances and creating chances for his linemates which has helped us in 5 on 5 and power play situations." During the last eight games in which NEC has gone on an impressive winning streak, Carmody has five goals and seven assists for twelve points or 1.5 points per game.
"We're just focused on St. Mike's right now and trying to continue to play better hockey," added Carroll. "We re getting healthy from some injuries and flu issues and have gotten some great leadership from our four captains." Playing solid in all three zones has the Pilgrims playing like most who follow the ECAC East expected at the start of the season. As most coaches like to throw the cliché around — you want to be playing your best hockey in February – the Pilgrims are taking it to heart and have reason to be a contender come playoff time.
Joe Concannon Award
For those who may not be aware of it, there is an award presented in the name of the dearly departed Boston Globe sportswriter, Joe Concannon, which recognizes excellence in New England college hockey at the D-II and D-III levels. Originated by the Gridiron Club of Greater Boston, the award mirrors its D-I predecessor, the Walter Brown Award, which recognizes great on-ice performance, leadership, sportsmanship and individual character as criteria among American-born players playing college hockey in New England. As the oldest award in college hockey, the Walter Brown Award has established itself as being representative of excellence in New England hockey. Although just five years old, the Concannon Award is following in the same foot steps and assuredly will consider many of the fine performances found this season in D-II and D-III.
The semi-finalists for the Concannon Award will be released on Monday, Feb. 14, with the winner being announced sometime in mid-March. With past winners that have included Norwich's Keith Aucoin, Bowdoin's Mike Carosi, Salem State's Nick Stauder and last year's co-winners, Mike O'Sullivan from Curry and Jim Pancyzkowski from Wesleyan, this year's potential winner will surely have earned the award both on and off the ice. Yet another reason to really enjoy the hockey coming down the stretch into March.