Notre Dame coach Dave Poulin is stepping down after 10 seasons to take a position in athletic administration at the University. Poulin will become a special assistant to the senior associate athletic director for athletic development.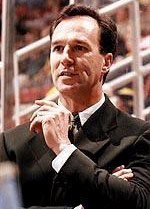 Poulin, who jumped straight from the NHL to college head coaching, informed his team this morning of the decision.
"I could not be more excited about his transition to a very significant development role — most immediately as it relates to our plans to renovate the north dome of the Joyce Center and all that that will mean for our hockey program," said Poulin.
The school said that Poulin will work in the area of athletic development, assisting senior associate athletics director Bill Scholl with a variety of projects. In particular, he will be involved as the University works to identify prospective donors with the goal of renovating Notre Dame's existing home hockey facility in the Joyce Center Fieldhouse.
In 10 seasons, the 1982 Notre Dame graduate was 139-197-50 (.425) record and a 99-145-41 (.419) mark in the CCHA. In his tenure, he managed to attract high-profile recruits, showing a knack for using his NHL connections to bring in high-profile national team members, and a number of sons of former NHL players. But few of those players developed into stars.
The program did enjoy its only NCAA tournament appearance to date in 2004, then slipped well back in the pack this season.
"I've had a wonderful 10 years coaching hockey at Notre Dame," said Poulin.
"Coaching hockey brought me to Notre Dame — and it has been tremendous both for me and my family. What stand out for me are the players I've coached and the relationships I've had.
"I'm very excited about the challenge ahead of me. I'm looking forward to being a big part of Notre Dame's future."
A three-time NHL all-star, Poulin returned to his alma mater in 1995 after 13 combined seasons with the Philadelphia Flyers, the Boston Bruins and the Washington Capitals. The winner of the 1987 Selke Trophy (as the league's top defensive forward) and the 1993 King Clancy Trophy (for leadership on and off the ice), Poulin played in 724 NHL games with 205 goals, 325 assists for 530 career points.
In his four seasons at Notre Dame (1978-82), Poulin scored 89 goals with 107 assists for 196 points in 135 games. He remains tied for first in game-winning goals (13) and hat tricks (eight) with the Irish. His 89 goals rank him fifth on the all-time list, his assists rank him seventh and he is sixth on the all-time points list.