The hockey resume of Jason Durbin would make most players green with envy.
The Trenton, Mich., native won a state championship at Trenton High School and was named "Mr. Hockey" as the best high school player in the state in 1996. He then went on to a three-year career in the North American Hockey League with the Compuware Ambassadors and Danville Wings before being the first-ever player signed by Wayne State when the Warriors started their Division I program in 1999. Durbin was WSU's captain all four seasons, with three of those culminating in College Hockey America playoff championships and a trip to the NCAA Tournament in 2003. He finished his career as WSU's leading scorer with 131 points in 136 games, but most importantly, Durbin graduated with a bachelor's degree in business logistics.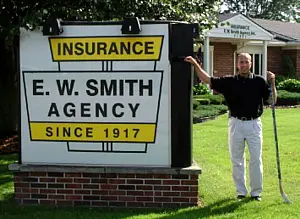 Nowadays, Durbin's skates are packed away and he's enjoying full-time employment as an insurance agent for E.W. Smith Insurance Agency in Flat Rock, Mich. While he admits that writing insurance policies was the furthest thing from his mind in college, it's a job he admits is secure, stable and one he wants to retire from in 30 years.
Matt Mackinder recently caught up with the 27-year-old Durbin and reminisced about Wayne State's early years, the insurance business and life in general for the bachelor with a new house in Newport, Mich.
MATT MACKINDER: How has life been treating you since you graduated in 2003?
JASON DURBIN: I'm in the real world with a real job. After I graduated, my neighbor mentioned that this agency had a job opening and if I'd be interested. Of course I was. There wasn't much going on as far as employment goes. And to be honest with you, I really enjoy my job and that's something not a whole lot of people can say. I guess you could say I'm a people person and I've met a lot of new people working here, but I'm definitely not a salesman. Then again, with insurance, we're selling people something that they need; you can't swindle anyone here.
MM: Do you still keep in touch with a lot of the guys you played with at Wayne State?
JD: Some of the guys are still around here even though they're not from here. But I stay in touch with Keith Stanich, Jon Brink, Steve Nichols and Nick Shrader. Max Starchenko just got married, so it was like a reunion to see all of the guys there and Derek MacKay is actually living at my house while he finishes school. I met a lot of good people through hockey at Wayne. (Goalie) Dave (Guerrera) is pretty much the only one still playing pro (in the Central Hockey League with the Laredo Bucks) and I hope he can find a way to make a living out of this sport. He was one of the best goalies I ever played with. Chris Morelli is also now in medical school in Pennsylvania, so we're all over, but for the most part we all stay in touch.
MM: What would you say was your best memory at Wayne? First game? Last game? The three championships?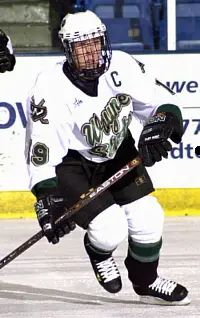 JD: Yeah, those three championships stand out the most. The first one (2001) we won in overtime against Niagara (on Durbin's goal) and then beat Alabama-Huntsville in the finals for our first win against them all season. Then in 2002, we beat Huntsville again in the finals on another overtime goal. It's funny, though. Dusty (Kingston) scored the goal, but I didn't celebrate because I was pushed into their goalie and I figured the goal would be waved off. But there was no whistle, nobody was waving, so we started celebrating. Top to bottom, that team was dominant and it showed as we won the regular-season title and the playoff championship. The last year, we had that amazing comeback against Niagara in the semifinals (down 3-1 after two periods, WSU rallied for a 6-4 win) and beat Bemidji State in the finals. If you would have asked me in the locker room of that Niagara game if we could come back and win, I'm not so sure I would have said yes.
MM: How big was the rivalry with Alabama-Huntsville?
JD: That rivalry was something else. We always seemed to play our best against those guys and they did the same against us. The games were always intense and we always seemed to play each other in the tournament. One of the biggest goals I ever scored was against Alabama during my senior year (Nov. 22, 2002) and I'll never forget it. Their defenseman, Tyler Butler, who was their best defenseman, coughed up the puck right to me and I went in on a breakaway and scored to win the game for us in overtime. I felt bad for the kid (Butler) because he was such a good player, but at the same time I was like, "Hey, thanks."
MM: After graduation, were there any pro offers on the table for you?
JD: I could have bounced around in the East Coast Hockey League or gone over to Germany. I didn't like the sound of either one. I wanted to get a job I could retire from and start making a real living. I even went to Coach (Bill Wilkinson) my senior year and said, "Is this it? Am I done?" He said that I could certainly play in the ECHL, but they like the veteran players, so if I didn't stand out right away, I'd just get traded. I really didn't like the sound of that. And then I could have played in Germany, but I have no idea what the rules are over there. Would they pay me? How's the driving? They had said I'd get $500 a week, they pay for my apartment and I get to drive a Mini Cooper. I don't know the driving rules, so I would have asked them to just put me in a place right next to the rink. I'm very happy where I am now. I mean, look at what happened with Dusty. He started out in the ECHL with Charlotte, then got traded to Toledo and then again to Cincinnati, all within like a month. He's done playing now as well. I wanted to be able to start a job where I could retire at a reasonable age instead of looking back and knowing I played around until I was 30 and then had to find a secure job.
MM: Was it difficult playing four years at Wayne State and never having a permanent arena on campus? You guys started at the Michigan State Fairgrounds Coliseum, then to Fraser (Great Lakes Sports City) and then to the Compuware Sports Arena with a couple games at the Taylor SportsPlex as well. Was there ever talk of putting a rink right on the WSU campus?
JD: Before I started my freshman year, my parents and I were on campus visiting and (then-WSU athletics director) Bob Brennan recognized me and came up and introduced himself. We all talked for a while about getting hockey at Wayne and getting a rink on campus. He brought the floor plans to my parents' house, even. But then Rob (Fournier, current AD) took over and we never heard much more about it. I don't think Rob is as approachable as Bob was. Playing at the Fairgrounds was a great place to play. But then things changed. Friday night bus rides to Fraser in rush hour were brutal, as were the rides out to Compuware. I just don't get what's taken so long to get it done. What's that old adage? If you build it, they will come? We don't need anything extravagant. Look at what Ferris State has — a nice rink and it's not that big either. I knew I wouldn't see a rink on campus during my time year and probably not anytime soon. As long as it happens, I'll be happy. But I just don't get what all the trouble is.
MM: Looking back at the past or even in the present, how has hockey helped you for life's challenges?
JD: I'll say this. Getting that scholarship to play at Wayne has helped out tremendously. You see kids all the time that graduate, but have years of loans to pay off. I have been able to purchase a home in Monroe County (last November) and my dad and I just went in on a new boat together. So I can say that I am especially grateful for having hockey as a way to get through school and come out ahead financially. Not many people can say they've had that advantage.
MM: Are you still involved in hockey at all?
JD: I play in what I guess you would call a senior league in Inkster that's basically former junior, college and high school guys anywhere from ages 25-38. You can just go down the line and see guys who played at Notre Dame or Northeastern or wherever. It's a good time. Growing up in Trenton, I always said when I was growing up that I'd love to coach the high school team there. It's the best atmosphere to learn the ropes and what to expect in junior hockey, which then prepares you for college. I always figured I'd end up living in Trenton as my family is there, but like I've said, I am very happy where I am right now and I hope the luck continues to go my way. But I will for sure be at the CHA Tournament at the Fairgrounds next March.