Barret Ehgoetz and Ryan Gale have moved on and left Niagara with gaping holes up front. But coach Dave Burkholder isn't one to panic, and in fact has high optimism as his Purple Eagles start their 10th season of college hockey.
Ehgoetz, NU's all-time leading scorer, was Mr. Everything for Niagara a year ago, including being team captain. Gale posted career numbers with 24 goals and earned himself an ECHL contract with the Toledo Storm. But up and down Niagara's roster, the defense looks solid and the forwards have the potential, by committee, to replace Ehgoetz and Gale's numbers.
"You can never replace what a guy like Barret Ehgoetz did for this program," said Burkholder, who enters his 10th year behind the bench at Niagara and fifth as head coach. "But I think this year with our overall depth, we'll be able to go out and make some things happen."
Along with Ehgoetz and Gale, defensemen Shayne Baylis and Ryan Carrigan and forward Kris Wiebe also graduated.
Back in net for his senior year will be Jeff Van Nynatten, who led NU to the CHA championship in 2004 before a hand injury last year shelved him for two months. Junior Allen Barton and sophomore Scott Mollison are also back to vie for playing time, but most signs point to freshman Juliano Pagliaro pushing Van Nynatten for time between the pipes.
"The times I've seen Pagliaro during practice, he's a very intense goaltender," NU senior captain Jason Williamson said. "He looks like he's ready to push 'Dutchy' [Van Nynatten]. In practice, he challenges the shooters and I really like what I see out of him."
Pagliaro was named the Saskatchewan Junior Hockey League's goalie of the year and the Estevan Bruins' MVP after going 37-15-5 with a Bruins-record 2.45 goals-against average, three shutouts and a save percentage of .917.
"Jeff knows this year he has a lot to play for," said Burkholder. "As a sophomore he took us to the tournament, but last year was pretty much a wash. He knows he's a senior and this is his last chance to get this team back to the [NCAA] tournament."
Defensively, the Purple Eagles return their nucleus that includes senior Andrew Lackner, junior Pat Oliveto and sophomores Trevor Mallon, Travis Anderson and Mike Novosad. Freshmen Armando Scarlato and Dan Sullivan should also contribute as first-year collegians along with sophomore Scott Langdon.
"We are very comfortable back there with our defensive corps," said Burkholder. "We're led by Andrew Lackner who has played in all situations since his freshman year. Oliveto has made the most of his past two years, but what I'm most excited about is seeing our sophomores. Last year, they gained valuable experience and I'm anxious to see what that translates into this year."
Lackner added that Sullivan, a true freshman, has raised eyebrows already.
"In practice, I've been paired up with Sullivan and I'm very impressed," Lackner said. "He's smart with the puck and very calm out there. He's got a great head on his shoulders and is definitely ready to step in."
Forward Randy Harris is also back for his final season after sitting out the past three years with medical issues stemming from respiratory problems. Harris was a freshman on Niagara's 2000 championship team that advanced to the second round of the NCAA tournament after a first-round upset of New Hampshire. Interestingly, Harris scored in that game to give Niagara an early 1-0 lead and the Purple Eagles went on to a 4-1 victory.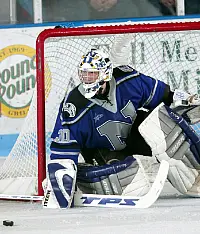 "Randy Harris petitioned the NCAA for medical hardship to get his one year of eligibility back," Burkholder explained. "He is returning to Niagara to go to grad school and get his year back. We are going to give him the opportunity to play, as, without question, he will be one of our most skilled guys. Where he fits in is kind of a question mark at this time, but he could be one of our top offensive producers."
Senior Justin Cross is another veteran forward NU is counting on to produce. Known throughout his career as a streaky player, Cross hopes to keep a consistent streak going this season and should be helped when surrounded by players like Williamson, junior Sean Bentivoglio, sophomore Matt Caruana and freshman Les Reaney, who led the British Columbia Hockey League in scoring last year with 38 goals and 100 points. Incoming forward Joe Coiro will redshirt while rehabbing a reconstructed shoulder.
"Cross has been in the shadows of some pretty good players the past couple years in Barret, Gale and even Joe Tallari," said Burkholder said. "This is his year to step it up and be one of our go-to guys.
"If Williamson can stay healthy, he's a very dynamic player for us. He was a unanimous choice for captain and always puts his best effort out there. Bentivoglio is also a player who has been progressing and I'm anxious to see what he can do this year. Basically, we'll have four complete lines every night."
Niagara's nonconference should prove its mettle outside of the CHA. The Purple Eagles host Vermont (Oct. 28-29), play a home-and-home with Cornell (Nov. 25-26) and also travel to New Hampshire (Dec. 30) and to Minnesota (Jan. 6-7). NU plays seven of its first eight games at Dwyer Arena, and Burkholder feels that favors his squad.
"This is definitely our most attractive home schedule," said Burkholder. "The reason being is that these are reciprocating games from a two-year contract with schools like Clarkson, Vermont and Western Michigan. When you add the Cornell home-and-home weekend, our home game being at Blue Cross Arena in Rochester, this is one of our most aggressive schedules that we have ever encountered.
"Last year we were on the road for eight straight games, which was very grueling. This year, we start with a very long home stand that I think is going to help since we are a very young team. So, the first month at home isn't a bad thing, that's for sure. What also stands out is how we are balanced to finish out the year, home and away. I think that should prepare us a lot, and we should have no excuses going into the CHA playoffs."
That will be in Detroit, where NU is hoping to replicate some of its postseason magic from 2004.