Last year could not have been any worse for the Merrimack program.
For starters, the Warriors fell to the depths of a 1-22-1 record within Hockey East. The team lost all 14 games after the first of the year.
The players then banded together and unanimously called for then head coach Chris Serino to resign. Several weeks later, Serino stepped down.
All of which would give pause to any coach considering the position. Were the inmates ruling the asylum? Could the same actions be taken against him when times got tough? On the other hand, were there justifications for the players' actions?
New coach Mark Dennehy sees positives where others might have concerns.
"Regardless of who the coach is, when a situation like that occurs things can go one of two ways," he says. "It can splinter the group or it can unify them. Even in the interview process, it was quite apparent to me that the one thing that whoever they hired as a coach was going to get was a unified group of guys. And that's definitely the case.
"I have a group of unified players that are willing to work and that are very excited about the new things we're going to try to put in. It's as hard-working a team right now as I've ever been around. The returning players believe that you did not see their best foot forward last year and our expectations of our program are a lot higher than the rest of the league's expectations of us.
"The players are looking forward to this season starting and really putting last year behind them. There are also a lot of players or a lot of people in this program that had nothing to do with last year.
"It's a new year. We have a new attitude. Merrimack's a wonderful place and we're looking forward to moving forward."
To be successful, the Warriors will need to improve in the defensive end. Their 4.06 goals against per game last year was the worst mark in Hockey East.
Jim Healey (3.73 GAA, .889 Sv%) and Frank McLaughlin (4.07, .883) return between the pipes and are joined by freshman Pat Watson. Healey's numbers fell off sharply last year from his freshman season in which he posted a 2.84 GAA and a .907 save percentage. McLaughlin hadn't made it off the bench in his first two years, but Serino tried to catch lightning in a bottle the way Boston University had with John Curry. McLaughlin responded reasonably well in five decisions, but he didn't see action after Feb. 11.
A return to form for Healey or an impressive debut by Watson will be exactly what the doctor ordered.
"It all remains to be seen," Dennehy says. "I think if you asked Jack Parker last year what he thought of his goaltending at the beginning of the season, [it would have been different than later] with John Curry coming out of nowhere. Things change during the season.
"We're hoping to get Jimmy back to where he was his freshman year, and maybe even better. I know he's worked pretty hard since I've come in to make sure he's in the best shape that he can be in. Frank did a good job of supporting in that role, and he'll continue to do so. Pat Watson is going to do a lot to help complement Jimmy.
"But hey, goals are never one person's fault. It's a team game. Martin Brodeur at times has been the best goaltender in the NHL, but a lot has to do with who's standing in front of him. So, this is a team and that's what we're going to promote and that's how we're going to look at every position."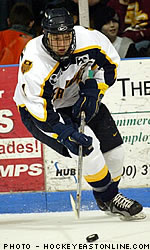 On the blue line, one figure towers above all others. Second-Team All-Hockey East selection Bryan Schmidt led the team in scoring with a 13-18–31 scoring line, in the defensive zone and on the power play with eight man-advantage goals. Although Jeff Caron and Peter Hams must be replaced, five others return: Rob LaLonde, Ryan Sullivan, Scott Drewicki, Jordan Hart and Brian Boulay. Joining them are freshmen Brock Wilson, who is considered a top recruit, and Eric Quinlan.
"I was obviously thrilled when Bryan chose to return," Dennehy says. "What he was able to do as a individual on a team that had such limited success says a lot about him as a person.
"We're going to need everybody. As excited as I am to have Bryan Schmidt and as big a cog as he's going to be in this, he's one person. We're going to ask him to do his job and he's got to trust that the guy next to him is going to be doing his as well."
With two of the three top scorers being defensemen last year, the forwards will be looking to provide more firepower this season. Brent Gough has been a near point-a-game producer in the past. His injuries last year were a significant blow. Matt Johnson (10-17–27) and Mike Alexiou (11-5–16) are the other top returning scorers.
"Getting Brent Gough back is obviously going to help," Dennehy says. "He's had a history of [production]. It will be interesting to see who else steps up. I'm reminded of my year at Fairfield when I sat a young man down and told him that he was going to get some penalty-killing time, trying to find him some more ice time. He said that he always had considered himself a goalscorer and he'd like to be on the power play. My answer to him was, 'Well, you score some goals and we'll both consider you a goalscorer.'
"I'm hoping that someone will emerge on that front."
Perhaps mindful of the challenges ahead, Dennehy quickly answers when asked where he thinks his team stands.
He smiles and says, "We're tied for first."