It's a whole new world for Vermont as it joins Hockey East as the league's 10th team. As players and fans will soon find out, the Catamounts have a loyal following and Gutterson Fieldhouse is a tough barn to play in.
"I describe [our reaction] as being excited and as a program that certainly is an understatement right now," UVM coach Kevin Sneddon says. "There's a lot of anticipation up here in the community and certainly within our program. We're just extremely honored to be joining such a prestigious league. The season can't start soon enough."
Vermont's biggest strengths lie in the defensive zone. That's hardly a surprise when a team allows only 2.18 goals against per game.
Catamount fans thought they had a pretty good goalie in Travis Russell, who played in 32 games two years ago, until Joe Fallon (1.96 GAA, .921 Sv%) came in as a freshman and took over as the number one. He capped the season with ECACHL Rookie of the Year honors.
"We're very pleased with the depth we have at that position," Sneddon says. "Joe Fallon obviously had just a tremendous year for us last year and was a big part of our success. Travis Russell, when called upon, was very good. His goals against average in league play — although he didn't play in a lot of league games — was 1.53. So we got very strong numbers from both young men last year.
"Joe certainly did emerge as our number one goaltender and Travis was the ultimate team player and realized that Joe was having a lot of success and still certainly cheered him on and enjoyed watching the team have success. I was proud of both young men for that.
"Going into this season, both have trained very hard. There are zero signs of complacency in Joe's attitude and approach to this season. I think he's hungry to improve upon last year's results. And Travis obviously doesn't want to just give him the job. He wants to compete for more playing time. So I think both of them are going to make each other better this year."
The defense is led by Jaime Sifers and Kenny Macaulay. Sifers won the ECAC's Defensive Defenseman Award last year and also earned Second-Team All-ECAC honors. Four of the other five blueliners return and are joined by two freshmen, Kyle Kuk and Tim Geverd. Kuk is a highly skilled, immediate-impact recruit.
All of which adds up to a stellar group.
"We've really upgraded our defensive core through recruiting and through coaching by our positional coach John Micheletto, who works with our defense," Sneddon says. "Jaime and Kenny did a great job of inspiring the rest of the defensive core to take a big step forward last season.
"We're thrilled to have [almost] everybody back. Our young guys are bigger and stronger and faster."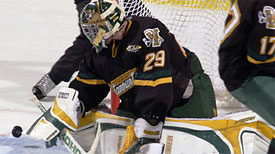 Up front, the Catamounts lose Scott Mifsud, the ECAC's top scorer last year, but get back Brady Leisenring. Leisenring, who recorded a 15-21–36 scoring line as a junior, had scored nine points in six games last year when his season was cut short by injury. Returning as a medical redshirt, he helps soften the blow of losing Mifsud.
The other top offensive threats are Jeff Corey (17-16–33), Torrey Mitchell (11-19–30) and Chris Myers (12-8–20). Mitchell was named to the ECAC All-Rookie team last year.
"It's great to have Brady back for another season," Sneddon says. "He'll be counted on to replace some of that offense [that Mifsud provided]. Torrey proved that he was one of the better freshman in the country last year and has really done a great job of putting on size and strength this year, so I think he can be pretty dangerous out there. Jeff Corey took a big step and had a breakout season last year. We need him to continue that this year."
In many ways, this team looks better than its sixth place projection. The Catamounts should make a run for playoff home ice. The biggest question will be exactly how well they manage the switch to playing Hockey East foes each weekend.
"We're not used to playing against these teams in regular season games," Sneddon says. "We certainly have played a lot of Hockey East teams in non-league competition, but this is different.
"We know that playing each of these teams three times is going to be a grind. But our guys are up for the challenge. We feel that we can compete with anybody in the country and know that we have to be at our best every night in this league.
"We have a lot of respect for all nine teams, not just the three or four that have emerged as the programs that have sustained excellence. Top to bottom."