There were two ECACHL playoff games in the Capital District on Saturday evening. Both of them started at 7:00 p.m. ET.
I got to see both of them end in person.
It's crazy, yes, I know, but I have to think that there aren't many people in this world who have watched the endings of two hockey games, both of which started at the same time. I know that many people have watched more than one game in one day, but has anyone ever watched the endings of two hockey games that started at the same time, in two different buildings, 15 miles apart?
7:00 p.m.
The first game of the evening was Game 2 of the Quinnipiac-Rensselaer ECACHL first-round series. The puck drops and we're under way.
7:02 p.m.
Rensselaer gets off to good start with a power-play goal. I begin to wonder if Rensselaer will win this game and we'll be here on Sunday night.
7:08 p.m.
Quinnipiac comes back to tie it on the power play on a beauty of a pass to the backdoor.
7:23 p.m.
The Bobcats are on the five-on-three and Reid Cashman puts one past Mathias Lange.
7:30 p.m.
The Bobcats go up 3-1 and the Houston Fieldhouse goes deadly silent.
8:10 p.m.
This game is getting pretty boring. The Engineers are trying, but can't put anything past Bud Fisher. The RPI fans are getting restless.
8:15 p.m.
The Fieldhouse has come to life as Kevin Broad scores on a screen. Perhaps this will get RPI moving.
8:19 p.m.
Uh, no. Just a great shot to beat Lange for John Kelly and the Bobcats go up 4-2.
9:16 p.m.
It's all over at the Fieldhouse. Quinnipiac celebrates, Rensselaer looks dejected. The Engineers salute the fans and end their season. The Bobcats deservedly move on to the next round.
9:25 p.m.
In the meantime, I do the obligatory stuff I do at the end of the game, and even have time to chat with most of the staff down in the Rensselaer locker room.
10:06 p.m.
I head back up to the press box and start talking with Rensselaer Sports Information Director Kevin Beattie. We call over to Messa Rink to see what the Yale-Union score is. It's the end of one overtime period and they're tied 2-2.
Kevin jokingly says to me, "Want to go over to Union?"
We both laugh it off. It's been a long evening.
10:36 p.m.
So I head home. Or so I thought.
10:47 p.m.
I get in the car and put the Yale-Union game on the radio and get on the phone with Tim Danehy.
He jokingly says, "Why don't you go over to Union?"
I'm listening to the game and there are 11 minutes left in the second overtime. I reach a critical point in my drive. Continue north on the highway or take the next exit and head to Union.
10:53 p.m.
I'm not the smartest person in the world. I exit.
As I drive west towards Schenectady I am listening to the game. I am praying that someone does not score so I don't feel stupid (never mind that I am stupid for even considering this).
10:56 p.m.
I'm driving a little fast. I ask myself the age-old question once again — why don't they build an easy way to get to Schenectady?
11:00 p.m.
A couple of close plays and I am still good. My decision is sound.
I estimate that I am 10 minutes away from Messa Rink. Each rise in Matt DuBrey's voice makes me reconsider my decision.
11:13 p.m.
As I pull into the Messa Rink parking lot, the second overtime ends. For some reason there are droves of fans leaving.
I run into Laura Stange, the assistant commissioner for the ECACHL. She confirms that I am indeed, out of my mind and an idiot.
11:16 p.m.
Walking into Messa Rink, the Union fans are wondering what I am doing there.
11:28 p.m.
We're under way at Messa Rink with the third overtime. There are many people laughing at me at the moment, ranging from the Union fans to ECACHL Commissioner Steve Hagwell and Yale associate AD Wayne Dean.
I have an uneasy feeling as the overtime starts. It's because I know my luck. It isn't the best in the world, which starts to tell me that the goal will be scored right as the overtime begins, making it a short trip over to Union for me.
11:34 p.m.
Well, so much for that premonition. It's going strong at the moment and both teams aren't really generating much.
11:47 p.m.
There's a scrum in the corner to the right of the press box and Union gets a power play out of it. The sense from the crowd is that this will be it.
A few good chances for Union, but Alec Richards is up to the task for Yale.
At this point I am thinking that listening at home might have been the better option for me. So I consider going home.
But it sucks me in. It sort of reminds you of "The Real World" or "The Real World/Road Rules Challenge." You know it's an awful show to watch, but you can't stop watching it because you know that there's going to be drama and that someone is going to do something stupid and you'll curse at them while watching.
But you still put it on your TiVo Season Pass.
Speaking of which, I still haven't watched the "Real World: Key West" premiere. It looks pretty mundane and business as usual, but, I need to watch it. I predict that Svetlana will be trouble.
11:55 p.m.
The Dutchmen just got a five-minute major called against them! The assistant referee calls it on Torren Delforte for checking from behind.
The fans are just livid and all over the officials. Let me tell you what I saw.
I saw the play the whole way. I don't know why I was looking in that direction, but I was. Yale's Joe Zappala was facing the boards and dumping the puck in. Delforte came flying in and hit him. Zappala's head hit the glass first and it's a wonder that he wasn't hurt worse.
If you ask me, you have to call that. I don't care if it was overtime or not, you had to call it. The Union fans will hate me for saying it, but I don't care if it's regulation or overtime, you just can't do that.
And I give the officials credit for calling it.
11:59 p.m.
The third overtime has ended and the fans are giving it to Peter Feola and his crew. They seriously want their heads and as I stand by watching them come off the ice, they really took it.
12:00 a.m.
The clock has struck midnight. Everyone is reaching for a computer to figure out where the game stands on the longest games list.
There isn't much to go.
12:01 a.m.
Bob Ahlfeld from Clarkson radio calls me to get a score. He can't believe it's still going on.
12:02 a.m.
My mobile phone dies as the gimpy battery that I've been working off of finally gives way.
I've had the phone for about 18 months now, and today is the day that the battery decides it only wants to give me 30 minutes of talk time per charge. Talk about bad timing.
I go looking for anyone with a Motorola mobile phone charger.
12:14 a.m.
The fourth overtime gets under way. The giddiness has erupted in Messa Rink because Yale has about 4:30 on a major power play.
12:19 a.m.
Yale gets nothing on the power play. The Dutchmen have killed it off and most of the people are wondering if this game will ever end.
12:22 a.m.
The Messa Rink DJ plays something I swore I heard when I walked in. According to a few people, he's running out of songs and has to repeat them.
I hate canned music in arenas. I hate it even more when the DJ doesn't use it properly. The Messa Rink DJ is okay on occasion, the stuff does what it's supposed to do I guess and that's to get people to rise.
I still hate it.
Now, if I were the DJ, I bet I could get the crowd going. There's always good hair metal to get a crowd going, and there's your standards as well. But, to be honest, nothing gets me going at a game like a pep band playing anything. Well, of course that's provided the pep band doesn't play the same song 15 times per game.
I wish the Yale band had made the trip. I find them refreshing with the selection of songs that they play. It's great because you never know what they're going to play at the next whistle.
12:30.29 a.m.
It's like New Year's Eve in Times Square!
We're all counting down the time needed in order for this to become the longest game in NCAA men's history.
12:30.39 a.m.
Yahoo!
In the books as the longest NCAA men's game ever.
12:32 a.m.
Jonathan Poirier almost wins it for Union, but his little deflection is stopped by Richards.
12:45 a.m.
We are currently debating if we should go back to the old format in the series as it was in the '90s — first team to three points wins the series.
Wayne Dean makes the most compelling argument to go back — we'd all be home and waiting for Sunday's game with both teams having earned two points with two ties.
I don't see why Steve Hagwell can't just call an end to it. He's the commissioner after all, and he's king. What Hagwell says happens. Period. End of story.
Jack Bauer would have just gone on the ice, chosen a uniform and scored the game-winner in no time flat.
Either that or he would have tortured Peter Feola until he ordered a goal to be put on the scoreboard.
12:48 a.m.
Wow. 130 minutes in the books and no winner yet. This is getting quite surreal.
I sat through the quadruple-overtime game at the Pepsi Arena when St. Lawrence beat Boston University and I thought that one would never end. I remember that game vividly because I was in the penalty box for the entire overtime, all 63:53 of it. I was taking pictures during that game and just waiting in the box for the game-winner so that I could rush out and get the right picture to be preserved for all eternity.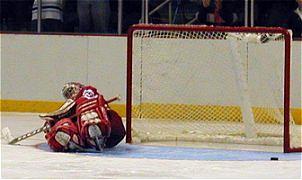 I got the aftermath, so not a bad job by me.
You go through these times and you wonder what people are thinking as the game progresses, especially on the ice.
I remember the game at the Pepsi and referee Duke Shegos skating over to the scorer's table just exhausted and taking water. I was feeling for Peter Feola and his crew at this time. It had to have just taken an absolute toll on those three men.
Then you have the goaltenders who are out there constantly. No chance to sit down. Just take some water or whatever you can get and continue.
I salute these guys for their effort.
1:03 a.m.
The statistics package is acting up. Apparently, it doesn't like the number of overtimes…
1:04 a.m.
The fifth overtime gets underway!
We're all looking for the 5:35 mark of the period to see if this will be the longest game in NCAA hockey history, as it has that much time to go to pass the Providence-UNH women's ECAC championship game.
We're all hoping that it happens because we all want to be a part of history.
1:07 a.m.
Yale gets called for a penalty. Again, there's no doubt about it and I do applaud the officials for calling it, even in overtime.
Right now, we're feeling like this is it: the score has to come here with fatigue really setting in.
1:10 a.m.
It's over!
But not how we thought. We thought it would be a Union power-play goal, instead, it's a Yale shorthanded goal as.
Zach Mayer just sends one in that is tipped by David Meckler, who enters the record books.
1:11 a.m.
The Bulldogs continue to celebrate, the Dutchmen just look on in disbelief. I can't believe the game is over. I wanted it to go on. And on. And on.
1:14 a.m.
The Dutchmen salute their crowd.
1:18 a.m.
I can't believe I just did what I did. I witnessed the longest men's game in history. I softly sob to myself.
1:25 a.m.
I start to head home. I've got my mobile phone back up and running, the iPod is humming in the car and I'm watching Monday's episode of How I Met Your Mother on the ride home.
Barney pwns.
2:10 a.m.
I get home, I check in, I get yelled at, everything is okay.
2:30 a.m.
Saratoga Springs is open until 4 a.m. I live 10 minutes away. I just witnessed the end of two games that both started at the same time. I deserve it.