In the wake of Sunday's selections, it didn't take long for some to start calling the 2006 West Regional the "Group of Death," to use a little soccer parlance.
The candidates to advance to the Frozen Four from Ralph Engelstad Arena include a team that was No. 1 in the USCHO.com/CSTV poll for much of the second half, the red-hot host squad, a clutch-performing perennial powerhouse and a dangerous wild card unfamiliar to its potential opponents.
Starting from the top of the seeds, Minnesota enters the NCAA tournament with a little something to prove after a disappointing performance at the WCHA Final Five — during which the Gophers showed little fire in the third-place game after dropping a thrilling overtime game in the semifinals.
The Gophers will be opposed by Atlantic Hockey dual champion Holy Cross, a team about which Minnesota head coach Don Lucia acknowledged knowing little beyond their record and some of their notable victories this season, in the first semifinal.
For the home fans in attendance, that game will give them a chance to warm up their vocal cords (by booing Minnesota) before the evening semifinal, pitting North Dakota against Michigan.
The Wolverines, a team unfamiliar with uncertainty on Championship Saturday, had to beat Northern Michigan in the CCHA's third-place game to assure themselves a spot in the field of 16. Now Michigan must face a team that's peaking at the right time in UND, which stormed to the Broadmoor Trophy last weekend in St. Paul.
Minnesota vs. Holy Cross
Friday, 5:30 p.m. CT, Ralph Engelstad Arena, Grand Forks, N.D.
Minnesota Golden Gophers
Record: 27-8-5, 20-5-3 WCHA (first)
Seed: No. 2 overall, No. 1 West
How in: At-large
2005 NCAA tournament: Lost in national semifinal
A day after a stunning solo effort — four goals by Ryan Potulny — couldn't help Minnesota win in the WCHA semifinals, the Gophers slipped a little farther down the scale in a shutout loss to rival Wisconsin.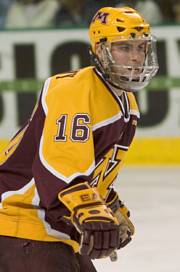 There were a lot of blank stares in the locker room the day of that WCHA Final Five third-place game, coach Don Lucia said. Players were looking to someone else to get the job done instead of starting things themselves, forwards Gino Guyer and Danny Irmen said.
It's not a great way to make the transition into the NCAA tournament. But for Minnesota, it's not exactly unheard of.
Last season, the Gophers also lost both games at the Final Five before turning around the next weekend and making a third trip to the Frozen Four in four seasons. Of course, that was done with the NCAA regionals at Mariucci Arena. This time, the Gophers have to go to the home of one of their biggest rivals, North Dakota, to get things done.
Minnesota managed a pair of one-goal wins at Ralph Engelstad Arena earlier this season and has won three in a row there. This season, Potulny and Irmen, both North Dakota natives, had good success back home. Potulny had three goals and an assist in the series against the Sioux, while Irmen had two goals and three assists.
"We've played very well in Grand Forks," Lucia said. "I think there's a comfort level there. We know the facility. We're not going to a facility we've never been to. We don't have a long travel distance. That part of it doesn't matter. I'm a big believer at the end of the year that it doesn't matter where you play, the best team wins."
To be the best team at the West Regional, the Gophers are going to have to return to the form that got them 18 wins in the 20 games that preceded the Final Five. Their defense struggled against St. Cloud State and Wisconsin last weekend, allowing the Huskies and the Badgers to score eight and four goals, respectively.
Starting goaltender Kellen Briggs was pulled from Friday night's 8-7 overtime loss to the Huskies — in which Potulny had his scoring barrage — and wasn't sharp in a 4-0 loss to Wisconsin in the third-place game.
"We've got a week to get better," Lucia said. "I think [Briggs] was a little bit better [Saturday]. Kellen's played well, he's 2-0 up in Grand Forks [this season]. He's got to rebound like everybody else."
Lucia said he thought the team had too many easy games leading up to the Final Five, and that the competition the Gophers faced in St. Paul will better prepare them for the NCAAs. Be that as it may, they know they can't afford to be caught flat-footed or tentative again.
The last time the Gophers lost both games of a weekend — Dec. 2 and 3 at home to Wisconsin — they went on a long run of success.
"From here on out, we've just got to lean on each other and push each other and be there to support each other," Guyer said.
Holy Cross Crusaders
Record: 26-9-2, 19-7-2 Atlantic Hockey (first)
Seed: No. 15 overall, No. 4 West
How in: Atlantic Hockey tournament champion
2005 NCAA tournament: none
They sat around the television set inside the Hart Center waiting to hear knew they already knew.
"Everyone kind of knew [Saturday] night because of the stuff on USCHO," said Holy Cross coach Paul Pearl of his team's first round date with Minnesota in the NCAA Tournament this Friday. "That takes a lot of the guesswork out of it. It's not like two years ago when everyone wondered where we were going to go."
Having an extra 12 or so hours notice, though, won't help Pearl and his team much. Literally, the Crusaders could have a full season to prepare for this one game against the Gophers but still would be considered underdogs.
That said, the 26-9-2 Crusaders will take to the ice on Friday night believing that they're the favorites.
"I don't want any of the Cinderella talk," said Pearl, whose team has NCAA tournament experience, having faced North Dakota in the first round two seasons ago, losing, 3-0.
So is that experience enough to propel the Crusaders? You won't hear those words from Pearl's mouth. What you will hear, though, is that his club won't be walking around Engelstad Arena in Grand Forks as wide-eyed tournament rookies.
"Just from the overall day-to-day, it will be fine," said Pearl, noting that the glitz and glamour associated with the event is something his team has at least experienced. "In terms of things we do, in terms of how the game goes, it's still a hockey game. We didn't win the last time but we played fairly well two years ago. So hopefully that experience and the kids that have gone through it will help."
What may be giving Pearl and his team confidence is the fact its top two lines have been playing extremely well late in the year.
"The nice thing about our team is that we have two top lines," said Pearl, whose first line of James Sixsmith, Pierre Napert-Frenette and Sean Nappo scored 15 points in the Atlantic Hockey semis and finals alone. "[The second line of] Tyler McGregor, Blair Bartlett and Dale Reinhart are just as good [as our top line].
"Heck, Tyler is Player of the Year in our league. If we're going to get some chances offensively, those would be the guys that we'd want to [have there to score]."
So what concerns Pearl the most about Minnesota? One might think its two high-flying forwards — Ryan Potulny and Phil Kessel. In a way, that duo is a worry for Pearl, but not for their individual performance.
"Those guys are very good, but if you get caught thinking about specific players that's a big mistake," Pearl said. "You have to worry about what you're doing as a team and the team you're playing against."
So maybe this isn't Hoosier and maybe we're not supposed to talk about Cinderella, but should the Crusaders upset Minnesota, it would be a win that would be talked about for a very long time.
North Dakota vs. Michigan
Friday, 8:30 p.m. CT, Ralph Engelstad Arena, Grand Forks, N.D.
North Dakota Fighting Sioux
Record: 27-15-1, 16-12-0 WCHA (t-fourth)
Seed: No. 7 overall, No. 2 West
How in: WCHA tournament champion
2005 NCAA tournament: Runner-up
North Dakota has picked a good time to go on its longest winning streak of the season.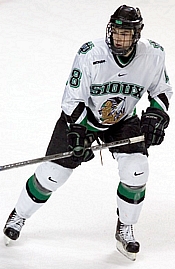 The Fighting Sioux go into the NCAA tournament having won their last four games, and with confidence aplenty after winning the WCHA Final Five last weekend. That's more than they could have said two months ago.
After being swept at home by St. Cloud State on Jan. 27 and 28, UND has rallied with 10 wins in its last 13 games, with a better sense of the home-ice advantage that will come in handy with the West Regional in its own building.
North Dakota freshman forward Ryan Duncan called the pair of losses to St. Cloud State the turning point of the season.
"That was probably the low point of our year so far," Duncan said. "We were on the outside looking in. We weren't sure if we were going to have home-ice advantage for the playoffs.
"We've got a young team, but we decided at that point that we were going to collectively come together as a group and everybody was going to accept their roles. Everybody just started to get on the same page, and things started to go in the right direction."
The Sioux got home ice for the WCHA playoffs but lost the first game to Minnesota State before rallying to win the series in three games. UND was only 7-7 at home in WCHA play this season, but it has won six of its last seven games at Ralph Engelstad Arena, where this weekend it hopes to earn a spot in a second straight Frozen Four.
North Dakota coach Dave Hakstol said his team has played well at home in the second half of the season — the St. Cloud State series probably excepted — but it also has played well overall recently. Last weekend, that came even without leading scorer Drew Stafford, who sat out injured and whose status for this weekend is up in the air.
"I think it's important to be playing well at this time of year," Hakstol said. "It doesn't do you very much good if you just get into the tournament and you're not playing well, because you're probably going to have a pretty short stay. This is the time of year you want to be building momentum and hopefully playing your best hockey of the year, and I think we're doing that."
Junior goaltender Jordan Parise, who was an integral part of the Sioux getting to the national title game last season, enters the NCAA tournament this year in good form again. He was named the Final Five MVP and had shutouts in three of his last five games before the league championship weekend.
With the Sioux featuring such a young team this season, part of their first-half struggles had to do with communication, but that has worked itself out over time.
"As we've come along here, guys are just getting more comfortable with each other and we're starting to understand that it's necessarily yelling at each other; it's more constructive criticism," Parise said. "I think that's really helped our team, especially in the last month. That's really taken a turn for the better."
Michigan Wolverines
Record: 21-14-5, 13-10-5 CCHA (third)
Seed: No. 9 overall, No. 3 West
How in: At-large
2005 NCAA tournament: Lost in Midwest Regional final
The Michigan Wolverines find themselves in relatively unfamiliar territory in this year's NCAA tournament. Not only did the Wolverines not advance to the title game of last weekend's CCHA championship for the first time since 2000, but Michigan is heading out of state for an NCAA regional for only the second time in the last six years.
Given how Michigan's season went, said head coach Red Berenson, Grand Forks doesn't look so bad.
"It's better than the alternative, which is not going anywhere," said Berenson. "So we're glad we're in the tournament, number one. We didn't come in with a roar."
By many standards, the Wolverines had a good season. A third-place finish in a 12-team league is commendable, as are 21 wins. But Michigan doesn't approach any season looking for "commendable." 2005-06 marked the first since the Wolverines finished lower than second in the CCHA since 1989-90, and a four-game losing streak in November — the Wolverines' longest in a decade — prompted captain Andrew Ebbett to say, "This is not Michigan hockey."
"I feel fortunate that we're even in the tournament," said Berenson, "because if you took our win/loss percentage this year and put it up against a year ago, there's a big difference. Our league RPI was so strong that that's what got Michigan in the tournament this year. Last year, as a league, we were downgraded."
The Wolverines have had an up-and-down ride through the CCHA this season, flying to start the season with a 9-1-1 record through mid-November before hitting the College Hockey Showcase with losses against Minnesota and Wisconsin and two losses in Miami to the first-place RedHawks.
Since recovering from what amounted to a monumental slump in the minds of the Wolverines, Michigan has been consistently inconsistent, with a loss to Bowling Green, ties to Ferris State and Nebraska-Omaha, and losses and wins with little rhyme and reason.
Or with obvious reasons. The Wolverines don't score consistently, have been porous defensively, and neither freshman future-star Billy Sauer (3.04 GAA, .898 SV%) nor senior Noah Ruden (2.86 GAA, .907 SV%) was reliable.
In a loss to Michigan State and win over Northern Michigan in Detroit, Ruden looked like a natural, allowing just three goals on 55 shots.
"His career has been all over the map," said Berenson. "He didn't come to Michigan with an idea of ever playing a game. He came in with Al Montoya and he knew that Montoya would be our starter.
"When Al left, Noah sensed an opportunity that maybe he could compete for the starting job. Then he realized that he's a pretty good goalie himself. He's worked hard at Michigan … he's a much, much better goalie than when he came here.
"He's been rock-solid some nights and on other nights he's been leaky. He's not far off the map, but he's inexperienced. But now he's played thereabouts close to 20 games this year … He's been up and down, but right now he's our starter."
If Ruden is solid in net, there's not telling what Michigan can do. The Wolverines are averaging 3.65 goals per game with eight players who can score, four of whom are potentially lethal on the power play. T.J. Hensick (17-35–52) leads the team, but the combo of Ebbett (14-28–42) and Brandon Kaleniecki (17-11–28) is doubly potent; Ebbett is one of the best defensive forwards in the game, and Kaleniecki can grind it out in the corners and pick up the trash in front of the cage.
Although the Wolverines are allowing 3.00 goals per game, discounting the Michigan defense would be a big mistake. Freshman Jack Johnson has received much press for his style — in a word, rough — but he's a solid defender and a potential difference-maker. Then there's his classmate, Mark Miteria, an overlooked freshman blueliner.
But then you have David Rohlfs and Jason Dest, two of the best stay-at-home defensemen in the league, and Matt Hunwick, a threat on both sides of the puck.
In short and as usual, this Michigan team is loaded. What remains to be seen is whether they can mix the ingredients into a recipe for success. This is a team that has plenty of NCAA experience. Seniors Ebbett and Kaleniecki have played in seven NCAA games each, and three classes remember what it was like to blow a lead in last year's Midwest Regional against Colorado College.
"In all fairness, I think North Dakota is going to be a tougher opponent than who we faced last weekend," said Berenson. "They can score and they're at home. We remember what it was like when we played at home in the regionals, and what an advantage that was.
"We're going to have to better than we played at Joe Louis. We have to play better defensively, give Noah a chance to make a difference.
"There's nothing to save it for now, so we'd better give everything we have."