Boston University knew all along where it was headed come NCAA tournament time. That the Terriers are the top seed in Worcester is just an added bonus.
BU, which won the Hockey East regular-season title in a chaotic final weekend of league play, became a dual champion last weekend by toppling Boston College in the league championship game. Now, the archrivals have the prospect of facing off one more time — which would make it six this season — in the Northeast Regional final.
For the Terriers, that would mean defeating Nebraska-Omaha in the first round. The Mavericks, which sat out last weekend after falling to Northern Michigan in the CCHA quarterfinals, should be well-rested for the challenge of John Curry and the nation's No. 1 team in the final USCHO.com/CSTV poll of the season.
As far as a BC-BU rematch in the regional final, don't tell that to Miami, which locked up the CCHA regular-season title well before the end of the league schedule and brings the nation's top defense to Worcester.
The RedHawks, led by captain and blueliner extraordinaire Andy Greene, will try to shut down the Eagles, who overcame a 1-5-1 stretch run to reach the NCAA tournament. And BC head coach Jerry York, in particular, is looking no further than the stingy RedHawks before assessing the opportunity for a regional final appearance.
Boston University vs. Nebraska-Omaha
Saturday, 4 p.m. ET, DCU Center, Worcester, Mass.
Boston University Terriers
Record: 25-9-4, 17-7-3 Hockey East (first)
Seed: No. 3 overall, No. 1 Northeast
How in: Hockey East tournament champion
2005 NCAA tournament: lost in Regional semifinal
With an 18-1-2 record in their last 21 games, Boston University is the No. 1 team in the final polls and would have to be considered the hottest team going into the national tournament, given that Minnesota faltered in the WCHA semifinals and consolation game. BU's current six-game winning streak is the longest of any tournament team, while its 11-game winning streak earlier in 2006 was the longest in D-I this season.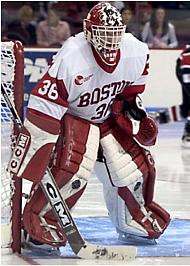 The streak culminated with the Terriers' first Hockey East championship since 1997. Could it also set the stage for better things to come?
"I think we'll get a boost out of beating BC in the Hockey East final," Terrier coach Jack Parker said. "We usually get a boost out of beating BC anyway, but psychologically having garnered a bit of hardware already this year is nice for them. But it's all about winning championships, and [the Northeast Regional] is the only one that's in reach now. Two games to win another championship, but it will be a battle to get through this field, that's for sure."
Why have the Terriers been so hard to beat in the season's second half, particularly after starting the season 5-7-2? Once senior co-captain David Van der Gulik came back a nagging and nebulous injury — initially diagnosed as a pubic-bone inflammation and later thought to be a sports hernia — the team took off. Fellow senior Jekabs Redlihs also rebounded after a lengthy illness rendered him ineffective and then out of commission for much of the season's first half.
With these key seniors back in the lineup, BU began giving opponents more than they could handle. With solid goaltending from John Curry and great two-way play from their forwards and defensemen — it's always a defense-first approach for the Terriers — BU can be stingy in yielding quality chances. When they have, Curry has risen to the occasion.
That said, fans unfamiliar with BU will be struck by its speed and offensive depth. While seniors Van der Gulik, Brad Zancanaro, and John Laliberte are ostensibly the No. 1 line, shutting them down by no means guarantees a victory. The top line is also one of the best trios of defensive forwards in the league, and the diminutive Zancanaro is a fan favorite due to his relentless hustle. Van der Gulik is a sniper who has been on fire with a pair of hat tricks in the Hockey East tournament earning him MVP honors.
Yet at times, the second and third lines have carried the attack. The second unit features the quick-release shooting and playmaking of Peter MacArthur centering the small but physical winger Bryan "Boomer" Ewing and the opportunistic, hard-working Kenny Roche, who is having a career year.
The third line is all freshmen but plays with poise beyond their years: Chris Higgins is a slick, smart centerman, while wingers Jason Lawrence and Hockey East Rookie of the Year Brandon Yip are multitalented skaters, playmakers, and scorers. Yip also sees time on the point on the power play.
Add in All-American defenseman candidate Dan Spang and a generally experienced and sound cast on the blue line, and the Terriers should have a reasonable chance of containing Nebraska-Omaha's high-octane attack.
If BU does get by UNO and BC can beat Miami, the teams would meet for an unprecedented sixth time this season.
"I guess the only surprise, really, is that BC and BU are in the same bracket," Parker said. "If we play each other in the regional, it will be a repeat of the previous week's championship. I don't think that's a good thing to have; I'd like to play different teams. I was talking to Jerry [York] about it last night, and he said the same thing: It would be nice to play more western schools."
Nebraska-Omaha Mavericks
Record: 20-14-6, 12-10-6 CCHA (t-fourth)
Seed: No. 13 overall, No. 4 Northeast
How in: At-large
2005 NCAA tournament: none
The Nebraska-Omaha Mavericks are unique in their bracket; not only did they not play for a league title last weekend, but the Mavs didn't play at all.
This year the CCHA reverted to a four-team championship. In the second round of the CCHA playoffs, the Mavericks lost two games to Northern Michigan, and the Wildcats advanced to Detroit while the Mavericks went back to Omaha.
Ironically, the Northern Michigan's season is over, while Nebraska-Omaha plays after a two-week respite.
"I think it's going to have a very positive effect on our team," said UNO head coach Mike Kemp of the time off. "When we went up to Northern Michigan, we were really banged up. We were playing at about 75 percent."
The Mavericks scored just three goals in those two games, all on the power play, and conspicuously absent from the box score was Scott Parse (20-41–61), who played but was among the walking wounded, as were linemates Bill Thomas (26-23–49) and Brian Marshall (12-26–38).
Sitting out last week "was the best possible thing to happen for us," said Kemp. "We didn't need to play last weekend other than the sense that we could have been competing for the league championship. We might have been playing for a championship but we might have been putting ourselves further behind the eight-ball. We've been able to rehab."
While the line of Parse — who led the nation in points for most of the season — Thomas and Marshall is among the best in the country, the Mavericks are a deeper team than that and are operating under everyone's radar.
"I think we have good balance in our forward lines," said Kemp. "That one line gets all the attention because they are great finishers, but we have the potential to score on all four lines. In our stretch run at the end of the season, we were getting scoring from all four lines."
The Maverick forwards you never hear about include junior Alex Nikiforuk (13-10–23), whose speed is as good as any in the league and who is a menace on the UNO power play, and three more 10-goal scorers: freshman Thomas Klempa (10-14–24), and sophomores Brandon Scero (10-13–23) and Mick Lawrence (10-7–17). Six Mavericks have three game-winning goals each. That's spreading the love … and the clutch play.
UNO is one of many teams this year relying on a freshman in net. Jerad Kaufmann (2.80 GAA, .902 SV%), has done this season what any goaltender is expected to do. He's given the Mavericks a chance to win, every game.
"It's been surprising," said Kemp. "He's overachieved a little bit. He's a pure walk-on, without any accolades or any expectations, did his time, was patient … and when he had the opportunity he took advantage of it."
Kemp particularly likes Kaufmann's composure in net. Even when opponents have gone up a couple of goals, Kaufmann has been able to put himself back into the game. "He allowed himself to settle down and get back into the groove," said Kemp. "He settled himself back down, showed real maturity."
One thing working against the Mavericks is their inexperience in NCAA postseason play. This is the first NCAA invitation UNO has ever received, and in Maverick-crazy Omaha, this is a very big deal.
"It's very difficult," said Kemp. "We've not been in this position before so it's a new experience for our players. From that standpoint, we're going to be at a little bit of a disadvantage. There will be a lot more distractions … the real issue is playing the game and playing against Boston University, and not worrying about the other things and let them take care of themselves. We kind of hope that we have old enough players to not be distracted."
The intangibles surrounding UNO are many. The Mavericks are a fast-skating team with a potentially lethal offense, but even those qualities may be undervalued as they sneaked into the tournament without having gone through the conference postseason door. They beat New Hampshire and Providence early in the season, which is part of why they are playing now. Kemp thinks that those early wins have helped prepare his players.
"Those were in tournament games. It's a great challenge. … We do have a level of confidence going in in that we're 2-0 against Hockey East."
With an offense that can stay one step ahead of an opponent's defense, maybe all UNO needs is a "solid" defense, as Kemp describes it. The Mavs average 3.60 goals per game and are allowing 3.17. For all their offensive prowess, their power play is just average.
But Kemp is cautiously confident. "As long as they're playing really steady and Kaufman does his job, we'll be fine."
Miami vs. Boston College
Saturday, 7 p.m. ET, DCU Center, Worcester, Mass.
Miami RedHawks
Record: 26-8-4, 20-6-2 CCHA (first)
Seed: No. 6 overall, No. 2 Northeast
How in: At-large
2005 NCAA tournament: none
Miami brings the stingiest defense into the NCAA tournament. Allowing just 1.95 goals per game, Miami's overall team D is the best in the country, but according to head coach Enrico Blasi, there's one key ingredient to playing good defensive hockey.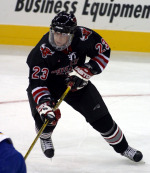 "We take a lot of pride in our defense. We always talk about how playing defense doesn't take a lot of talent, just a lot of hard work and sacrifice, and our guys have bought into that from day one."
It doesn't take a lot of talent? If senior captain and Hobey Baker finalist Andy Greene were a different type of player, he might take offense to that, but as he's one RedHawk who has consistently bought into Blasi and Co.'s total package from the very start, he probably doesn't mind.
Greene is a leader in every sense of the word. Through a difficult 2004-05 season during which the RedHawks were plagued by the injury bug, Greene was one of a handful of players who saw action in every game and one of the guys who kept the team focused. This year, Greene (9-22–31) has blossomed into one of the most dangerous players in the nation, earning the CCHA's Best Offensive and Defensive Player of the Year awards, the first defender in the league to have done so.
Greene is paired with sophomore Mitch Ganzak (2-29–31), another two-way player key to Miami's elegant transition game. The two lead a defensive squad that includes sophomore Brad Robbins (3-5–8) and a trio of freshmen: Raymond Eichenlaub (4-9–13), Alec Martinez (3-8–11) and Kevin Roeder (1-6–7), three players who have never looked like rookies.
The offense boasts three pure goal-scorers in sophomores Nathan Davis (20-20–40) and Ryan Jones (22-13–35), and senior Matt Davis (17-8–25), while the line of Davis, Jones, and fellow sophomore Nino Musitelli (6-18–24) is as good as any in the country. Musitelli is a small, fast player with loads of puck skill, and Davis and Jones are gritty players capable of finishing. Jones, particularly, is willing to camp out in front of an opponent's net and take the punishment.
Last weekend, the RedHawks were nearly shut down by the Michigan State Spartans in the CCHA title game, with Jones' lone goal — from right in front — to show. Greene said after that contest that the Spartans took away nearly all of Miami's scoring lanes, but Nathan Davis said this week that the RedHawks have made some adjustments for their match with Boston College.
"I think the big thing for us is to get into a rhythm early, look for some of the things that we've had success with all season," said Davis.
What are those things? "That's all he's going to give you. We've got a secret weapon," joked Blasi.
Miami has depth in the sense that all four lines can roll with the best, but more so defensively than offensively. It will take scoring from more than just one or two lines for the RedHawks to advance, but they sometimes get production from surprising places.
Down 2-0 after one in the first CCHA semifinal against Northern Michigan last weekend, freshman forward Brian Kaufman was in the right place at the right time when the RedHawks had an extra skater on a delayed penalty, and Greene took a shot from high in the slot. Kaufman was credited with the deflection to cut NMU's lead in half. Five different players went on to score in that 5-2 win.
Senior forward Chris Michael may only have registered five markers this season, but one was a crucial go-ahead goal in Miami's game against Ohio State on Feb. 14, the night that the RedHawks captured the regular-season CCHA title.
Another key to Miami's success is the goaltending tandem of sophomore Charlie Effinger (1.76 GAA, .933 SV%) and freshman Jeff Zatkoff (2.02 GAA, .928 SV%). Blasi has rotated the two all season, with Effinger starting Fridays and Zatkoff Saturdays.
"The University of Denver won two national championships going one night with one guy [in net] and the other night with the other," said Blasi last week. Denver head coach George Gwozdecky was Blasi's mentor.
Splitting the goaltending duties takes some of the pressure off of each, as does the company line team defense. "The effort from the guys in front of me has been so good all year long, that it's made my job easy," said Effinger.
Blasi said the decision for who will start will be made closer to game time. "I can tell you our focus is on Boston College and only on Boston College. We haven't decided who will be in net. We'll have our hands full with Boston College as it is."
Blasi said that he didn't particularly care where the RedHawks would go, and they knew before being selected that they'd be a second seed. "When you get to the NCAA tournament, every team you play is going to be a tough opponent. We have a lot of respect for Boston College."
Said Greene, "We're going into this weekend with a good attitude, looking to step up to the challenge of Boston College."
Boston College Eagles
Record: 23-12-3, 17-8-2 Hockey East (t-second)
Seed: No. 11 overall, No. 3 Northeast
How in: At-large
2005 NCAA tournament: Lost in East Regional final
Boston College's top scorer, Hobey Baker finalist Chris Collins, had one thing on his mind when the NCAA announced the pairings for the NCAA tournament.
"I'm excited to get another shot at BU; that's the first thing that stands out to me," said Collins.
Indeed, a win in the first round of the NCAA tournament could lead to yet another meeting with rival Boston University. It would be the sixth of the season, the second in as many weeks.
But before BC can get there, they have to go through a very tough team, one many might even call a carbon copy of BC, in Miami.
The RedHawks, all season long, have been one of the best teams, ranked near the top of the polls for weeks now. If not for a 2-1 loss to Michigan State in the CCHA finals, Miami might have commanded a number-one seed.
Still, the RedHawks may almost feel like they're getting the respect of Rodney Dangerfield as the CCHA regular-season champs were sent east and now are almost being considered a walkover for BC on the way to BU.
So how do these two teams match up? The BC offense may be a little stronger than Miami's. You'd expect the Eagles' defense, known to be strong with goaltender Cory Schneider backstopping it, to also have the upper hand.
But the Eagles will now face their match. Miami boasts the best defense in the country, backboned by the goaltending tandem of Charlie Effinger and Jeff Zatkoff along with a Hobey Baker finalist, blueliner Andy Greene.
BC head coach Jerry York admits that he doesn't know a lot about Miami, watching tape to prepare.
"Miami has a great tradition in college hockey," said York. "They're a program that is right on the verge.
"The one thing I know is that [Miami] won their league going away. And Andy Greene, I've watched him on the highlights, and he's a top, top defenseman."
As for his own team, York hopes that it's heading in the right direction. After entering the playoffs on a 1-5-1 skid, BC advanced within an overtime goal of defending its postseason title. It's that play that York hopes to see this weekend.
"We were a little shaky, but the way things have evolved — the Vermont games [in the quarterfinals and the Maine [win in the semifinals] — I think we're in a better feel going into this tournament."
So back to the big if. If the Eagles can survive, yet again for the sixth time this season, they could meet up with archrival BU, provided the Terriers get past Nebraska-Omaha.
It's the second straight season that the Eagles and Terriers are aligned in the Worcester region. Last year, BC survived a scare as the number-one seed against Mercyhurst, while BU was crushed by North Dakota, which beat the Eagles a night later to advance.