Sara Bauer, junior forward from the University of Wisconsin, has been named the 2006 recipient of the Patty Kazmaier Memorial Award, given annually to collegiate ice hockey's most outstanding female athlete.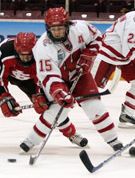 "I'm very honored to be receiving this award, being mentioned with the other nominees, past winners, and of course with Patty Kazmaier herself," Bauer said, after being presented with the trophy by the USA Hockey Foundation, which sponsors the annual award.
Bauer's team, Wisconsin, is playing for the NCAA national championship, and she hopes to become just the second player to win both the Kazmaier and the NCAA championship in the same season. 2005 winner Krissy Wendell of Minnesota, who was the keynote speaker at this year's presentation, was the first to accomplish the task.
The Kazmaier Award joins several others on Bauer's mantlepiece, as she was also the WCHA's Player of the Year and the WCHA Tournament's Most Valuable Player. She is the top scorer for the Badgers with 57 points, which puts her fourth in the nation in that category. As alternate captain, she has led her team to a 35-4-1 record, the best in school history. The team's leading scorer for all three of her seasons, she ranks third all-time on the Badgers' scoring list.

"I never set out looking for individual awards," said Bauer. "What matters is winning the national championship, and tomorrow we have a chance to do that.
"Any time someone gets recognized for an individual award, it is really a reflection of the players surrounding them and the team they are on. I would love to share this award with my teammates."
"The thing that really sets Sara Bauer apart from other players is that she makes the players around her better," said Laura Halldorson, coach of Minnesota, Wisconsin's opponent in the NCAA title game. "The fact that she is both a playmaker and a goal scorer makes her a very dangerous player."
Bauer was chosen from a group of three finalists, which also included sophomore forward Sabrina Harbec from St. Lawrence and Riitta Schaublin, junior goaltender at Minnesota-Duluth.
"I've had a chance to play against Sabrina and Riitta, and they are both great players," said Bauer. "It was an honor to be nominated with them."
Bauer becomes the second Canadian ever to win the award. There were no Americans among the final three for the first time ever this season.
The award is given in honor of former Princeton forward Patty Kazmaier, a standout who later passed away at 28. The award, which has been presented eight times previously, was established in her name in 1998. The winner is selected by a 13-member selection committee of coaches, media members, and a representative of USA Hockey.
Photo was taken by Ryan Coleman.