Some trivia questions have surprising answers. Who is the only player to score at even strength in both of the Gophers' NCAA playoff wins?
The answer is not WCHA top scorer Erica McKenzie, WCHA Rookie of the Year Gigi Marvin, or NCAA semifinal star Bobbi Ross. The answer is none other than junior Becky Wacker, who has been a force on the Gopher third line along with senior Krista Johnson and sophomore Liz Palkie.
Wacker has most recently scored in the third period to put Minnesota up 4-0 against Princeton in the NCAA quarterfinals and 4-3 against New Hampshire in the NCAA semifinals. She also produced two goals and an assist in the Gophers' WCHA playoff opener against Minnesota State. All told, she has four goals in the postseason — as many as she had during the entire regular season.
The key to her success has been fairly simple — using her speed in getting to rebounds and burying them. Some goals have been prettier than others.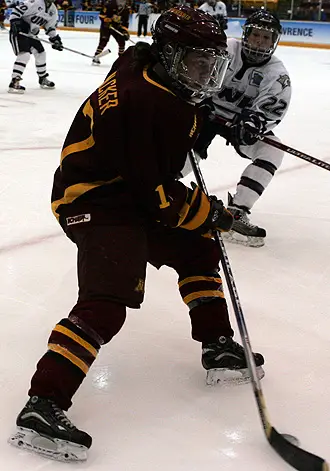 "Our line has really developed, and we've worked off of each other's strength," Wacker said. "KJ's really good at controlling the puck and puck control, Palkie's really good at digging in front of the net, and I've developed putting in the rebounds."
Some rebounds are more easily buried than others. Wacker's goal against UNH was not one of them. Her goal came as she crashed the net on a shot by Andrea Nichols and provided a quick strike on a long rebound.
"All I had was a backhand off that rebound, and as I took the shot, I just kind of hoped it went in," Wacker said. "I thought it had gone wide, so I was nervous at first."
As teams have had success finding matchups that shut down Minnesota's top line, the offensive contributions of the Gophers' third line have become crucial. This season is distinct from Minnesota's previous two NCAA title runs, during which Gopher top units produced 20 of 22 goals.
"We expect all three of our lines to contribute," said Minnesota coach Laura Halldorson. "It's not like last year where one line got the majority of the points, so this year it's a positive that we get scoring from the other lines as well. It makes something other teams have to worry about."
NCAA final opponent Wisconsin has found third line contributions to be necessary as well. Third-liner Tia Hanson's 2-1 double overtime game-winner in the NCAA quarterfinals over Mercyhurst and 1-0 game-winner in the NCAA semifinals over St. Lawrence are exhibit A and B. Third liners figure to have a greater role on Sunday than in any NCAA final to date.
While both teams will depend on third-liners to score, they cannot let that go to their heads in lieu of defensive responsibilities. Both Wisconsin in the WCHA final and UNH in the NCAA semifinal managed to score on the Gopher third line.
Said Wacker: "When we have a meeting with our coaches, they say, 'Look, it's great you guys are scoring, and that's what we like you to do, but d-zone is most important for us.' We build everything to come out of the d-zone."
Wacker's role on the third line is one of many she has embraced in her three years with this Minnesota program. Her most constant role has been one of de facto Eastern ambassador for the Gophers. A York, Maine native, she is the only player from the East on the roster, so every time area media has the occasion to cover Minnesota, a story on Wacker is inevitable.
"There's always a little tension between the East and West," said Wacker. "We'll be like, 'Let's beat those Eastern kids,' and I'll be like, 'Yeah let's go get them.' I catch some flack every now and then."
The well-known story behind Wacker's move out west is that the possibility of playing at Minnesota never dawned on her until Gopher assistant coach Brad Frost came calling, but once she saw the hockey obsession of everyone in the area, she did not want to play collegiately anywhere else. Simply put, the crowd from Friday and the one expected on Sunday are why she is wearing the Gopher jersey.
Minnesota will need a new token Easterner once Wacker graduates, and no replacements have been lined up just yet. A mechanical engineering major, Wacker said whether she stays in the Minnesota area or heads back home near her parents and nine-year old brother would likely depend on job prospects.
Apart from token Easterner, Wacker's roles with the Gophers have been more transient. Her freshman year role was a coveted one — linemate with future U.S. Olympic captain Krissy Wendell. Both Wacker and current Gopher captain Andrea Nichols started their freshman season as Wendell's wings. Wacker maintained her spot until Natalie Darwitz returned from injury in February that season.
The one lesson she best remembers from her time with Wendell — keep your stick on the ice when you're near the net.
"On the bench, she talked to me, walked me through and let me know why I should have been somewhere," Wacker said of Wendell. "We really worked well together because we're both thinkers when it comes to hockey."
Wacker's sophomore year she took on a less desirable role — player recovering from knee surgery. She missed time and never quite found her way into the top three line rotation until late in the season. She says her knee has been much more consistent this season, however.
As a junior, Wacker's role has mostly been as the mature, consummate defense-first third line player. But thus far in the postseason, her role as burier of rebounds has been flashier. If Wisconsin goalies leave up many more rebounds in Wacker's vicinity on Sunday, she could be taking on a new role previously reserved only for a handful of Minnesota-Duluth alums — three-time defending NCAA champion.