When the Wisconsin Badgers walked into their locker room for the first time at the start of the 2005-06 season, they were greeted with an assortment of hardware. There was the Pettit Cup from the 2002 Badger Hockey Showdown, representing the last time Wisconsin took its own home tournament, as well as a WCHA playoff championship trophy.
And there was the 1990 NCAA championship trophy to remind the Badgers of where they'd been — and where they could go.
All of this was a season-starting gift from head coach Mike Eaves.
"I think it left an impression because in our four years he had never done something like that," said Badger senior forward and captain Adam Burish.. "It [playing for a national championship] probably was never a realistic goal, to be honest with you, and so for him to bring that stuff out in front of us kind of made us look at and say, 'Wow, we can really do this kind of stuff. This is a reality. If we buy in here, do the little things, do all the hard things during the season, this is a real thing that we can possibly accomplish.' It was a real eye-opener."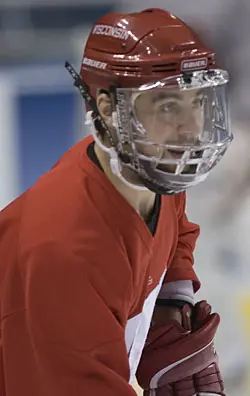 For Burish and the rest of Wisconsin's five-member senior class, the reality of playing in Milwaukee this weekend was almost unthinkable four years ago. In 2002-03, their freshmen year, the Badgers compiled a record of 13-23-4, the fewest wins of any Wisconsin team since the 1965-66 season, which was actually a winning season for the Badgers (12-9-0).
This senior class ended its freshman year with two straight losses to Minnesota State in the opening weekend of the WCHA playoffs.
And while the Badgers have earned an NCAA berth every year since 2002-03 — Mike Eaves' first year as head coach — they haven't been this far since 1992, a year that technically doesn't exist because that appearance was later vacated by the NCAA.
Last season, the Badgers were unceremoniously eliminated by the Michigan Wolverines in the Midwest Regional, in a 4-1 contest during which Burish had the only Wisconsin goal. Sophomore forward Joe Pavelski said that seeing those trophies at the start of the year reminded the Badgers how they played just a few months before.
"At the end of last year we left with a bitter taste in our mouth. At the end of the season, we just got beat. So we came back this year and we saw those trophies and we knew what we wanted to accomplish and we had the goals set."
"At the beginning of the season, we were doing all the simple things and all the hard things and we were playing well, and from then on, we had that no doubt in our mind that we wanted a trophy for our year," added senior defenseman Tom Gilbert. "We've been working so hard all season just to get to this point, and we've got one game left and we're going to put it all out there."
To get the chance to play for a trophy this year, the Badgers bulldozed Maine in late semifinal action Thursday, winning 5-2 with an empty-net goal. Junior Robbie Earl had two goals and an assist; junior forward Ross Carlson had a highlight-reel, shorthanded, go-ahead goal in the second; Hobey Baker finalist Brian Elliott made 32 saves.
As easy as Wisconsin made it look in front of a distinctly favorable crowd, Eaves was unhappy with the number of penalties his team took (eight) and the inconsistent play of the team's fourth line of junior Andy Brandt, and seniors Nick Licari and A.J. Degenhardt. Heading into the title game against Boston College, Eaves is keenly aware of what Wisconsin needs to do as well as what BC will do to win that elusive hardware.
"I think when you're getting ready to play in this type of game, you have to play to your strengths and be very aware of that. I think you have to be cognizant of what the strengths are of your opponent.
"If I was to equate Boston College to teams in our league, I would say that they're very similar to Minnesota and CC: skilled, speed, love the transition game. You take a look at the goals they scored yesterday; everything was on the rush, so I think we have to be very diligent in terms of our decisions with the puck at the blue lines, our decisions with the puck when we have it in their zone that we don't turn it over and give them the easy breakout.
"So we will focus on playing to our strengths, and be cognizant of what our strengths are."
Gilbert said the key to containing Hobey Baker finalist Chris Collins — who earned his third career hat trick in BC's 6-5 win over North Dakota — is knowing that the Wisconsin defense is itself up to the task.
"We've seen high-offense teams, CC and Minnesota, with guys like Chris Collins, we've got tremendous speed, and we've just got to be aware of where he is on the ice, keep him to the outside. He's got great vision, so we've got to know how many guys are coming down on the rush on us, and we've just got to be ready.
"It's nothing we haven't seen yet; we've played against high offensive teams and we've played well defensively from our defense and our offense."
And that's the key to Wisconsin's success Saturday night — the Badgers' nation-leading defense (1.86 goals allowed per game) containing the Eagles' sixth-best scoring offense (3.54 goals per game). BC has been especially lethal lately on the power play, making avoiding the penalty box even more important for the Badgers.
"Their power play has gotten hot at the right time," said Eaves. "We will continue to try to make it difficult for them to do what they want to do, pressure them when we can and have Brian [Elliott] making the big saves when we need to. He's got to be our best penalty-killer."
Going into Saturday's game, the Badgers are relaxed, poised, confident.
"I'm excited," said Burish. "I'm not nervous, I'm not scared, I'm not worried about it being my last game. I'm excited. I want us to play. I want to put that jersey on for the last time and potentially take it off for the last time as a champion.
"It's been an exciting journey. To be where we are right now, and to potentially win a national championship, I wouldn't change a thing. Part of the reason I think we're here — and I'm sure if you ask Tommy [Gilbert], who was here with me our first year, too — that's part of the reason we are where we are, it built that character in us. It helped us to understand how hard you really have to work to be a champion, to be successful.
"So all those tough times we went through that difficult first year, I wouldn't have changed it for anything to get to this point this year, to potentially win a national championship.
"The guys in that dressing room feel as good as they have all year. The confidence is there and we feel we deserve to be here, and we're 60 minutes away from a championship."
Said Eaves, who was a junior on the Wisconsin squad that won the national championship in 1977, "We talked about enjoying the moment, being in the moment, and that's what we're trying to do right now is enjoy this thing. By doing that, I think we give ourselves the best chance of accomplishing what we want."