In a season full of excitement and success, the Miami RedHawk hockey team was able to go above and beyond expectations and capture the regular season CCHA title. Enrico Blasi, the man behind the bench that led the RedHawks during this magical season also achieved successes of his own. Blasi became Miami's winningest head coach when he reached 130 career victories during the season.
Blasi was also named by the American Hockey Coaches Association as the winner of the Spencer Penrose Award for head coach of the year in Division I Men's Hockey. During his tenure at Miami, Blasi has gotten nothing but praise for the job he has done to make the Miami RedHawks more well-known on the national hockey stage.

"He's intense, but he's very, very sincere and very genuine. I think he's a great coach and probably a much better person, just a high quality person and he's the kind of guy that you'd want your son to play for," Miami athletic director Brad Bates said.
The respect that Blasi has from his players is also extraordinary and according to his new team captain, the passion that Blasi gives to the game and the team makes them work harder for him during each game.
"He's a very passionate person and by that I mean that he cares about each guy and the team and everything. And when you see that passion in him, it makes you want to work that much harder for him," said new team captain Ryan Jones. "He is one of the best coaches I've ever played under and I've progressed as a player more under Coach Blasi than I have under any other person and I think some of the other guys here can say that as well."
It was quite a season for the young coach who turned 34 in February and definitely a long journey from Weston, Ont., just outside Toronto, and was one of three children. He started playing hockey at an early age and he recalled that his first memory was when he was four-years old on a park rink near his home.
"The first memory of me playing hockey has to be when I was like four-years-old and it just was something you do in Canada," Blasi said. "I didn't have a frozen pond in my backyard, but we lived real close to a park and they had a rink there."
While playing hockey, Blasi gained an intense and hardworking attitude that he still has to this day as a coach. He added that he has been inspired by his parents and their example of working hard to achieve success.
"Everything that they have, they've worked for and everything that they've accomplished in their lives, the family that they've grown and the house that they have is all from hard work and sweat and sacrifice. Their inspiration to me has been something that I've admired," Blasi said. "So they've inspired me and they've supported everything that we've done as their children and even to this day, they still inspire us."
In 1990, Blasi continued his hockey career after he was recruited by George Gwozdecky, the head coach at Miami. At the time, Miami hockey was still a relatively small program, but up and coming. Blasi came to Miami not only because of the up and coming hockey program, but because of the Miami academic atmosphere.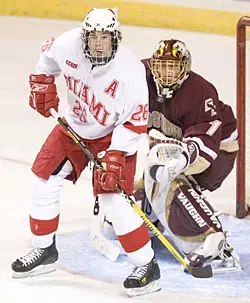 "I was recruited by a few different schools and at the time George Gwozdecky was a rookie head coach at Miami and I just felt like he was the right fit for me and Miami was the right fit for me as a student and an athlete," Blasi said. "Academically, the professors were a big part of my four years. They took the time out to help me along the way and that was one of the reasons that I chose Miami because you get to interact with professors and not TA's."
Throughout his career as a forward, Blasi kept up the same intensity on the ice. During the 1992-93 season, Blasi was an assistant captain for the RedHawk squad that won their first CCHA title in team history. Chris Bergeron was the captain of the RedHawk squad during that historical year and he spoke very highly of Blasi's competitiveness on the ice.
"He was a very intense competitor and he brought it every day. He was a crafty player and I think that growing up he was one of the top skilled guys and he could have went to other schools other than Miami," said Bergeron, the current assistant coach for the Miami RedHawks. "When I played with him he was a good two-way player, got points, but a really hard working intense guy."
Bergeron was one of Blasi's close friends during their playing days at Miami and they still keep up that friendship today. Bergeron also added that Blasi was still as soft-spoken during his playing days as he is today.
"I think he was the same. He didn't let a whole lot of people get real close to him and I think his teammates were his best friends by far. I don't think he opened up a lot to other people like outside of our family on the ice," Bergeron said.
After graduating from Miami in 1994 with a degree in physical education, Blasi started playing professional hockey in the East Coast Hockey League. However, the strain of playing in the competitive league caused Blasi to stop playing after a month to begin his coaching career right away.
"I just felt like I knew I wanted to coach one day and why not get into it right away and see if I could make a career out of it," Blasi said.
The decision brought Blasi back to Toronto where he began his coaching career as an assistant coach for the Wexford Raiders of the Metro Junior Hockey League, the team he played for before coming to Miami in 1990. However, Blasi would only spend one year with his former junior team. As Gwozdecky took the head coaching job at the University of Denver, Blasi would follow and join his former head coach and mentor as a graduate assistant for the Denver Pioneers.
"When I graduated from Miami, I remember George getting the job at Denver and he and I had a walk on campus. We were talking about the future and his future and my future and he said to me at the time that if you ever think of getting into coaching, to give him a call and that's what I did," said Blasi.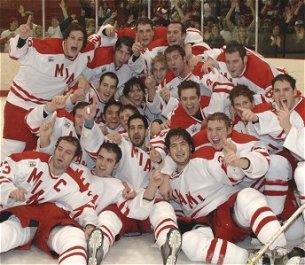 After spending four seasons under his mentor in Denver, Blasi got the chance of a lifetime when he was offered to coach at his alma mater before the 1999-2000 season. Blasi's wife, Susan said that the job offering was something he wanted, but didn't expect it so soon.
"He was unbelievably excited to be doing this and I think he always wanted to come back here at some point, but I don't think he thought it would happen as quickly as it did," said Susan Blasi. "He was given a great opportunity by his previous athletic director to come back here and it's just been everything he hoped for and more."
Coaches and players generally have weird habits before or during games. However, according to Susan, his habits are pretty simple before each game.
"He definitely has his game-day routines that have just become part of life around here, but other than that not too much routine. He always takes a nap before games and he'll come home and rest and that has to happen before every game," said Susan Blasi.
During his seven seasons as Miami head coach, Blasi has preached a team that is devoted to family. Blasi believes that family is the most important thing in life and he preaches that everyday to his players.
"I just think when you're a family you can communicate and say anything you want, but at the same time, you know that everybody loves each other and you can deal with any kind of situation that comes up. And I feel that our team is a family and I feel that they understand that there is a family here at the rink and there is a family at home waiting for you at night," said Blasi.
According to Bergeron, there is no person committed more to his own family than Blasi. Bergeron also said that the importance of family that Blasi preaches to the team comes from his relationship with his own family.
"There is nobody closer to his own family than Rico. He believes in family and there is no reason why he can't take that same approach with our players and that's what we've done," said Bergeron.
With Miami's program continuing to grow with national recognition and more successes, many are looking to the future of Miami hockey and its importance to Miami athletics. Bates has said that Blasi is one of the important leaders for the Miami athletic department.
"In his program he is intensely competitive and a great leader for hockey and not only for Miami, but also nationally. But even beyond that, his vision for the future of Miami hockey clearly contributes to a collective picture or vision for Miami athletics in general. So I think all those things play well together where he emerges as one of our critical leaders in the department," Bates said.
As the RedHawks move into a new arena next year, Blasi is already excited about the new start in the new Goggin Ice Arena. However, as he continues his ascent to the top of the NCAA coaching pool, he still has two dreams he wants to fulfill as a coach.
"To coach Miami to a national championship would be one of my dreams. The other one would be to coach a team to the Stanley Cup and those are two of the biggest team awards that you could ever imagine," Blasi said.