It was a storybook season for Boston University last year in Hockey East. After an inconsistent first half with seniors David Van der Gulik and Jekabs Redlihs sidelined, the Terriers went into the heart of the season looking up at a seemingly insurmountable lead by Boston College in the standings.
BU proceeded to go 17-1-2 from January 7 through the Hockey East championship game, nipping the Eagles in the Beanpot championship, stealing the regular-season title from BC in the final weekend, and topping its archrival in the TD Banknorth Garden finale to boot. The Terriers even finished no. 1 in the USCHO.com/CSTV poll, claiming the top spot for the first time all season in the year's final poll.
Of course, BC enjoyed some payback by denying BU a Frozen Four bid, but, in the final analysis, Terrier coach Jack Parker acknowledged that he wouldn't trade his team's year for any other program's — except national champion Wisconsin.
So what can the Terriers do for an encore? The program has every reason to feel that it can contend for all of the hardware this season. With John Curry back in goal along with leading scorer Peter MacArthur, Hockey East Rookie of the Year Brandon Yip, and Kenny Roche coming off a career year, BU looks to have good depth across the board. The biggest concern has to be replacing the all-senior first line of Brad Zancanaro, David Van der Gulik, and John Laliberte.
"I think that's our biggest question mark," Parker said. "We're going to be real good in the goal with numbers and experience and skill. We're going to be real solid on defense with numbers and experience and skill. We're going to be real solid up front except we're losing our top line. Can the second line step up and become the first line? They're gonna be. We expect them to be. Maybe all of our top six returning forwards won't play together; we'll mix them up a bit, but we're going to have to have some people step up.
"It's going to be upperclassmen who have to step up and do more. But if you look at how they played last year, all five of those freshman forwards could be a lot better for us this year even though Yip was Rookie of the Year and [Chris] Higgins and [Jason] Lawrence had great years as freshmen, they could be much better as sophomores.
"If you look at how well [Bryan] Ewing and Roche played the second half of the year, they could be much better for us if they do that for the entire year. And with MacArthur does what he's done since he's been here, that could be a potent first line. There's a lot of ifs, but there's people here who can step up and make sure we have enough offense."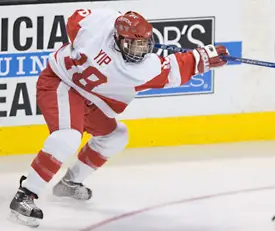 BU also has a small but talented cast of incoming recruits, including goaltender Brett Bennett and d-man Brian Strait from the U.S. National Under-18 team. Like Bennett and Strait, defenseman Eric Gryba is another NHL draft pick, one who brings size to the equation. But don't overlook less-heralded Luke Popko, a forward who should help fill the defensive-minded role vacated by the departures of Zancanaro and Van der Gulik.
"[Popko] is a terrific all-around player but a great defensive player," Parker said. "He's great on faceoffs. There's no question in my mind that as a freshman he's going to be out there killing a lot of penalties for us, and I wouldn't mind putting him out there against anybody's top line.
Ironically, the freshman who ultimately has the most impact in the Terrier scarlet and white might have the smallest role this season.
"Maybe the most talented guy will be the guy who gets the least chance to make a contribution, and that's the goaltender," Parker said. "If you're the second-best forward or defenseman on the team, you're going to get a lot of ice time. If you're the second-best goalie, you might not play a lot. He's our goalie of the future, and he's certainly going to play this year because we don't want to wear out John Curry. But as long as John Curry is anywhere near what he's done for us the last two years, he's our number-one guy.
"The same is true for the forwards, [Zach] Cohen and Popko. They don't have to be our first-line guys. So the guys who will have the most impact of the freshmen are the two defensemen. Strait and Gryba are coming in, and we're losing two senior defensemen who played a lot for us, and an all-American defensemen in Danny Spang. So those guys will have to be replaced, and those two freshmen are going to open a lot of eyes."
Look for BU to compete for the top spot. Whether the Terriers can win it again and make the Frozen Four likely will depend on how much of a great leap forward comes from the returnees.