As their first year in the ECACHL commenced last year, few knew what to expect from the Quinnipiac Bobcats.
The results: a run close to a home-ice spot, and a first-round win over Rensselaer in the conference playoffs.
Now people know what the Bobcats can do — challenge the best in the ECACHL.
"As a team we were pleased with our first year in the ECACHL," said head coach Rand Pecknold. "We defeated five nationally-ranked teams and beat 10 of the 11 [other] teams in the league. Winning our first league playoff series, on the road no less, was another important step for this program."
Now that the Bobcats won't be taken lightly, there's hope in Hamden, Conn., especially with a new facility coming, and an attitude that it's going to help the program out tremendously.
"Everyone is excited about the prospect of playing in our own on-campus facility," said head coach Rand Pecknold, who recently signed a long-term contract extension as he enters his 13th year behind the Bobcats' bench. "It's going to be a great environment for players, coaches and fans alike."
Up front, the Bobcats lose five forwards, but 10 return including the line of Bryan Leitch (14-31-45), Ben Nelson (17-21-38) and Jamie Bates (21-20-41). They lead a talented group that has shown that it can score with the best, and which will be a force.
"With a strong mix of returnees and newcomers, I feel we have the capability to match our offensive productivity from a year ago," said Pecknold. "However, we can't automatically expect the same results. Out players aren't a mystery to the league any more."
One player who has never been a mystery is Reid Cashman. The senior defenseman is one of the best in the nation, and will anchor the defense. He will be marked, but he always finds a way.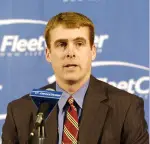 "We're fortunate our blueline will again be anchored by one of the top defenseman in the nation in Cashman," said Pecknold. "A big key for us this year is our depth. We have nine defensemen that can all make an impact."
Back along with Cashman are Matt Sorteberg, Dan Lefort, Dan Henningson and Andrew Meyer. Add in John Doherty, Josh Duncan, Sami Liimatainen and Jordan Zitoun and the Bobcats indeed should have impact defensively.
In net Bud Fisher (.904 save percentage, 2.56 GAA) returns after a stellar freshman season. He will be pushed by Zach Kleiman.
"For us to be successful this year, goaltending is the key," said Pecknold. "Fisher stepped in right away last year and he showed a lot of poise and won some big games for us. We're expecting him to progress this year. Kleiman comes in with an impressive background and should battle Bud for playing time right away."
The Bobcats are not going to be a mystery this year; instead, the mystery may only be whether the Bobcats have enough to reach a first-round bye in the ECACHL playoffs in just their second year in the league.
"We are going to be tested by many top opponents in the first three months of the season," said Pecknold. "Our goal is to be playing some of our best hockey when we open the [new] building, and then to continue to play well as we head into the stretch run and, ultimately, the postseason."
Thanks to Mike Volonnino for his contributions.