The Rensselaer Engineers will go into the new season with a new coach and a new attitude. Dan Fridgen's contract was not renewed after last season and new bench boss Seth Appert hopes to bring his style to a team that has not advanced very far in the last few years.
What is there for the Engineers? What has Appert seen?
"We believe we will be very competitive with every team on our schedule," said Appert. "With our solid mix of speed and size we expect to play an up-tempo but physical style."
The up-tempo style is one that Engineer fans have become used to seeing, so many welcome the words coming from Appert. The Engineers have some tools to do just that as Oren Eizenman (16-22-38) returns along with Jonathan Ornelas (13-9-22).
But the biggest boost may be the return of Kirk MacDonald.
After the end of the 2004-05 season, MacDonald learned he had testicular cancer and spent last season getting back in form while fighting it. Now that he has won that battle, he's back for his senior season and ready to lead the Engineers as the team's captain.
"There is no finer example of a class act that Kirk," said Appert. "He's worked real hard to get to this point and he's ready to go. There is no doubt that he is ready, and ready to lead this team."
MacDonald brings 16 goals and 20 assists from two seasons ago back to his team, which can only benefit as the Engineers try to put together an offensive attack.
Kevin Broad missed the last 14 games last season due to injuries and will be welcomed back into the fold as well.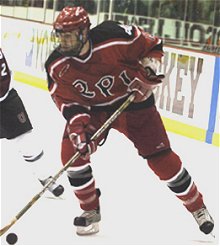 "Kevin is also highly regarded," Appert said. "His passion and commitment to this program and his teammates are evident in everything he does. He always conducts himself in a manner that puts the team first."
Andrew Lord, Kurt Colling, Matt Angers-Goulet and Jake Morrissette will also be asked to up their totals from last season. Jordan Cyr and Paul Kerins will be asked to contribute almost immediately as well.
In the nets, the Engineers return a pair of players who could each be a starting goaltender. Last season, Mathias Lange wrestled the job from Jordan Alford, but both are goaltenders who have stood the test in game competition and will both be a strong foundation.
And they'll need to be, as the Engineers are a little thin on defense. Reed Kipp, Ryan Swanson and Jake Luthi are the only Engineers returning on the blueline, leaving youth and inexperience in at least three spots.
Erik Burgdoerfer, Christian Jensen, Jason Fortino, Peter Merth and Garrett Vassel (who also plays forward) will compete with the other three to get into the lineup.
The Engineers have a lot of work to do, so their progress will likely depend on how fast the defense comes together. The youngsters will get their first big test early, as the Engineers open with Boston University, Denver, Union and either Colgate or Quinnipiac in the nonconference portion of their slate, before the ECACHL games begin.
Thanks to Mike Volonnino for his contributions.