It may be one of the highest forms of praise a team can hear from an opposing coach in early January.
"There's a chance for [St. Cloud State] to go to the Frozen Four," said Alaska-Anchorage coach Dave Shyiak after the Seawolves were swept at the hands of the Huskies last weekend. "There really is. Right now, they're starting to feel it. They've got enough talent on that team with great goaltending, good speed, and a quite disciplined style, to be real dangerous down the stretch."
For a team that tends to catch a lot of flak for its lack of success late in the season, it's an eye-opening statement.
Shyiak should know. He was a senior captain on a Northern Michigan team in 1991 which not only set a WCHA record with 26 consecutive games unbeaten, but also made a visit to the Frozen Four — and skated off with a national championship.
St. Cloud State is in the midst of a school record 15-game unbeaten streak dating back to early November. The streak has been somewhat overshadowed by the 22-game roll going on just an hour and a half down I-94 in Minneapolis, but the Huskies do have one thing that Minnesota can't claim: the last 12 games of that streak have all been wins. It is the longest winning streak in Division I hockey this season.
Evolution
The Huskies surprised most pundits last year. Coming into the 2005-06 season, the conventional wisdom was that St. Cloud State was probably still a couple of years out from being a contender. There was turnover at the top, with longtime coach Craig Dahl stepping aside, and there were question marks in almost every facet of the game. The coaches picked SCSU to finish ninth out of ten — the same position they had finished a year earlier after arguably one of the worst seasons since the team joined the WCHA.
But the team caught fire instead, riding strong play from transfer goaltender Bobby Goepfert and a fresh approach to the game from new head coach Bob Motzko to a respectable sixth-place showing, a result they managed to ride all the way to the championship game of the Final Five.
Goepfert sees a difference in the team's confidence building on last year's successes.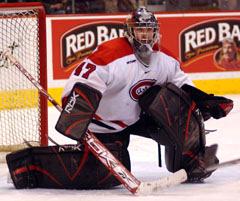 "From my perspective, the difference between last year and this year is that last year we might get down early and it'd start feeling like it was insurmountable, like we'd have to dig down deep in order to come back. Now, we just aren't letting it get us down when stuff like that happens. We're playing the full 60 minutes regardless, and it'll bring us back.
"It's definitely a confidence-builder when you win games you're not supposed to win, when you win games where we don't have our best stuff. It makes the season that much more enjoyable."
Confidence isn't in short supply in the St. Cloud locker room.
"It's good coming to the rink knowing that all four lines are going to be out there working hard and finding success," says junior assistant captain Andrew Gordon. "We have a great cohesiveness as a team. There's not one person back there that is unreliable, so we look to each other for inspiration. Everyone's working on a common goal. Confidence is huge in this game, and just knowing that when you're down, there's someone else to help pick you up, it's a great feeling for the team in general."
It's even a trend the younger players are beginning to pick up on. "The first few games, you're nervous as a freshman," says rookie forward Andreas Nodl, "but now my confidence is much higher and I think that's true of all of [the freshman class]. It's a big part of my game — as long as I'm confident I can play really well."
"We had some younger guys that have adapted to the system at the same time that some of the upperclassmen began elevating their game," says senior captain Casey Borer. "We've come together as one — there's really no class separation whatsoever. Everyone hangs out with everyone else off the ice, so when we're on the ice, that sense of unity carries over. We're a team, and we succeed or fail together."
Youth
"You don't want to put any pressure on freshmen coming in, but we were eager to see what kind of contribution they could make," said Motzko.
It's been no small role. Freshmen Ryan Lasch and Nodl have become an integral part of the St. Cloud State offensive scheme. Lasch leads the WCHA in league scoring, with 10 goals and 10 assists for 20 points. Nodl leads the Huskies in assists with 17, and is tied with junior Andrew Gordon in overall scoring with 27 points while sitting second nationally in freshman scoring, trailing Maine's Teddy Purcell.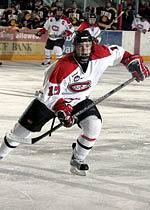 Their involvement has led some to consider both to be top candidates for WCHA Rookie of the Year. Neither seems to be too interested.
"I don't know about that," says Nodl. "I'm lucky to play on a good line with Gordon and Dey. I've worked hard to earn ice time. There are so many good players like Kyle Okposo and Erik Johnson [of Minnesota] and some guys at Denver who deserve that kind of thing. I'm not even looking into that."
"I don't look at the stats," says Lasch, insisting that he wasn't aware that he leads the WCHA scoring race by three points. "I just try to approach the game the same way I always do and see how things turn out from there."
Freshmen have been playing important roles on the other side of the puck as well. Defenseman Garrett Raboin has become an everyday player, adding gritty physical play and solid defensive awareness to the Husky blueline, and freshman Jase Weslosky — Goepfert's heir apparent in net — has already appeared in four games for SCSU, winning all four with a GAA of 1.00.
"We've got an All-American goalie [in Bobby Goepfert], but we've played our freshman [Jase Weslosky] in three of these games, and we aren't afraid to get him in on things in the future," says Motzko. "He's been a pleasant surprise, and we're going to get him in some more in the second half. It allows us to build for the future while he helps us win now. It's also good to give Bobby that mental rest to keep him sharp.
"Weslosky goes in there and the guys have already learned that they're going to get a good effort out of him. It's not even something we have to talk about, we can just go out and play no matter who we have in net."
To Motzko, the contributions of Lasch, Nodl, Raboin, and Weslosky are key to St. Cloud State's success. "Those four guys are entrenched into the very heart of our team right now as regular contributors and regular players."
Defense
The season started off with more of a lurch than a bang for St. Cloud. The Huskies won only two of their first eight contests, and defense was an issue. As a team, SCSU had a goals against average of 3.13 in those first eight games, and returning All-American Goepfert seemed downright human, with a 3.29 GAA, a far cry from the 2.20 he posted last season when he was named First Team All-WCHA.
"I don't feel like I was playing bad, [though] I was unhappy with some of the goals that were going in," says Goepfert. "There really wasn't anything that I changed and I don't feel like anything's really even changed since then other than that those goals aren't going in anymore."
If that's the only thing that's changed, it certainly is making a world of difference for the Huskies. Since the beginning of their current 12-game winning streak, Goepfert's GAA has been superb at 1.56. Chalk at least some of that up to the defensive corps stepping up its play.
"We were pretty bad early on with goals against," admits Borer, a defenseman who is in his second campaign as team captain. "We just realized as a group that we had to bear down and help our goalie out."
"We expected guys like Justin Fletcher and Casey Borer to be dominating on defense," says Motzko, "but the work we're seeing from guys like Grant Clafton and Matt Stephenson defensively has improved our defensive corps significantly."
Adding contributions from freshmen Raboin and Weslosky has only helped make the defense even more rock-solid. During the last 12 outings, the Huskies have not allowed more than two goals in a game.
"That's the one thing that ties these last few weeks together in such a positive fashion," says Motzko. "We're keeping our goals against statistic down."
For the season, that statistic now stands at 2.05 goals per game, good enough for sixth in the nation.
An effective penalty kill has enhanced those numbers. While the Huskies are the second least-penalized team in the nation (only 10.8 PIM per game), their penalty kill has shut down the few opportunities that opponents get, killing penalties at a rate of 89.7 percent, third-best in the NCAA.
Focus
The team has a uniform approach to its record-setting streak.
"Guys aren't dumb," says Borer. "They know we're on a streak. It's not like we're in the locker room with our lips shut, but at the same time we aren't slapping each other on the shoulders talking about how great we all are. We know we're putting some wins together, we just don't want to read into it too much."
"It's not one of those things we really look at other than just for fun," says Goepfert. "We got off the ice last Saturday and said 'How many is that now? Nine? Twelve?' We're realists. It's going to end sometime, but it does create kind of a nice atmosphere for us around the rink."
"At this point, we aren't looking at it in terms of extending the streak, we're looking at it as winning more league games," says Gordon.
Motzko echoes all three sentiments in one. "It's not a voodoo thing where we won't talk about it at all, but we don't spend time talking about it among the team because all we're concentrating on is the task at hand. We prepare each week for our opponent, and we get into our routines. That's our focus."
Improvement
Despite the winning ways, it appears that few on the team are entirely satisfied with the way things are developing.
"We have a lot of room for improvement," says Lasch. "There's always room for improvement and we're going to improve every day as long as we remember that."
Throughout the streak, Motzko has continued to tinker with the team, trying to find optimal results. "We've played our whole roster besides our third goalie during the last two months. We're rotating eight defensemen in and we're constantly working with forward combinations to become a better team depth-wise throughout our whole lineup.
"We want to create a more balanced offensive attack. It's coming, but it's not there yet."
Motzko feels that preparing for the end of the streak is probably more important than trying to perpetuate it.
"The biggest thing that we have that I'm anxious to see is how the team reacts to some real adversity. It's not that we're inviting it or looking forward to it, we're just being realistic — it's going to happen. This level is too tough to go through without running into difficulties. When we hit our first big snag, whether it's an injury or just getting knocked down, it'll be exciting to see what we have when we hit that adversity. We'll have to fight through it and it'll make us a better team.
"They're a terrific group of kids. I've been very fortunate to have such good kids to work with. They work hard, they're attentive, they always want to get better, and they're excellent students. We've had very few instances where we've had to take someone aside and do some extra coaching on the side."
Future
Are Shyiak's words a foreshadowing of things to come?
"You appreciate those kind of compliments from your peers," says Motzko, "but it's too early for us to start thinking about that. We're going to start concerning ourselves with home ice, period. I don't see any benefit to thinking that far ahead."
"That's a long way away," agrees Borer. "Everyone who plays college hockey dreams of going to the Frozen Four, no question. If we're playing our best and get a few bounces here and there, yeah, we're capable of going there. But there's a lot of work that we have to do between here and there. It's a mountain to climb and there are things we need to do before we can get ourselves near the peak."
"We can go wherever our level of play is going to allow us to go," says Gordon. "We never expected to come into the season and go on a streak this long; even when we realized we were on a streak, we didn't expect that we'd still be here talking about it this long. It doesn't change anything, though. We still are going to come out hard every night until we get outplayed and until we deserve to lose a game, I don't think we're going to be satisfied with it."
"I don't like looking into the future too far, but I think we can maybe do something special in March or April," says Goepfert. "Right now, its one weekend at a time, we want to take care of business and not look too far ahead, but it's always there in the back of your mind, those goals that everyone wants."
Goepfert slaps an NCAA logo on the door for emphasis, without saying it. "We want it."
Motzko may be working to keep the team's focus on the present, but his long-term plans are a little more far-reaching than even St. Louis.
"We're a relatively young program. We've only been in the league for 16 years, and that isn't a really long time at the Division I level when you consider that some of these programs have been around for a century or more.
"We play in a great state where hockey is almost a way of life. We've got a lot of proud programs in our state, between Minnesota, Duluth, Mankato, and us, and I don't see why there can't be more real 'power programs' in our state. You look at the city of Boston, where BC, BU, and Harvard have all won national titles. That's one city with several top programs. There's no reason why there can't be a second 'power program' in this state. We're just too great of a hockey state with too many good players to go around.
"Ultimately, we want to become the best program that we can in the 'State of Hockey.' That's where we want to take this."
If that's the overarching goal, now may be the perfect time for Motzko and the Huskies to grasp the brass ring.