Chirping is a part of hockey, especially college hockey.
Most players don't take it seriously, as the remarks are usually juvenile phrases. But when Brett McConnachie gets called "Eminem," he takes that as a compliment.
The Alabama-Huntsville senior forward is an up-and-coming rapper away from the rink and has recorded two albums under the stage name "P-Box."
"That's short for penalty box," McConnachie noted. "I had to include hockey in there somehow."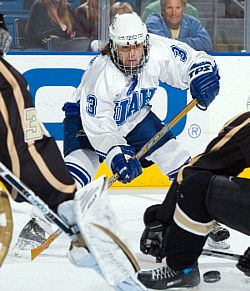 McConnachie was exposed to the rap realm at Notre Dame Secondary School in Ajax, Ontario, 20 minutes outside of Toronto.
"I was the only white guy on the basketball team," laughed McConnachie, 21. "The guys would be freestyling in the locker room and I saw that and figured it couldn't be that hard. Soon enough, I was entering battles with other kids at the school."
Once he came down to Huntsville, the rapping continued.
"Sometimes there wouldn't be too much to do in the dorms," McConnachie said. "I've done parties and bars and clubs around here and people have really started to take notice. I have a manager that helps me out with things, too. I've recorded four total albums, but I have probably 100 total songs. Two real albums have been recorded and in fact, my second one is being produced right now.
"I could see this being a career after hockey. It's a big industry and I'm talking to a few record labels. I'm still working at it."
On the ice, McConnachie said he hears the occasional "You must have learned how to check like that in the streets" chirp during a scrum or after a check along the boards, but takes it as a show of respect.
"It's funny," laughed McConnachie. "I know guys all around the league and we'll be lining up for a faceoff or whatever and someone will say they heard my stuff and liked it. I wrote a pump-up song we play in the locker room now and then and a lot of the guys here on Huntsville have the CDs in their cars."
But what does UAH head coach Doug Ross think of "P-Box?"
"Um, well, I'm not sure," said McConnachie. "I think he thinks I'm just a singer."
McConnachie, third on the Chargers with nine goals and 19 points this season, said he grew up listening to East Coast rap like Notorious B.I.G. and 2Pac, but now, from being in the south for four years, he's adapted the styles of T.I., OutKast, Rick Ross and Three 6 Mafia into his repertoire.
"First and foremost, hockey comes first," noted McConnachie. "I still have a lot of hockey in me. But I keep trying to improve my rapping. From time to time, you'll see me on the bus with a pen and paper, so yeah, it's always something I'm thinking about."
McConnachie came to UAH as a true freshman in 2003 after a visit when he "fell in love with the place."
"Going to the rink in shorts, there's nothing better," he added.
In the CHA tournament last March, McConnachie singlehandedly beat Wayne State in a quarterfinal game with two goals and an assist. Though the Chargers lost in the semifinals to eventual champion Bemidji State, McConnachie has thoroughly enjoyed his time at UAH and wants to cap his career with a title.
"The stretch run is big, but in the tournament, anything can happen," said McConnachie, who was drafted by the Ontario Hockey League's Toronto St. Michael's Majors in the fourth round in 2001.
Toronto taking him in the early rounds was a sign McConnachie might have made the jump to major juniors. But his coach in minor bantam hockey told McConnachie he was a sure fire college-type player.
"I was talking to a lot of schools, actually," McConnachie noted. "Some CCHA schools wanted me to go play another year of juniors, but I felt I was ready to go D-I. When the coaches came to a game in Wexford, I didn't know where Huntsville was and that they even had a D-I hockey team. I did my fly-down and knew that's where I wanted to be."
When McConnachie graduates in May with his marketing degree, he may already have a leg up on the knowledge of getting his name out into the rap community. He said he wouldn't be where he is, or where he aspires to be, without a UAH education.
"These four years have gone by so fast," he said. "I've grown up here. Maybe after the season ends I'll sit back and reflect on the experience, but right now we have two big games this weekend (hosting Bemidji State) and we know it's the biggest weekend of the year for us."
And McConnachie will undoubtedly help out if he stays out of the "p-box." Save that for after the game, eh?
Purple Eagles Handle Wayne State
Niagara jumped into first place in the CHA with a two-game sweep of cellar-dweller Wayne State over the weekend at Dwyer Arena.
With the wins, NU is also unbeaten at home (11-0-1) and extended its league unbeaten streak to nine games (7-0-2).
Goaltender Juliano Pagliero was sharp again in taking both wins and making 73 combined saves over the weekend.
"I don't want to talk about him (Pagliero)," Wayne State head coach Bill Wilkinson said at the top of his postgame press conference Friday. "He's too damn good."
USCHO's Niagara arena reporter Vince McConeghey described the NU goalie arrangement in his recap Friday night, and it's a splendid piece of journalism:
"At the start of the season, Niagara's goaltending situation was cloudier than a well-crafted dirty martini, but Pagliero's torrid play has shaken things up at Dwyer Arena and lifted the fog of doubt surrounding the Purple Eagle net," wrote McConeghey.
On Saturday, freshman forward Egor Mironov notched two power-play goals and added an assist in the win.
Afterwards, Mironov commented to reporters what the Purple Eagles' key to success has been this season.
"It's like an NHL locker room here at Niagara," Mironov told the Niagara Gazette. "Everybody in this locker room is so close, it's a very special feeling. We know we're going to war for each other every night.
"And we're not going to let anybody come in here and take anything from us. They're going to have to rip it from our claws."
Wayne State, who scored three third-period goals in its 4-3 loss Saturday, was held scoreless in 13 power-play opportunities in the series.
Niagara now leads the all-time series, 15-13-3, as the Warriors have only defeated the Purple Eagles in three of the last 20 meetings (3-15-2 in that span).
Bemidji State Looking to Snap Skid
BSU enters this weekend's Alabama-Huntsville series looking to snap its first four-game losing streak of the season.
The Beavers and Chargers are playing the second of three regular-season series between the rivals as part of CHA's unbalanced 2006-07 regular-season schedule. Four of BSU's next six games will be against Alabama-Huntsville.
This weekend's series continues a stretch of five consecutive road games for BSU; six of BSU's eight remaining regular-season games will be on the road.
Bemidji State is 7-0-2 in its last nine regular-season CHA games.
BSU trails Huntsville in the all-time series 17-25-1 and has a 14-20-1 mark (3-16-0 in Huntsville since 1999) against the Chargers in its Division I era. The 20 losses to the Chargers are its most against any Division I-era opponent. The Beavers are 12-5-1 in its last 18 games against UAH, 7-2-0 in its last nine, and is riding a series-best three-game winning streak.
Alabama-Huntsville is BSU's second overload partner in this year's unbalanced CHA schedule; the series is the second of three between the Beavers and Chargers this season, with the third coming in Bemidji on Feb. 16-17.
UAH Swept Aside By Western Michigan
The Chargers aren't doing their best to send Ross out on a high note, as they were swept on the road by Western Michigan last weekend.
UAH was blanked on Friday, 5-0, then fell in overtime on Saturday, 6-5.
"We just made some mental mistakes," said Chargers' assistant coach Lance West to USCHO Friday. "(WMU) used their speed and skill and just took advantage of the opportunities they had."
Saturday, Huntsville trailed 5-2 going into the third period, and tied the game on goals by Dominik Rozman, Grant Selinger and David Nimmo.
"Our guys should be proud of their effort they gave tonight," West told USCHO. "They worked hard, and did the job they had to, they should be proud of everything they did."
Freshman goalie Blake MacNicol made his NCAA debut for UAH Friday, stopping two shots, but allowing one goal, in the third period after taking over for Marc Narduzzi at the start of the stanza.
Robert Morris Adds Fall Recruit
Robert Morris will have a big scorer in the lineup this fall when Kyle Burton ventures to Pittsburgh from the Calgary Canucks.
Burton, with 32 goals and 60 points in 48 games thus far, verbally committed last weekend. The 20-year-old is having a breakout season after potting just 14 goals all of last year.
Burton's linemates, Ben Farrer (Providence) and Bennett Royer (Michigan Tech), are also off to the U.S. for college action come October.