The best-laid plans of mice and men…
A dilemma has been faced by head coaches nationwide ever since the workings of the NCAA tournament selection process — summarized as USCHO.com's PairWise Rankings — became publicly available years ago.
With an objective, numerical process in place, the impact of every game could be measured, and that has turned out to have some curious consequences.
The situation got even more unambiguous, and therefore even more complicated, with the introduction of what-if tools to examine the impact of various scenarios, like the PairWise Predictor.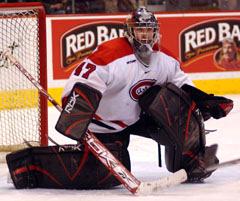 Now coaches, players and fans could tell not only where things stood, but where they might go in the future.
That meant that real-time decisions could be made with intimate knowledge of how they affected a team's NCAA hopes. The most obvious place and time? A conference tournament's third-place game — a contest that might mean nothing or everything depending on who was in it.
Hypothetical case in point: a PWR-savvy head coach knows he has to win a third-place game to make the NCAA tournament, based on the numbers. The game goes to overtime — and he pulls his goaltender, knowing that a tie means nothing for him. This came close to happening a few seasons ago.
This year in particular, the third-place games meant a great deal. Michigan State locked up an NCAA bid with a wild overtime win against Lake Superior State, and St. Lawrence beat Dartmouth 5-3 to put itself in the field as well, and end the Big Green's hopes at the same time.
All of this is a long introduction to the fact that Saturday at the Xcel Energy Center, St. Cloud State head coach Bob Motzko had a decision to make.
St. Cloud State entered the WCHA Final Five looking like a No. 1 seed in the NCAA tournament, but a 6-2 loss to North Dakota in Friday's semifinal imperiled the Huskies' chances. By all appearances, it looked as if SCSU needed a win — or maybe a tie — in Saturday's third-place game against Wisconsin to preserve its position.
With several players on the Huskies' roster hurting, Motzko had to choose: rest some of his guys to bolster his chances in the regionals next weekend, or run the usual cast out there and go after the one seed full-bore?
After hashing out his options, Motzko chose the latter. Among the players who skated for SCSU in the UND game, only third- and fourth-line wingers Aaron Brocklehurst and Gary Houseman, along with third-line blueliner David Carlisle, were scratched from Saturday's lineup. On the ice were the Huskies' big guns, including goaltender Bobby Goepfert.
And after all the smoke had cleared, Wisconsin, playing for nothing but pride after its own semifinal loss to Minnesota — and with backup netminder Shane Connelly in net for almost the entire game — had defeated SCSU 4-3 in overtime.
The Badgers scored three straight goals to overcome a 3-1 deficit, the last one coming off the stick of Ben Street with just 9.1 seconds left in the five-minute OT.
Along the way, there was a scary moment for Husky supporters a few minutes into the third period, when Goepfert took a slapshot from UW's Ross Carlson in the neck and crumpled face-first to the ice seconds later. Goepfert eventually stayed in the game. However, St. Cloud didn't escape the game unscathed, losing senior center Nate Raduns to an injury that Motzko thought would keep him out for next weekend's games.
"That's just what we didn't want," said Motzko.
Losing Raduns, likely losing a No. 1 seed anyway — sounds like a bad day for Motzko and his charges. But as the coach pointed out, the breathless hype over seeding might be a tad overdone.
"You guys [the media] keep saying North Dakota is the best team in the country. Well, we're in their [seeding] band now, so we can't go with them [to the same regional]," Motzko said, only half-jokingly.