So close, once again.
With a dominating 13-game winning streak, an average of 4.7 goals per game, and a power play and penalty kill both on fire, Boston College seemed a team of destiny against underdog Michigan State.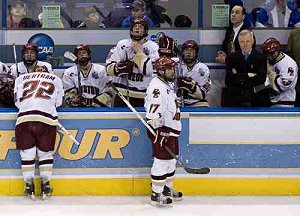 But for a second consecutive season BC made it to the championship game, only to see it slip away late. In Milwaukee, a third-period goal by Wisconsin's Tom Gilbert and a Peter Harrold wrist shot off the post kept the Eagles from a title.
This year, it came down to the last minute once again when Justin Abdelkader banged in a one-timer to end the Eagles' quest.
Despite 110 career wins by its senior class and a Hockey East title, it was again a disappointing ending for Boston College.
"We had some momentum for a while and it felt pretty good," said BC senior center-turned-defenseman Brian Boyle, who scored his team's lone goal and had some key blocked shots. "But the end is just as devastating as last year."
Boyle, a draft pick of the L.A. Kings, returned for a senior year after participating in the NHL club's development camp for a chance to claim a title after last year's disappointment.
The Eagles, up a goal as they entered the third period, felt confident.
"We thought we were playing good, staying out of the box, and we thought if we would just keep playing like we were, we would be all right," said junior goaltender Cory Schneider.
The sudden turn of events with just 19 seconds left in a tie game left the Eagles not just disappointed, but stunned.
"It's a hollow feeling. Not sure what more to say. I thought we had the team here to do it. It just didn't go our way," Schneider said.
Sophomore Nathan Gerbe, named an all-tournament forward, was asked where the Eagles can go from here.
"Just start over. What else can we do?" he said.
Coach Jerry York's squad is in a good position to return to the Frozen Four next season, with Boyle and forward Joe Rooney the only seniors who saw action Saturday. That is, if they stay intact.
"I haven't really thought about it yet," Schneider said about whether he'll turn pro. "I'm not really thinking about anything right now."
York, who has had one title and three second-place finishes at BC, was philosophical about the second consecutive title loss. "You try as hard as you can, but there's no guarantee for this business. And I think our kids are mature enough to understand this."