Brett Motherwell, the highest-scoring defenseman in Hockey East last season as a sophomore and one of the integral pieces of this season's Boston College hockey club, opted to leave the team and sign a contract with the Syracuse Crunch of the AHL Thursday afternoon.
Motherwell, an undrafted free agent, and Brian O'Hanley were in the midst of serving indefinite suspensions invoked following the first game of the season against Michigan at the Ice Breaker Invitational. The suspensions were reportedly due to both players breaking team curfew. Motherwell opted to leave the suspension and college life behind, and instead inked a 10-day amateur tryout contract with the AHL club.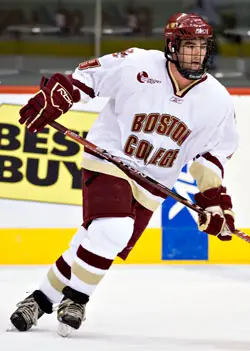 O'Hanley is still reportedly taking classes at the Chestnut Hill campus of Boston College, but longtime Eagles head coach Jerry York indicated that O'Hanley's suspension wasn't coming to an end any time soon.
"Brett just signed with Syracuse, so he elected to leave school," said York . "There's no question [it's a difficult loss]. Along with [Brock] Bradford being out with the broken left arm, that's two potential All-American candidates that we're missing.
"We've had to go through the typical storms of the college season with suspensions — where we lost two players — and then injuries," added York . "We're a little thin in our numbers right now, but we're hoping Brock comes back in late January. I think we'll be in good shape."
Motherwell was a highly-touted, offensive-minded defenseman who factored heavily into BC's fortunes this season, and put up seven goals and 44 assists in 82 career games at Boston College. The signing of Motherwell was announced by the Crunch Thursday afternoon, and York confirmed it during an interview with USCHO.com.
"We're comfortable giving him a shot here. We did our due diligence," Columbus Blue Jackets assistant general manager Chris MacFarland told the Syracuse Post Standard Thursday afternoon. "It's a fresh start for him. Hopefully, he embraces it. Our amateur scouts feel there's something there. Hopefully, he will show that."
Motherwell wouldn't discuss the BC suspension with reporters in Syracuse, but instead expressed excitement at turning pro.
"I just felt it was the best time for me to leave and start a professional career," said Motherwell. "I'm ready to start something new here."
O'Hanley was unavailable for comment at the time of this report.