There are some intriguing matchups in the regionals of the 2008 NCAA tournament, and none more than a first-round matchup between Minnesota and Boston College in Worcester, Mass.
BC and Minnesota have had similar seasons for different reasons. The Gophers lost two-thirds of their top line when Ryan Stoa was lost for the season with an injury in the first weekend and Kyle Okposo finally got what he wanted by turning pro at midseason in what might be the most poorly-handled NHL signing in recent history.
There is much more to this story for those who followed it, but we'll leave it that the Gophers, who allegedly can't develop players, must have done some job in the second half because they were supposedly dead in the water on New Year's Day and enter the tourney, like BC, as almost a Cinderella story.
No one will buy that BC is coming in under the radar, but the Eagles haven't had one of those seasons that Jerry York has been accustomed to on the Heights. They have had losing streaks, suspended two players for the season during the opening weekend at the Ice Breaker, and struggled to find consistency. They finished fourth in Hockey East. Yes, fourth. The Gophers finished seventh in the WCHA, though anyone out west will tell you it's tough just to finish in the top 10 out there (that's a joke). They came in 15 points behind CC.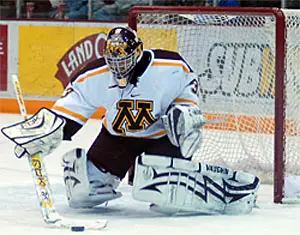 The Gophers weren't picked by their own media to beat Minnesota State in the opening round but after losing a 1-0 double-overtime game to the Purple Bull in game one, they rebounded with a pair of OT wins in games two and three to win the series. Then they knocked out St. Cloud and Colorado College and barely lost to a very good Denver team in the WCHA final. This team is hot, well-coached, and on a mission. Could you imagine the Gophers in the Frozen Four and winning it, in Denver?
Before anyone gets too carried away and anoints the Gophers national champs, they have to go through always-tough and perennial Frozen Four contender Boston College.
Their power play has been an issue, and according to assistant coach Mike Guentzel, the PP has almost been their undoing. Can anyone remember the last time Minnesota worried about its power play, that famed group that once boasted Phil Kessel, Ryan Potulny, Danny Irmen, Chris Harrington and Alex Goligoski on one unit? The Gophers are scoring-challenged but the energy they used to get from a great power play, as noted by Guentzel, comes now from the stellar play in goal. Alex Kangas has been the savior.
Here's a stat that bears out Kangas' dominance, and why the Gophers have survived. Only national-title contenders Michigan and North Dakota have spent less time trailing in games this season than the Golden Gophers, and that is an incredible stat.
Think of the shutdown teams in college hockey. Vermont, Michigan State, Notre Dame, Cornell. Think of high-powered offensive teams that score a lot that probably didn't spend time behind due to their offense. UNH, BC, CC, Denver, Princeton, St. Cloud, Miami. Nope, Minnesota was third on the list regarding fewest time behind in games. That says a lot about its goaltending.
None of those teams trailed for less time than Minnesota and that can be traced to Kangas. Not playing from behind makes you a better team because you play more of the game and season with confidence. It's an incredible accomplishment by Minnesota.
"We've never had a goalie here that had over a .930 save percentage and under a 2.00 goals against," Guentzel said, almost in amazement, on Wednesday morning. Laughing, he said, "We expected him to be good. We told him to stop what he should and steal a few. This is major theft, the saves he's making."
The Eagles, who have lost the last two NCAA title games to Wisconsin and Michigan State, also seemed to be wandering through a lost season. However, once BC gets doubted on a local or national level, watch out. The Eagles lost a late-season game to Northeastern, finished fourth in Hockey East, and then went on a roll. They knocked out Providence in the opening round in Hockey East and then dispatched regular-season champ UNH in a triple-OT semifinal thriller. In that game, they were down 4-1 in period two but the vaunted BC power play did its job.
Both teams are led by goalies in their first year of full-time stardom. Kangas rescued the Gophers from disaster when he took the reins from Jeff Frazee. Is there a cooler customer than Kangas? Put it in perspective. The Gophers were struggling, nothing was going right, and this rookie who was supposed to back up Frazee all of a sudden becomes the No. 1 goalie for the most-watched program in college hockey.
If nothing else, Minnesota has found its goalie of the future. How he plays against BC will alert the Gopher faithful to how quickly that future might arrive because assuming Miami wins its opener, Kangas can stare down two of the most complete and offensively-gifted teams in the NCAA with a chance to beat both. Even if he loses the Gophers are good in goal for three more years.
For BC, John Muse became the starter by default when all world NCAA goalie Cory Schneider left after his junior season to turn pro with the Vancouver Canucks. Muse has gone wire-to-wire and silenced just about everyone who said BC is in trouble because they have a freshman goalie. From day one at the Ice Breaker against Michigan (which has something of a similar situation with Billy Sauer's silencing of several critics), Muse has performed.
As detailed by captain Mike Brennan, Muse carries a chip on his shoulder and when doubted, takes the challenge head-on and usually wins. Certainly he did this season.
The Hollywood ending has Minnesota winning this regional. The smart "money" has Miami winning it because they are probably the best of the four teams there in terms of depth, pieces in the right place, and have stars in Ryan Jones, Alec Martinez, Nathan Davis, and Mitch Ganzak, and goalie Jeff Zatkoff. Miami might be the deepest team overall in the NCAA and is very well-coached. The CCHA makes you grit and grind every night and find ways to get shots through and score, and Miami has done that. The RedHawks have responded to adversity.
Boston College winning it on "home ice" is also a nice ending, and only hunches can even begin to predict what happens in Worcester. I'm thinking Boston College sneaks through if for no other reason than they have done it before and know how to win at this time of year. They have unfinished business in Denver but could have to go through big rivals UNH and North Dakota to finish it.
The most interesting regional overall is probably Colorado Springs. UNH did itself no favors in losing to BC in the Hockey East semifinals because they wound up the fourth No. 1 seed and lost a chance to play closer to home.
I hate doing this again, and I don't want to get off on a rant here but hey, NCAA committee — how big a draw attendance-wise will UNH be in Colorado as opposed to bringing 5,000 or so fans to Albany or Worcester?
You say that's not our issue, Colorado College will pack the place and the building will look full on TV. I do respect the integrity of the brackets issue also, so don't get me wrong. But UNH would pack Albany more so than any of the teams there, despite Clarkson and Niagara being there. And among those two teams versus UNH, the Wildcats would have had the best chance of playing in the final if they were in that regional.
Michigan-St. Cloud is a tough sell in upstate New York despite Michigan being a "national" team. Put them anywhere and they'll sell tickets but they won't sell as many in Albany as UNH probably would have.
I like Boston College in Worcester, and Wisconsin guarantees attendance in Madison; attendance gives the casual fan tuning in the idea that people are passionate for our game. The good of the industry outweighs the personal outcry of one of its members that they might, as a higher seed, play Bucky in a Badger home game. No, George Gwozdecky, Dave Hakstol and Guy Gadowsky didn't say that nor were they asked. They are all way too classy to even entertain that thought publicly.
I asked five coaches if they agreed with that statement and got a unanimous "the good of the industry outweighs the good of any of its programs." On that note, On Wisconsin to its home dressing room at Kohl for a date with Denver. By the way, poor Pioneers. Once again as a higher seed they'll play a game in the lower seed's building. It happened in the early 2000's when they were the No. 1 seed overall and had to play Michigan in a regional at Yost and lost.
OK, rant over.
The Madison regional is a tossup. NoDak isn't looking past Princeton by any means. Princeton will be a tough out, but NoDak is another team that is on a mission and I have a tough time seeing the Fighting Sioux stumble because of the way they are constructed, coached, and the depth they have in the lineup. Denver is real good, and the Badgers at home against familiar opponents might have an edge. One thing to remember is that Denver plays great at Kohl center. Any team could win here but North Dakota is my pick.
Back out west, you have UNH and CC, who rely on high-octane offenses, and two CCHA teams in defending NCAA champion Michigan State and a slightly-struggling Notre Dame team that is better-known nationally for defense. ND lost two close games at the Joe in the CCHA championship but played Miami brilliantly and had a 1-0 lead until being tied in the final seconds. The Irish lost in OT. Then they lost a game they feel they should have won when they dropped the consolation game to Northern Michigan, which actually might have helped their PairWise status.
Like Notre Dame, Michigan State can play a shutdown-type game almost to perfection. Jeff Lerg, who could be the best goalie in the country on any night, has another 'tender of his stature in his regional in Kevin Regan of UNH, a fellow Hobey Baker finalist. Spartan head coach Rick Comley, a two-time national champion, knows he has a good core of players who returned from last year's title team, but also knows his kids have been distracted by pro offers at season's end.
Still, MSU can play with anyone but has the unfortunate problem of playing in a home game for CC. The game, on perhaps the only NCAA rink bigger than New Hampshire's, might give the depth-challenged Spartys a problem. However, MSU is battle-tested and for what that is worth at this time of the season, it gives the champs better than a puncher's chance to beat CC.
CC and UNH can run-and-gun and if there is one thing UNH can be thankful for, it's that it gets to play the games on the type of sheet it's used to. UNH played a series last year at CC and did well, so the Wildcats have no fear of the World Arena sheet. UNH probably has enough to get past Notre Dame, as their top line of Dries, Fornataro and Radja has seen defensive stalwarts like Brock Sheehan and Teddy Ruth in Hockey East and guys like Mike Brennan, Tim Filangieri, and Carl Sneep of BC.
Notre Dame looks like it really misses Eric Condra, out for the season with an injury. Reading the tea leaves says that the CCHA teams might struggle here due to being offensively-challenged. The most dynamic player here might be MSU's Justin Abdelkader or Bryan Lerg, but this is a tourney that features some firepower on all four rosters, and ND's Ryan Thang has this tendency to score big goals.
Most seem to feel UNH wins this regional. CC is at home and has a great team, but UNH is on "home ice" in a way, and has a great team. ND can drive anyone insane with a stifling style and great goaltending. MSU has two very good lines, four good D and an all-universe goalie. Tough call. Flipping a four-headed coin, it drops and says Dick Umile's Wildcats move 90 miles north to Denver.
That leaves Albany and I say this with no disrespect to the Huskies, Knights and Purple Eagles, but if Michigan doesn't win this regional there needs to be an investigation. The Michigan coaching staff and its two senior leaders in Hobey Baker finalist Kevin Porter and Chad Kolarik have taken a team that many felt would finish fourth in the CCHA and won both the regular-season and playoff titles.
The guidance of Red Berenson, Billy Powers, Mel Pearson and volunteer goalie guru Josh Blackburn have taken this young team and made stars out of unlikely players. As Red has said since training camp, this is the most they have taught in practice in many years and what a difference this veteran staff made.
Billy Sauer is now a bona fide Division I goalie. Mark Mitera is as good a defenseman as there is in college hockey. Porter and Kolarik, who returned for their senior years, have been brilliant on and off the ice and Porter has managed to take a team plagued by cliques the past two seasons and made them one team — and that wasn't easy. Rookies like Aaron Palushaj, Matt Rust, and Ontario paisan Louie Caporusso have been brilliant. Carl Hagelin has also been terrific and they have gotten solid play from their entire defensive corps.
Juniors Travis Turnbull and Tim Miller have been great as role players, and there's not much chance of any of that changing. The Wolverines escaped a tough battle with Northern Michigan at the Joe in winning 6-4 in the CCHA semifinals. The game featured four Michigan goals that deflected off Northern players, and one empty-netter. The next night they were brilliant in shutting down Miami, an elite team against which they now have two wins and a tie this season.
However, to say Michigan has been less than impressive in recent regional play would be an understatement, so they arrive in the Capital District with a lot to prove after a magical regular- and CCHA postseason.
Michigan, UNH, NoDak, Boston College. Let the weekend begin.