The Wisconsin Badger power play struggled to find aggressiveness and consistency throughout much of the 2007-08 season.
For instance, the Badgers went on a 4-for-50 stretch to begin conference play, culminating in a period during which Colorado College junior forward Chad Rau scored as many goals on the Wisconsin power play as the Badgers, notching four shorthanded tallies in four games against Wisconsin in November and January.
That changed in the Badgers' first series in Denver Jan. 11-12, when the Badgers scored a power-play goal in a Friday night loss which ended the drought and began a stretch in which Wisconsin scored in each of its final nine series.
The inconsistencies remained, however, as the Badgers became a team that, starting with the Denver series, scored on the power play just 10.3 percent of the time in the first game of a series while notching an impressive yet bipolar 23.9 percent on the power play in the second game of a series.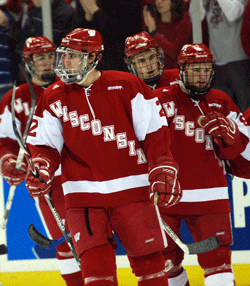 Saturday, Wisconsin senior defenseman Josh Engel and sophomore defenseman Jamie McBain teamed up to make the Badger power play appear as if it never struggled throughout the bumpy campaign.
Engel replaced senior defenseman Davis Drewiske at the blue line when the captain took a roughing penalty at 7:38 of the second period. Two penalties on Denver defenseman J.P. Testwuide gave the Badgers a power-play chance.
McBain, acting aggressively on the power play, slid down to the low slot and redirected a shot from Engel past Denver senior goalie Peter Mannino for a 2-0 second-period lead.
"We wanted to kind of give them a different look maybe that they haven't seen and just try to get numbers at the net and I was fortunate enough to be kind of in the open area … and I was just able to tip it in," McBain said.
"He likes playing down there," Wisconsin head coach Mike Eaves added of the sophomore. "He's an offensive defenseman. He likes to be down around the net so we try to play to his strengths a little bit, his puckhandling ability, his ability to skate, and he was effective for us to net."
Engel has acted this season both as a winger and as a defenseman, starting the season as a forward and eventually moving to the blue line, his original collegiate position, after an injury to freshman defenseman Brendan Smith and a series of moves by Eaves.
"I tried getting the puck and just moving it right away. I don't try to move it, I'm not a stickhandler like Davies or Turris," Engel said. "Wherever Coach wants me to play, I'll just jump in and do what he wants.
"We've always known that Josh has offensive ability," Eaves said. "The way he looked on that first power play, we decided, 'You know what, he's got it going, let's run with it a little bit.'"
"Give Engel a lot of credit. He jumped right in and did a really nice job with that first unit," Drewiske said.
The Badgers' style on the power play Saturday served as a contrast to the passive, sit-around system that it displayed at times throughout the season. Eaves credited this to Denver's aggressive penalty-kill (highly successful this season at 88.8 percent), which opened up passing lanes for the Badgers.
"By their pressure, and what they were trying to do, they created seams and our guys did a good job of recognizing where those seams were," he said.
Denver senior defenseman Andrew Thomas acknowledged the Badgers' impressive work on the power play.
"I think that they were moving the puck really well. They were opening up our four guys and getting us a little bit out of position and making passes through our guys and just moving the puck really well and getting it to the net," the captain said.
Pioneer head coach George Gwozdecky offered the larger, 200×97 Kohl Center sheet compared to Magness Arena's 200×85 as a reason for the Badgers' success.
"We're much more of a pressure-type, in-zone system and when you're playing on a larger, wider surface, you have more surface to cover. There were times I think we were just a little slow," he said. "They did a nice job. Obviously with any penalty kill you look to take advantage of certain areas they give you. They were very effective in doing that today."