Offense
The Knights lost some serious mojo in Zalewski (21-12-33), Dodge (12-14-26) and Cayer (10-12-22), not to mention Clitsome's offensive bent (5-17-22). When Leggio is thrown in the mix, perhaps you can understand why this correspondent has referred to them as George Roll's "Miracle Class."
And yet, while Clarkson finished second in the league in scoring last season, it was only seventh in overall scoring at 2.77 goals per game. The offense was both a strength and a liability, as it couldn't come through for the Green and Gold in the out-of-conference matches. The Knights potted 28 goals in 12 non-con clashes in the regular season, and only scored two against St. Cloud and Michigan in the NCAA regional in Albany.
But then came the NHL Draft. Four incoming Knights were picked by the boys in the Big Show, giving Roll and this year's Potsdam icers a big jolt of credibility.
"The entire class is going to make a strong impact on the program," said Roll. Possessing a lot of skill and speed, "they can really get up and down the ice."
"This is the deepest team we've had, up front and on the blueline," he stated.
Between Beca (10-24-34), D'Alvise (12-17-29) and Guthrie (9-13-22), Clarkson has some veterans to give the opposition something to think about as well.
"If I had to pick one guy up front [to break out this season], it would be Shea," said Roll.
"I think these are some guys in D'Alvise, [defenseman Tyrell] Mason (1-9-10), [defenseman Philippe] Paquet (1-3-4) and Beca for whom it's their turn to step up," challenged the coach.
Defense
For what it's worth, Clitsome was the only Knight to step off the Clarkson blue line for good this spring. Three sentinels return after playing more than 30 games last year (senior Mason, soph Bryan Rufenach and senior Adam Bellows), and three of the other four returners played in more than 20 tilts (sophomore Tom Pizzo, senior Paquet, and sophomore Dan Reed).
No wonder Roll is loving the depth of his roster; we haven't even mentioned third-year Knight Jeremiah Crowe (17 games played in '07-08) or incoming six-foot-one 19-year-old Mark Borowiecki (2008's Central Ontario JHL Defenseman of the Year). The defense ought to give this team a lot of much-needed support early on, as the squad tries to redefine itself in the wake of the Miracle Class.
Goaltending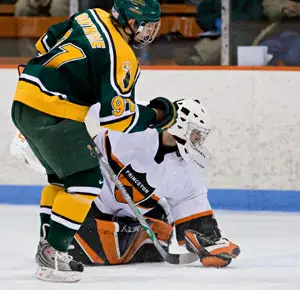 No question, this is The Question for Clarkson this season. Packed up in Leggio's suitcases were 103 games, over 6,000 minutes, 2,706 saves, a .650 winning percentage and eight Golden shutouts. How do you hope to replace that?
"We're a bit of an unknown this year," Roll admits, pondering whether Leggio's absence has bred doubters around the league.
Battling for the opportunity to cast a new shadow on the Cheel crease will be junior Tim Potter and newcomers Paul Karpowich and Richie LaVeau.
Karpowich comes out of Wellington of the Ontario Provincial league, and is property of the St. Louis Blues. The big six-foot-three 19-year-old will turn 20 in late October, and in what little Roll has seen of him, has pegged him as a relative standup 'keeper with an aptitude for playing the puck.
Potter "played a few minutes in his year and a half here … and has shown signs he can play at this level, but he needs to be more consistent," said Roll, who described the six-two Potter as "athletic and acrobatic."
Outlook
A lot is riding on the freshman class, but as stated, the Knights' depth and experience on the blueline could come in huge early in the season as the youngsters find their legs. It's impossible to say what will happen atop the blue ice this year, but at least the goalie probably won't have to be the load-bearer for this team.
It will be a steeper climb than in recent years to reach that top-four plateau, but this team seems well-equipped to give it a go.