Offense
Rand Pecknold's Bobcats have never been hesitant to embarrass a goalie, and last year was just the most recent edition of the QU goal march. Seven players finished in double-digits for goals-scored, and four players — Wong (13-24-37), Nelson (14-21-35), Bates (11-23-34) and Leitch (15-18-33) — topped the 30-point mark over the 'Cats' 39-game season.
The departures of Nelson, Bates and Travis (12-9-21) create a gap in that potent offense, but it's not too much to overcome for such a high-octane program.
"We lost Nelson and Bates, two of our top 10 or 12 all-time scorers at Quinnipiac," said Pecknold. "Some forwards will have to step up to account for [the loss]."
Freshmen Scott Zurevinski and Spencer Heichman might help pick up some of the slack.
"Zurevinski and Heichman look the most ready to play, but we'll have to see," said Pecknold. "Just about every year for the last eight or nine years, we've had a couple kids … who came out of nowhere and surprised you," he added.
Isak Tranvik transferred to D-III to be closer to home, and Chris Meyers had to call it quits after shattering his ankle back in his freshman year. "He couldn't overcome the injury," Pecknold lamented.
The offense has been the strength of the program in its short time in the ECAC. Pecknold is trying to instill a more responsible two-way game in his players, but it will be up to the gunners to support the rest of the cast in its early-season transition.
Defense
This is the area that needs the most shoring up. The blueline is intact from last year, even returning fifth-year senior Matt Sorteberg ("just barely" met the medical redshirt requirements, according to Pecknold). However, the D has been spotty since All-American Reid Cashman graduated in 2007, and the coach is hoping to get the whole team to commit to a strong game in all three zones, as opposed to just the front one.
Four d-men come back after playing in 30 or more games last year: Henningson (3-21-24), soph Zach Hansen (2-8-10), senior Andrew Meyer (1-7-8) and sophomore Brett Dickinson (1-3-4).
The Bobcats import a solitary freshman rearguard in Michael Glaicar, a six-three, 200-pound 19-year-old out of Salmon Arm, British Columbia.
Goaltending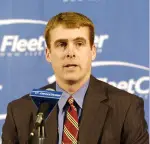 Going hand-in-hand with the defense, the goaltending could also stand to improve from last year.
"We have to become a better defensive team," emphasized Pecknold. "We were last in the league last year in save percentage," he said, faulting both the goalkeepers and their skating sidekicks on the blue line for the team's .886 save rate.
Bud Fisher has been the workhorse for the Bobcats, and his coach says "he had a great first two-thirds of the year, but got a little banged up … in hindsight, we should've sat him" and let him recover, admits Pecknold.
"He never really got healthy" before the end of the season, he said.
Sophomore Pat McGann is back to give Fisher a push, but freshmen Nick Pisellini and Dan Clarke will now be in town jostling for position as well.
Outlook
The prognosis for this team is wildly variable, depending on its ability to tighten up in its own end, find some reliable production up front, and get some consistency in the crease. On the whole the Bobcats appear to be a middle-of-the-road team, in the fight for home ice but by no means assured of anything. If things go really well, the 'Cats could pull a Union-esque surprise … but if things go poorly …