Not one game has been played, yet Niagara has already been picked as the favorite to repeat as CHA champs in the annual league poll.
This comes on the heels of the Purple Eagles graduating co-captain and 39-point producer Matt Caruana, seeing big forward Kyle Rogers give up his senior season to sign with the Toronto Maple Leafs, Les Reaney leave in February for a contract with the Edmonton Oilers and tough defenseman Scott Langdon graduate and earn a two-way deal with Toronto.
But Juliano Pagliero is back in net as a preseason All-CHA selection; forwards Vince Rocco, Ted Cook and Chris Moran return; and arguably the most talented defensive unit is back with Dan Sullivan, Tyler Gotto, Travis Anderson and preseason All-CHA pick Ryan Annesley. It's those big names that head coach Dave Burkholder is banking on to lead NU into a very tough first 10 games that includes Maine, St. Lawrence, Clarkson and Michigan.
"We did lose a lot, but we do bring back eight of our top 10 scorers," Burkholder said. "Training camp has been constructive and spirited and I think we'll be dangerous from an offensive standpoint. But the early nonconference part of our schedule is as tough a schedule as we've ever had in our history."
And if Cook, a former national goalscoring champ, can regain his form of two seasons ago when he potted 32 goals, Burkholder simply states the facts.
"In games where Teddy Cook scores, we either win or we're in those games," said Burkholder said. "I think, too, that Chris Moran can get back to where he was as a freshman when he scored 40-plus points and guys like Egor Mironov keep getting better."
Rocco, the preseason Player of the Year in the CHA and Niagara's captain, said winning the CHA tournament last March and getting to the NCAA tournament, ultimately bowing out to Michigan in the regional semfinals, is in the past and the future is now.
"Our motto this year is 'Good to Great,'" Rocco said. "We want to take that step to being great not only in the conference, but in the country. The first 10 games will show us where we stand. We want to be up there with the big boys and make a statement."
The aforementioned defensemen are the backbone of NU, but the half-dozen freshmen will also be earmarked to make an impact of their own.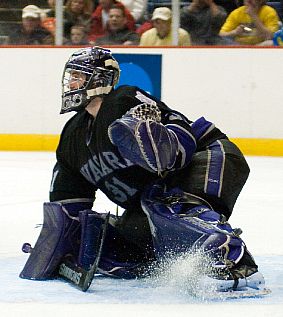 "The veteran guys have made the new class feel very welcome," said Burkholder. "It's a really good group. Danny Baco played three full years in the USHL, Brian Dowd played two in the USHL and played high school hockey here in Buffalo and guys like Robert Martini and Wes Consorti are very good hockey players.
"We gave up some size from last year, but with our run-and-gun style, if we can play strong in the defensive zone, that will make or break us."
Pagliero, suddenly a senior, knows the hype surrounding Niagara. He chooses to put it in the back of his head and move forward where the true measure of NU can be determined.
"It's good to read and good to hear everything, but we haven't done anything yet," said Pagliero. "I don't think it adds any pressure on us because we deal with that game by game. The team concept is to prepare for each game and never look ahead. It's up to us to take the opportunity to step up."
With a humble confidence about them, going from good to great should see few roadblocks on Monteagle Ridge this season.