With 21 freshmen and sophomores on the roster this season, Robert Morris is in for one of two scenarios this year, according to head coach Derek Schooley.
"If we play well, we'll be reloading," Schooley said. "And if we don't, then we're rebuilding."
The Colonials graduated their first senior class last spring, a class that included goaltender Christian Boucher, two of their top three scorers in Ryan Cruthers and Sean Berkstresser and defensemen Rob Cowan and Chris Kaufman.
To compensate, 12 freshmen were brought aboard along with three transfers from Wayne State. That said, four of RMU's top six scorers from last season are back and one would be hard-pressed to find a sense of panic in Pittsburgh.
"Our core is still young, but that core has the experience of last season," said Schooley said. "We'll find out as we go where we stand with our new guys and will definitely hit the ground running."
Freshman forward Stefan Lachapelle scored 94 points last season in the Central Junior Hockey League in Ontario and Trevor Lewis was the Eastern Junior Hockey League's MVP after scoring 31 goals in 45 games. Tom Brooks also won a North American Hockey League championship last year in St. Louis.
All three WSU transfers — forward Chris Kushneriuk and defensemen Matt Krug and Brock Meadows — will be counted on for experience.
Aside from the newbies, Robert Morris has senior captain Chris Margott, a member of the preseason All-CHA Team and the Colonials' top returning scorer, back up front along with senior forward Jason Towsley, sophomore Nathan Longpre, sophomore defenseman Denny Urban and junior Dave Cowan.
"I think we show a lot of promise and our freshmen have a lot of offensive ability and a lot of skill," Margott said. "We'll be a smaller team, but we'll be a fast team."
"The chemistry is tight on this team," added Urban. "We're all on campus and we see each other every day. I can't wait to see what we can do on the ice. I think we have a lot of potential."
If there is a position on the Colonials that looks iffy right now, it's in net. Junior Wes Russell and sophomore Jim Patterson both saw limited time last year behind Boucher, and freshman Brooks Ostergard joins the team this season. Schooley acknowledged all will battle for the top spot.
"All three of those guys are capable Division I goaltenders," said Schooley. "We'll find out who's a legit No. 1 goalie. All three are Division I goaltenders, but what we need is a Division I stopper."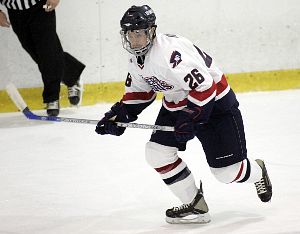 RMU will again host the Pittsburgh College Hockey Showcase as it will play Ohio State on Nov. 14 at Mellon Arena. Last year, Robert Morris tied and defeated the Buckeyes in the event.
Robert Morris lost in the league semifinals to eventual champion Niagara last year after being ousted in the finals by Alabama-Huntsville the year before. Next spring in Bemidji, RMU will have a 25 percent chance to win the CHA tournament and advance to the NCAA round of 16.
Margott said he "likes the odds. I'll take that."
"We could surprise some people," Urban said. "But you never know. Right now, we're just taking it day by day and game by game. I can't predict what will happen next March."