The injury bug hit the Lakers pretty hard last season. Mercyhurst was without goaltender Matt Lundin for the first part of the season and lost star forward Ryan Toomey in December. Leading scorer Ben Cottreau was lost for a crucial seven-game stretch as well.
But Rick Gotkin's team played though the adversity and came within a goal of the NCAA tournament, losing to Air Force in overtime in the Atlantic Hockey title game. It was the Lakers' third game in three days under the league's "Final Five" format. Lundin was outstanding the in postseason, allowing five goals in five games leading up to the title game.
And what do they say about doing it with one hand tied behind your back?
"(Lundin) was at 50% last season," said Gotkin. "He was a warrior. The shoulder would pop out and he'd throw himself down on the ice to pop it back in. He basically played with one arm."
Gotkin is excited about the possibility of a healthy Lundin, who had surgery in the offseason.
"Knock on wood, he seems to fine," Gotkin said. "And we need him to be. He's the center of our universe."
Toomey got a medical redshirt and will play again this season.
"He's the first fifth-year senior in the history of the program," said Gotkin. "We're excited to have him back. We'll need him and the rest of the guys to step up."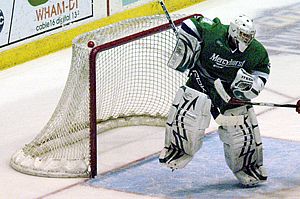 The key cog that's missing is Cottreau, who tallied 156 points in 132 games for the Lakers.
"The only way to replace a guy like that is by committee," said Gotkin. "We had some guys finish strong last year but we need them to get off to good starts this season and get the ball rolling."
Also back are forwards Matt Pierce (27 points) and Scott Pitt (21 points) as well as blueliners Cullen Eddy and Matt Fennel. Ryan Zapolski did a decent job filling in for Lundin (.896 save percentage in 13 games), so Gotkin now has an experienced backup if he needs one. Newcomer Max Strang is also expected to fight for time in net.
Last year, Mercyhurst had a monster non-league schedule, which included Notre Dame, Main, and Michigan State. This year is no different with an opening trip to St. Cloud, followed the next weekend by a trek to Alaska and then back on the road again to Nebraska-Omaha.
'We thought last year was too easy," Gotkin laughed. "We're not the type of program that's going to be known for a glossy win-loss record. That's our scheduling philosophy — to play tough games and that will make us a better team down the stretch.
"We hope to reap the rewards."