"As far as our club," says Bowling Green head coach Scott Paluch, "we're going to get going."
Paluch, now entering his seventh season behind the BG bench, is a sincere and genuinely optimistic guy. It's hard not to respond to the earnestness of his voice when he talks about his team's future — and last season, it seems, the Falcons responded.
Bowling Green finished seventh in CCHA play with 13 league wins after two consecutive seasons in 12th place. The Falcons were 8-8-0 overall in the first half of the 2007-08 season, including a five-game win streak in November. But BGSU struggled to find consistency throughout the rest of its season, putting together back-to-back wins just twice more for the rest of the campaign.
This year, the Falcons draw Northern Michigan and Lake Superior as clustermates, teams against which BGSU had a 2-2-0 regular-season record. The Falcons eliminated the Lakers in three games during the first round of the CCHA playoffs.
Bowling Green lost all four of its contests to perennial partner Notre Dame last season. "I think it's going to be a challenging cluster," says Paluch.
No Coincidence
The entire team was elevated last season by the play of three key players. In his senior season, Derek Whitmore had 27 goals, making him sixth-best nationally in goal production per game. "Twenty-seven goals is a very difficult number for players to get these days," says Paluch. "I think we are in a situation where we have a lot of guys who are capable of improving our numbers from a year ago."
One of those guys is one of the other three key Falcon players from last year's squad, sophomore Jacob Cepis, BGSU's leading returning scorer. Another player poised to improve is junior Todd McIlrath, who had pretty good numbers in the USHL for two seasons before joining the Falcons. Look to sophomore Dan Sexton and junior Kai Kantola to join the Whitmore Replacement Committee as well.
The third player key to last year's team improvement is sophomore goaltender Nick Eno, who won 12 games overall for Bowling Green and seemed to provide a steady and promising presence in net.
Not Just Numbers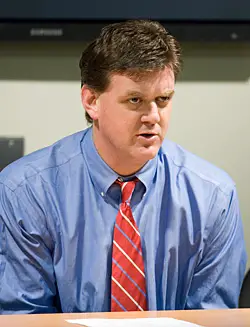 Last season, Falcons had that certain indefinable quality that can elevate a team when it's feeling down. Defenseman Kevin Schmidt embodies this — shall we call it passion? — better than any other player on the BG roster.
Paluch calls Schmidt an "underrated defenseman" and is counting on the blueliner to have a career season his senior year. "Kevin Schmidt had two overtime game winners amongst his goal production last year," says Paluch. "Kevin gets up and down the ice very, very well, and gets the puck up the ice."
Schmidt's transition game is indisputable. So is his, um, passion, something at which he and the Falcons excelled last season. Bowling Green was the third-most penalized team in college hockey last season, sharing that passion with Western Michigan — a team whom the Falcons beat thrice in overtime, four times altogether.
It was in that third game that Falcons and Broncos shared something very passionate: 207 combined penalty minutes. That was also the only game in the season series that did not go into OT.
Even without last season's special moments with Western, Bowling Green was a rather, um, physical team. If the Falcons are going to continue in this vein, they'll need to improve their penalty kill, which at just over 82 percent was 36th-best in the nation.
And don't forge the extra set of eyes on the ice this season, eyes capable of seeing a whole lot of love and probably eager to call it tightly in the first half of the year.
An Interesting Fact
Bowling Green was the only team in the league not to have registered an overtime tie last season. The Falcons' overall record was 18-21-0. Given the committee necessary to replace Derek Whitmore, BGSU will probably play just as hard to win in OT this season as it did in 2007-08.