The Denver Pioneers, at first glance, seem to have a few holes.
Goaltending. With Peter Mannino gone, the Pioneers return a sophomore who didn't see any time last year, a sophomore who played in one game last year and a sophomore who hasn't played in two years. That doesn't look too promising.
Defense. While not as dire as the goaltending situation, the Pioneers lost their would-be captain to the National Hockey League and their previous year's captain to graduation.
Regardless of any questions, coach George Gwozdecky is excited about his team — especially its strengths.
"It is a very talented team, there's no question, and I think everybody will focus on our forwards," he said.
Up Front
As Gwozdecky alluded to, the team's strength is in its forwards, returning its top four leading scorers from last year in sophomores Tyler Bozak and Kyle Ostrow and juniors Rhett Rakhshani and Tyler Ruegsegger.
"It starts with guys like Rhett Rakhshani, Tyler Ruegsegger, Tyler Bozak; those three guys really carried us from an offensive standpoint last year," said Gwozdecky.
Beyond the four previously mentioned, Jesse Martin and Anthony Maiani are also hoped to have big years and carry a threat to round out a potent top two lines.
The Pioneers also have some freshman forwards to watch out for in Nate Dewhurst, Luke Salazar and this year's early pick for league rookie of the year, Joe Colborne.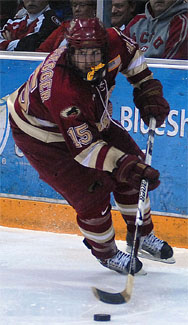 "I think he is going to be an outstanding player for us," said Gwozdecky, commenting on his poise and playmaking abilities seen in DU's exhibition contest, "but like most freshmen in this league, it's going to be a transition for him."
On the Blue Line
DU lost arguably its top all-around defenseman and top defensive defenseman last year in Chris Butler and Andrew Thomas, respectively, but they do have Patrick Mullen returning, a talented converted forward who has, up until now, flown beneath the radar and captain J.P. Testwuide.
"I think Patrick Mullen has really confirmed in everybody's mind that he is going to be a full-time defenseman for us as a senior on the blue line," said Gwozdecky. "J.P. Testwuide, our captain, I don't know if there's anyone physically tougher than J.P. is."
Beyond those two, look for Cody Brookwell, Chris Nutini, John Ryder and quite possibly freshman Patrick Wiercioch to round out the top six backliners for DU.
In the Crease
With the departure of workhorse Mannino, the heir apparent is sophomore Marc Cheverie.
"Our goaltending is going to be key. Our sophomore [Cheverie], who, had one full game last year for us, takes over the chores from Peter Mannino," said Gwozdecky. "He has worked really hard and improved quite a bit competing with Peter last year throughout the season especially in practices."
If Cheverie doesn't pan out, however, the Pioneers are limited in options. Neither of the remaining sophomores — Eddie Guinn and Lars Paulgaard — has seen any game time and Paulgaard wasn't even allowed to practice with the team last season due to NCAA rules.