Once again, the Alaska Anchorage Seawolves were a team that no one wanted to play and yet everyone wanted to play.
Odds were you'd get a win if you played the Seawolves, but you'd also get a tough, hard-fought game that would typically be a lot closer than the score indicated. Just ask Scott Owens of Colorado College, who had to face UAA en route to the WCHA Final Five.
Despite being perennial cellar-dwellers, good things may be in store for the Seawolves this season.
The school extended coach Dave Shyiak's contract for four years, showing faith in his ability to lead the Seawolves. While the team did lose some scoring — like everyone else — they return four of their top five scorers. Plus, if he can get some support, goaltender Jon Olthuis can match pretty much any goaltender in the WCHA save for save.
If UAA can find a way to win some of its close games, good things may be in store for Anchorage fans.
"I liked our team, we did compete hard, we worked hard, I thought we were a tough team to play against and we didn't score enough goals," said Shyiak. "We were in a lot of tight games, one-goal games and tie games and part of that not getting goals was maybe the youth."
Up Front
If the high 20-point scorers the Seawolves have in juniors Josh Lunden, Kevin Clark and Paul Crowder can break the 30-point barrier, Anchorage could be in a better spot come March.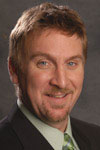 "We're hoping that that junior class kind of matured into some of those difference-makers some of the other teams have scoring goals at the right times," said Shyiak."
Other possibilities up front include senior and Bowling Green transfer Brian Bales, sophomores Craig Parkinson, Brad McCabe and Winston DayChief and freshman Tyler Moir.
On the Blue Line
One perk for the Seawolves is that they return all of their top-scoring defensemen from last year. Shyiak thinks that captain Mat Robinson will lead the way with sophomore Kane LaFranchise improving on his freshman campaign.
UAA also needs solid years out of upperclassmen Shane Lovdahl, Jared Tuton and Trevor Hunt as well as second-year improvement out of Luka Vidmar.
A wild card on the blue line, if he in fact plays defense for the Seawolves, could be freshman Curtis Leinweber, who averaged a point per game in juniors splitting time between forward and defense.
In the Crease
As mentioned above, UAA is set in goal with junior Jon Olthuis, who went toe-to-toe with CC's Richard Bachman in the playoffs and is a big reason why the Seawolves stayed in so many close games last season.
Backing him up is sophomore Bryce Christianson, who was picked up in the middle of the season after the freak incident that ended Matthew Gordon's career (and spawned a new NCAA rule). Shyiak believes Christianson is a capable replacement to give Olthuis a break now and then.
"They both worked hard over the course of the summer and look stronger and better," Shyiak said.