The St. Cloud State Huskies were a bit of enigma last season.
They did extremely well statistically, but it didn't really translate into team success until the end of the season when they managed to end up tied for fourth in the standings, headed to St. Paul for the Final Five and made the NCAA tournament before losing in the first round.
Still, the main question facing the Huskies going into last season regarding goaltending got answered, and that answer is still hanging around in junior Jase Weslosky.
This year, the question is not if SCSU can score — we all know that it can. The question is whether the team can score five-on-five.
"The unknown for us this year is offense," said coach Bob Motzko. "We've kind of been labeled an offensive team and I don't see it that way. We were a good power-play team. If we're going to take another step, we have to have an emergence of our sophomores, our new players.
"And when I say offense, I mean five-on-five," he clarified.
Up Front
The most notable loss for SCSU was that of would-be junior Andreas Nodl, but the Huskies have a few points to make up with the graduation of Nate Day and Matt Hartman. However, Motzko knows where most of his offense will be coming from.
"Obviously the known for us are the top players coming back with Ryan Lasch, who has just been a tremendous offensive player for us and the emergence of Garrett Roe last year," he said, "so we've got two high-potency offensive players who seem to be right on target for where they left off a year ago."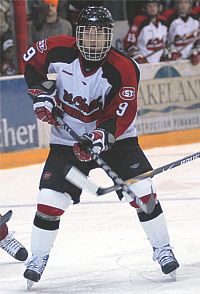 Beyond those two, junior John Swanson and sophomores Aaron Marvin and Tony Mosey should be decent contributors to help make Motzko's unknown a known.
"We need some sophomores to emerge and take bigger roles in our program and emerge as contributors in the WCHA on the scoring sheet," he said.
If you're looking for this year's Garrett Roe, your best bet is probably freshman Jordy Christian.
On the Blue Line
The Huskies lost a few senior blue liners including Aaron Brocklehurst and Matt Stephenson, leaving junior Garrett Raboin as the leader of the D corps. Beyond that, Motzko has a few people he thinks will aid the Huskies defensively.
"We really think we have two defensemen that will step in this year," he said. "We have a transfer from Air Force, Chris Hepp, who played down in Omaha. He's a very strong, hard-working defenseman that's going to be a bit of a backbone to go with Garrett Raboin.
"And then [there's] Brett Barta, a returning sophomore who didn't have a point last year but in our eyes, is a player who really could emerge as a leader for us in our transition game."
In the Crease
In net, there's not much to say, as Weslosky emerged as a solid number-one goaltender last season.
"Our goaltender, Jase Weslosky, who had an outstanding season last year [and] a lot of pressure on him to fill in for the goaltender, Bobby Goepfert, we lost and he stood up to that challenge very strong."
SCSU fans will also probably see sophomore Dan Dunn a few times over the course of the season as Motzko gives Weslosky some rest.