Last year, the outlook for the Minnesota State Mavericks was relatively bleak, due to the lack of upperclassmen. In a sense, it seemed like the only positive was that the Mavericks returned both goaltenders.
The end result, however, was sunny, with coach Troy Jutting's squad finishing tied for fourth in the league and just on the other side of the bubble for the NCAA tournament.
This year? Well, MSU, M once again returns its goaltending and pretty much everything else, too.
"For the first time really in a long time, we're probably a veteran hockey team even though we have nine freshmen on our roster," said Jutting.
"I think there's a lot of excitement in general because we do have a lot of [last year's team] back. We were fortunate that Trevor Bruess turned down an opportunity to sign a professional contract and he's back with us and we lost three kids off of that team last year and we have only one senior forward this year," said Jutting.
All things, he hopes, that should mean a similar year for the Mavericks this season.
Up Front
The Mavericks lost only two key forwards over the offseason in Joel Hanson and Jon Kalinski. Otherwise, as noted, they return pretty much their entire lineup including the aforementioned Bruess and Mick Berge.
"Up front [we have] Mick Berge, a returning 20-goal scorer in our league and Trevor Bruess returning, who led our team in scoring last year," said Jutting.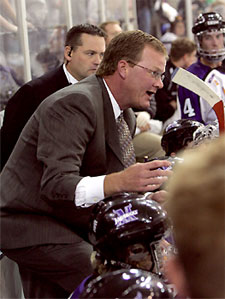 Jutting also has Kael Mouillerat, Andrew Sackrison and Geoff Irwin, all kids that Jutting thinks "are ready to step up from the 20-point plateau and into that 30-point range. And, if you can get five, six kids in that range, I think you can be successful."
On the Blue Line
The Mavericks also have a lot of experience on the back end in not only upperclassmen, but also in sophomores like Ben Youts and Kurt Davis, who stepped in last year as freshmen and did well.
The aforementioned upperclassmen returning are the ever-steady junior Nick Canzanello and seniors Blake Friesen and Brian Kilburg.
"[We have] six defensemen returning. All six of the kids played in the series against Minnesota in the playoffs," said Jutting, referring also to sophomore Channing Boe.
In the Crease
Though pretty much set everywhere, the Mavericks may most be set in net with senior netminder Mike Zacharias.
"Our success starts with Mike Zacharias in net," said Jutting. "Mike had a fantastic season for us last year and he'll be back as a senior and had a very good summer and is prepared to come back and hopefully do the same things that he did for our team last year."
If Zacharias stumbles, "we do have a senior in Dan Tormey right there with him who had a very good year as a freshman and a pretty darn good year as a sophomore."
Given that those two are seniors, I wouldn't be surprised to see sophomore Austin Lee man the crease for a game or two just so the Mavericks have at least a little goaltending experience to return for next year.