As the Boston College Eagles prepared for the 2007-2008 season, they had a big question mark. The Eagles had been the runner-up in the previous two NCAA championship games. While they had retained most of their offensive talent, goaltender Cory Schneider had signed in the off-season with the Vancouver Canucks, and the Eagles were looking to freshman goaltender John Muse to carry the load for them.
By the time the NCAA tournament began in March, 2008, Muse had emphatically answered any questions about how he would adjust to being a Division I goaltender, starting every game for the Eagles. In the playoffs, he out-dueled some of the best goaltenders in college hockey, including Minnesota's Alex Kangas, North Dakota's Jean-Philippe Lamoureux, and Notre Dame's Jordan Pearce, and helped the Eagles capture the elusive national championship.
Muse finished the year with a 2.20 goals against average and a .921 save percentage.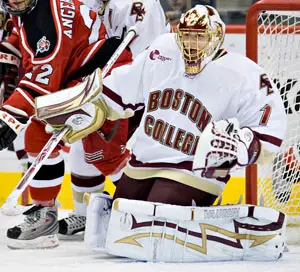 Senior defenseman Tim Filangieri says that Muse was calm under the glare of the big stage, and that in turn helped the defense.
"He handled pressure all throughout the year pretty well," said Filangieri. "I don't know what it is about him that did that, but he always seemed calm and composed. Going out to Denver, he was the same John Muse that he was throughout the season. We didn't really say too much about it because we were confident he was going to stay composed. He pretty much bent over backwards for the 'D' core and helped us out back there."
For his part, Muse says the overall goal is to have fun, no matter the situation, and that in turn helps his play.
"Being in the Frozen Four is a dream come true for a lot of people, but we wanted to go out and come back with the national championship," explains Muse. "I think if you start putting things in your head like how pressure-filled that situation is, you don't play as well as you can. I try to go out and have fun. I think that's a huge part in being able to play well, realizing how fun it is. The first time I stepped on the ice in North Dakota, I looked around and saw how many people were there and I realized how fun the game was going to be."
Muse started skating when he was two, and by the age of four was playing hockey. As a mite, he started to play both goalie and forward, and then shifted exclusively to goalie. Muse also played baseball, and was an excellent shortstop, and looked at several Ivy League schools for playing baseball as well.
"I actually didn't get recruited very heavily until I was into my junior year and the beginning of my senior year, so I wasn't sure what I was going to do," said Muse. "I was actually looking at a lot of schools for baseball as well, and I was pretty unsure of whether I'd be playing baseball or hockey until I committed to BC at the beginning of my senior season."
Part of that uncertainty was because of Schneider. Muse was originally slated to go to the USHL and play for a year for the Indiana Ice, but Schneider's early defection changed that.
"We identified John fairly early because he was playing at a prep school about 10 miles from us, at Noble and Greenough," said Eagles' coach Jerry York. "He was in our ballpark. We had Cory Schneider. The final analysis with John was that Cory was going to be a senior the next year and play 90 percent of our games and we'd rather not waste a year with him behind the bench there. We had arranged for him to go Indianapolis to play one year of USHL and take over when Cory graduated.
"The caveat was that Vancouver signed Cory. We had him go through the application process and he took a delayed admission status, but he was ready to come. That summer, I think it was June or early July, Cory made that decision. John was amenable to both ways, spend a year in junior or come right in. He knew how it was all going to work out. He was very excited when he got the chance to come in and play that first year."
Though Muse was the only scholarship goaltender for the Eagles, most did not expect him to play both to the level he did and the extent that he did, except perhaps for his teammates and his coach, who saw his dedication and hard work pay dividends over the course of the long season.
"From day one, John always had that desire to be the top-notch goalie in the country, and he definitely did exhibit that over the course of the season," said Filangieri. "He came to the rink every day wanting to get better, whether it was in the weight room, the training room, or the ice in general. He really put his effort in, and he's still doing that today, to become the very best goalie he can possibly be."
For York, playing Muse in every game was not a matter of necessity, but a recognition that week in and week out, Muse was ready, and didn't seem to need or want an off day.
"We thought he would play the majority of games; we did not think he would play every game," said York. "As the season rolled, his conditioning, it was really a benefit to him; he never seemed to wear down. As we went, we would say, 'We better rest him next weekend at least one game.' He just kept a real routine, where he would prepare all week, play the two games, recover and go right back and play again.
"When you see now at the pro level, Luongo and Brodeur, a lot of these goalies want to play all the time, and John has that in him. He wants to be in the net; he doesn't want to sit and watch. The makeup of the goaltender is a little different, but John's makeup is that he wants to play every game."
For his part, Muse feels that playing every game was one of the reasons he had success in the playoffs.
"I think it really helps, playing every day, because I gained experience, unlike I would get if I played every other game," said Muse. "By the end of the year, I think it really helps being in all those types of game situations; when we got in the playoffs, I think it helped a lot."
As Muse continued to develop as a player last season, he passed several milestones, including playing in the Beanpot.
"Growing up around Boston, the Beanpot is always something a hockey player from this area wants to play in," said Muse. "Just being able to play for BC in the Beanpot was a dream come true and winning it was that much better."
Muse brings a lot of strengths to the table, including his competitiveness. Filangieri thinks his puck movement, combined with his communication on the ice, is a great asset to the defense.
"He moves the puck exceptionally well, and as a defenseman, that helps out right there when he can be used pretty much as a third defenseman, breaking the puck out and such," said Filangieri. "He sees the puck really well, makes that first initial save. Sometimes he bails us out.
"The coaches harped on us early in the year to start communicating with one another, whether it's a defenseman going back to the puck and he's handling it and getting direction as to where to move it, when to move it, something like that, and the same goes for John. He has to be talking to us. We work on it in drills and we've had a couple of meetings off the ice to discuss what we want to say on the ice. John gives us pointers on what he wants us to do in front of him. We always want to be open to his comments and suggestions because we want him to be the very best that he possibly can be out there."
Coming into his sophomore year, Muse acknowledges that he has even more expectations on him after the success he had his freshman year. Despite the increased emphasis on obstruction that has resulted in a large increase in penalties, Muse's numbers have been solid. Through 14 games, he has a 2.74 goals against average and a .900 save percentage.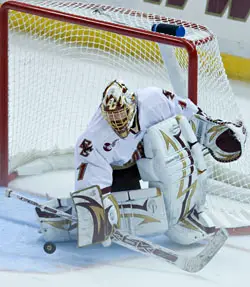 "One of the toughest things to do in sports is to win back-to-back national championships, and I know if we don't do it again, people are going to criticize me or whatever," said Muse. "I realize I have to work harder than I did the year before, and during the offseason as well, and that's what I've been trying to do so far."
Before the season, York and the coaching staff addressed areas that they wanted Muse to work on in his development.
"I think John is a very coach-able young man," said York. "He has not reached the pinnacle of his development and he needs to get better and better as he progresses. He watches a lot of the pro goaltenders, and Jimmy Logue is our goaltender coach and he works with Jimmy. He wants the challenge, he wants to get better. He doesn't want to say, 'Hey, I had my best year as a freshman.' He wants to get better every year here."
Perhaps the best news for the Eagles is that Muse shows no signs of wanting to jump to the pros. Muse's rights are currently not owned by any NHL team, but even if they were, the goalie is concentrating on what he can do at BC.
"I feel like I still have a lot to prove. I'm young and I still have a long way to go before I continue on in my career. Hopefully I'll do it, but I still have three more years here and I plan on staying for three more years. I feel like I'll only get better here; I don't think I need to leave right away."