Last weekend was a light one in the CHA, but the one coming up bodes for some major excitement.
First off, Alabama-Huntsville makes the trek to Bemidji State in a series that over the years has proven to be arguably the league's most intense.
"When you play as few league games (18) as we have, every series is important," UAH head coach Danton Cole said in the Huntsville Times. "That's the mentality we have.
"We've had our work cut out for us," he said. "But we've had our rest (and) it's time to play."
Friday, Niagara heads to suburban Pittsburgh for the first game of a staggered home-and-home set with Robert Morris that concludes next Saturday in western New York.
RMU head coach Derek Schooley hopes these next two games with the Purple Eagles are the ones that can start to turn the Colonials' season around.
"It will be nice getting back into CHA play against Niagara," Schooley said. "They are a good offensive team with excellent goaltending. Niagara took it to us last year (won the season series, 5-2) and has knocked us out of the playoffs three of four years, so the rivalry has been one-sided in the Purple Eagles' favor.
"I hope we can start to turn the tables a bit."
Robert Morris then wraps up another delayed home-and-home Saturday night as they play "at" Ohio State at the Quicken Loans Arena in Cleveland.
On a personal note, as this is our official last week of columns until we flip the calendar to 2009, I just want to wish everyone a happy holiday season and to spend as much time as you can with loved ones and to not take anything for granted.
See you in January!
Beavers Sweep Michigan Tech At Home
Bemidji State needed a sweep in a big way and got one last weekend at Michigan Tech's expense.
It was MTU's first-ever trip to Bemidji and BSU goaltender Matt Dalton played two of the best games of his young career in just allowing a single goal over the two games.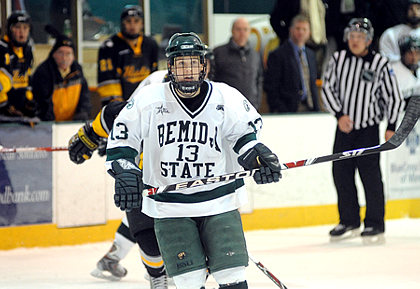 Friday night, Dalton made 23 saves en route to his second career shutout and the Beavers won, 3-0.
Matt Francis, Matt Read and Jamie MacQueen (first NCAA goal) scored for Bemidji State and the BSU penalty killers were excellent, especially in killing off a 5-on-3 late in the first period for nearly 90 seconds.
MacQueen's goal stood as the Beavers' first power-play goal since Nov. 7 — a streak spanning 21 opportunities.
Saturday night, Tyler Scofield netted both goals in a 2-1 win and Dalton stopped 26 shots and added an assist on Scofield's second tally.
Dalton's assist was the first by a BSU goalie since Layne Sedevie had one against Wayne State on Jan. 14, 2006.
"Dalton has been a key component for us," BSU head coach Tom Serratore said to the Bemidji Pioneer. "He's been our rock the last three weeks."
The victory helped BSU complete its first series sweep of the season and its first over a WCHA team since back-to-back wins over Minnesota Duluth Dec. 8-9, 2006.
As a team, the Beavers blocked a season-high 29 shots. BSU also managed just 32 shots on goal over the two games, being outshot by a 50-32 margin, but the two wins are what matter most.
He Said It
"I started to get into the psychology of hockey when I was in tryouts. A sports psychiatrist came in and spoke to us about visualization and focus. I thought that if I could be stronger mentally and well-prepared by using imagery, I could gain an advantage over the other goalies. I figure if most of the game is mental, than why not train your brain equally to how you train other muscles." — Niagara goalie Juliano Pagliero, on PurpleEagles.com, describing his game-day ritual of only talking when totally necessary.
BSU, RMU Recruits Made Official
Bemidji State made the commitments of forwards Jordan George, Matt Hartmann and Aaron McLeod official during the early signing period and Robert Morris did the same with forward Zach Hervato.
"We are excited to welcome these players into the Beaver hockey family," said Bemidji State assistant coach and recruiting coordinator Ted Belisle. "They each bring a good mix of skill, grit, and speed. They are quality kids who have honed their skills in junior hockey and we look forward to having them in Beaver jerseys."
Belisle on George: "Jordan is best described as an electric player. He is the type of player that can get you out of your seat when he touches the puck. He has a real good skill set and is very mobile on the ice. Although small in stature, he does not shy away from the tough areas on the ice. We are excited about his potential in a Beaver uniform."
Belisle on Hartmann: "Matt is good at everything. He is an extremely reliable player who has captain qualities. He is what we refer to as a glue guy and has a well-rounded skill set. He epitomizes Beaver hockey and is a player that you can play in a lot of situations. We look forward to having a quality person and player such as Matt in our program."
Belisle on McLeod: "Aaron is a junior hockey veteran that will add speed and energy to our lineup. He has a good skill set and competes very hard for the puck. He has abilities that could translate into a successful collegiate career."
Schooley on Hervato: "Zack is an extremely talented forward with a proven track record of scoring goals. He has a good skill set, skates well and competes very hard. He had a great experience in playing for Team Canada East in the just-completed World Junior A Challenge. We are excited about Zack joining the Colonial hockey family."
Last season, a teammate of Hervato's with the Smiths Falls Bears of the Central Junior Hockey League was current Colonials defenseman James Lyle.
He Said It II
"We were playing a lot harder competition, and I think that helped a lot. Playing in Atlantic Hockey at Army, you don't get many out-of-conference games against some big-time teams. At Robert Morris, we played a lot of big-time teams that were first- or second-ranked in the country at the time we played them. That helps your confidence when you beat some of those big-time teams, and it shows that you can play at a higher level." — Ex-RMU forward Ryan Cruthers, discussing his time in Pittsburgh, getting some ink on NHL.com.