Faceoff Artist
When asked how they can improve their faceoff draws in Sunday's Midwest Regional final, Cornell head coach Mike Schafer didn't hesitate.
"It's really easy. We're not going to have to play against Joe Vitale. We heard he was good coming into the game. He was unbelievable. He must have been near 90 percent tonight and we have some good guys on faceoffs."
Vitale wasn't 90 percent efficient on draws, but his 25 wins out of 35 attempts helped pace the Huskies to a 44-26 edge in faceoffs.
Homecoming
Cornell and Northeastern each dressed a skater making his first appearance of the season in his home state of Michigan. One of the two was returning to play college hockey in Michigan — again.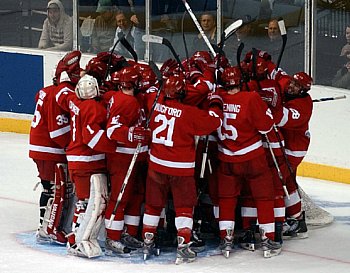 Huskies third-line senior center Rob Rassey hails from Shelby Township, Mich., 105 miles east of Grand Rapids outside of Detroit.
Derek Punches, fourth-line senior center for Cornell, was playing his first college hockey in Michigan since he skated for Wayne State. The Warriors discontinued their men's ice hockey program at the end of the 2007-08 season.
Punches is from Manchester, Mich., about 130 miles southeast of Grand Rapids, near Ann Arbor. Although he has yet to record a point for the Big Red, Punches worked his way into the Cornell lineup this season and played in his 20th game Saturday.
Shorthanded Huskies
When Northeastern's Steve Silva missed an open net for a shorthanded goal with three minutes left in the opening period, no one familiar with the Huskies could be surprised at NU creating chances while a man down. That's because Northeastern coach Greg Cronin's dossier includes an impressive penalty-killing background from his time with the NHL's New York Islanders.
Cronin coached an Islander penalty-kill unit that led the NHL and tied a franchise record for shorthanded goals, 17 in the 2001-02 season.
Coming into Saturday's game, the Huskies had popped in eight shorthanders while killing off 190 of 220 opponent power plays.
Big Red by Twos
Cornell's leading scorer and top NHL prospect sophomore Riley Nash joins his brother, Brendon, a Big Red defenseman, as one of three separate brother combinations on the Cornell roster. The brothers from Kamloops, B.C., earned their way to Cornell with standout play for the Salmon Silverbacks of the BCHL.
Senior captain Michael Kennedy and his sophomore brother, Patrick, came to Cornell from the St. Thomas Stars, a leading Western Ontario Hockey League supplier to the NCAA hockey ranks.
Joe and Mike Devin, from Scituate, Mass., are the third brother combination on the Cornell roster.
Quotable
Asked to ruminate on the success of Northeastern's season, Cronin was frank.
"Obviously, you're getting me at a bad time. I'm still pissed off and going through the last few minutes of the game in my head.
"When you step away from it, we've moved Northeastern into a level of visibility that it hasn't enjoyed since the early '80s."