Bemidji State is no longer in the Cinderella category.
No more glass slippers — the Beavers are for real.
Just look at what happened last weekend in Grand Forks.
BSU toppled the nation's top team, Miami, in the first game of the Subway Holiday Classic and then went to overtime with an always-tough Ohio State squad in the finale.
After losing to the Buckeyes, many expected the Beavers to drop in the national rankings, but this is Bemidji State, a school many up until last spring couldn't even pronounce, the new No. 5 team in the country.
The win versus the RedHawks marked the first time BSU has knocked off a No. 1-ranked team.
"All week we've been talking that this is the No. 1 team in the nation and we had to have our best game to show the nation that we are for real," said Bemidji State forward Matt Read. "It took 60 minutes, but we had some play back to deal with tonight. I thought we played a good game and ended up on top."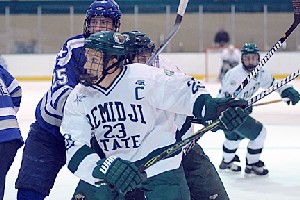 With the score knotted at 2-2 after with under four minutes to play, senior captain Chris McKelvie followed Read into the zone, grabbed Read's rebound off Miami goaltender Cody Reichard and fired it home.
"There aren't many guys in college hockey faster than Chris McKelvie," BSU coach Tom Serratore said. "Chris sensed it, he saw it and he went. When you beat people to pucks, good things happen."
Darcy Findlay and Tyler Lehrke scored to give BSU a 2-0 lead before Miami roared back.
The Beavers came into the series riding a perfect 8-0-0 streak when leading after two periods of play in 2009-10 and improved to 9-0-0 despite allowing Miami to stir up some excitement during the final 10 minutes of play.
Dan Bakala finished the night with 20 saves for the Beavers.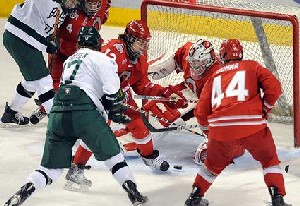 The next night, BSU scored first on a goal from Aaron McLeod, but faltered and dropped a 2-1 decision to Ohio State in the extra session.
"It was a game that had no emotion, no intensity," Serratore said to USCHO. "Quite honestly, I was hoping to get out of there with a tie. Those are tough games to coach and a difficult game to watch. We had a boatload of turnovers; we didn't manage the puck very well. I hope that's out of our system because you're not going to win games playing that way."
Mathieu Dugas made 20 saves in the loss.
BSU hosts Niagara this weekend.
NU Blanks Robert Morris
Junior netminder Adam Avramenko made 38 saves to earn his second career shutout and Niagara beat Robert Morris, 5-0, on the road on Thanksgiving Eve.
Niagara is now unbeaten in its last three games (2-0-1).
Ironically, Avramenko picked up his first shutout last February at RMU.
"It feels real good to get the shutout, but I really have to give credit to my defensemen," Avramenko said. "The defense cleared out the bad bounces and allowed me to see the puck well."
Chris Moran, Ryan Olidis, Brent Vandenberg, David Ross and Sam Goodwin all scored for the Purple Eagles.
"From start to finish, we rolled four lines and really got after it on the forecheck," NU coach Dave Burkholder said. "We spent a lot of time at the top of their crease and guys got rewarded because of it. Avy was solid as well, allowing us to get our legs under us and get rolling."
Brooks Ostergard started and made 21 saves on 24 shots, while Eric Levine stopped 29 of 31 shots.
"We went on Thanksgiving break a day early," RMU coach Derek Schooley said. "You can't afford to take a game off against a quality opponent like Niagara. They were better in all aspects of the game. Give them credit. They have been playing well lately and they did everything they needed to do to take it to us."
With the victory, Niagara is now 10-3-1 all-time in its last game before the Thanksgiving holiday, while the Purps also have extended its unbeaten streak at the Island Sports Center to six games, going 2-0-4 since Nov. 10, 2007.
Robert Morris hosts Alabama-Huntsville this weekend. UAH was idle last weekend. RMU has not lost to the Chargers since Jan. 9, 2009.
"Hopefully some time away from the rink helped us refocus our team from a tough first half of travel," added Schooley. "UAH is a very dangerous hockey team. They have beaten some high-level teams and [UAH coach] Danton Cole has them playing their systems very well. Cameron Talbot is an excellent goalie and we have to be ready to compete for 120 minutes this weekend."
Dream Comes True for BSU Recruit Rendle
Sam Rendle will realize his dream next season when he suits up for Bemidji State.
The Bismarck Bobcats defenseman and lifelong BSU hockey fan announced this week that he has committed to play his collegiate hockey for the Beavers.
 
"Growing up about 45 minutes away from Bemidji, I've been to my fair share of Beavers games," said Rendle, a 19-year-old Grand Rapids, Minn., native. "But I never thought I'd get a chance to play for the one school I've always wanted to go to."
 
The commitment to BSU caps a strong month of November which saw Rendle rack up three goals and five assists with a plus-3 rating in nine games while securing NAHL Central Division Player of the Week awards on both Nov. 2 and Nov. 23.
Bismarck is currently in first place in the Central.
 
"Sam has come on really strong in the past month, and not just statistically," said Bobcats coach Byron Pool. "He's become very strong in his own end and established himself as a top defender in our league. We've known for a while that he has Division I potential and now Coach Serratore is getting a terrific player in Sammy."
 
Rendle is tied for sixth in scoring among NAHL defensemen with five goals and 16 points and is also tied for third among league defenders with four power-play goals.
 
It's now his goal to gear up and get ready for the WCHA next fall.
 
"It's great to know there'll be a next level for me, but it's not good enough to just get the offer and go play [at Bemidji]," he said. "I want get to the point where I can get to school and be ready to step in and contribute every day and not be an every-other-night kind of guy."
 
Rendle also said he plans on using every resource available to him next season.
 
"It's a really great teaching school and academically, I want to study to become a teacher," added Rendle. "My dad got his Master's Degree at Bemidji State for that, so things worked out just perfectly."
This is the kind of rep BSU has nowadays — people WANT to play there. Remember back in the day when it was a third or fourth option for some players? Now, it's top priority for those with the chance to pick the Beavers.