Boston College's four seniors — Matt Price, Matt Lombardi, Ben Smith and Carl Sneep — ended their careers with a postseason record of 25-2. Junior goaltender John Muse improved to 8-0 in NCAA tournament games.
"Johnny's great when the lights are the brightest," said Price. "He's been solid for us."
Royalty
This was Boston College's 10th trip to the national title game (4-6) and Wisconsin's eighth (6-2). It was the fourth time the teams have met in the NCAA tournament. The Eagles and Badgers are 2-2 head-to-head in NCAA play, including 1-1 in title games. Wisconsin defeated BC 2-1 in the 2006 championship game in Milwaukee.
Three in a Row for Comm Ave
A Boston-based team has won the title for the third year in a row. Boston College's titles in 2008 (Denver) and 2010 (Detroit) sandwich archrival Boston University's national championship in Washington, D.C., last year.
"I talked to [Boston University coach] Jack Parker after it was clear that BU wasn't going to make it," Boston College coach Jerry York said. "We're a couple of old warhorses and he said to me, 'Let's keep the trophy on Comm Avenue.'"
More Milestones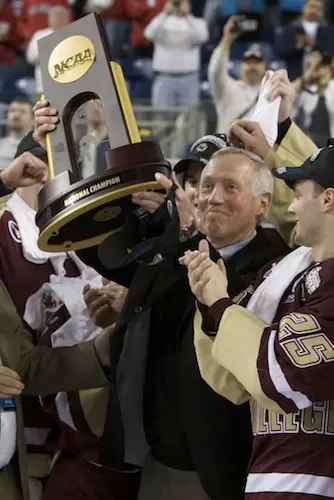 Saturday's win was York's third national title and win No. 850 in his career.
"You have to be doing something right to win 850 games," said Price. "Coach has done a great job of keeping things in perspective for us all year.
"The positive energy you get from coach has been unbelievable," said Smith. "He always knows the right thing to say."
Lopsided
Boston College's 5-0 domination made for an average goal differential of 6.0 in the three games in Detroit. It was the first time that all three games were decided by five goals or more.
There were exactly 100 goals scored in this year's tournament, the most since the expansion to 16 teams in 2003.
Stingy
The single goal allowed by Boston College tied for the fewest ever in a Frozen Four. Also allowing just one goal were Cornell (1967), Denver (1968) and Boston University (1972).
Let's Be Careful Out There
When asked what was the first thing that went through his mind at the final buzzer, BC junior forward Brian Gibbons said, "Don't get hurt in the pile."
Gone But Not Forgotten
RIT may have left Detroit, but a lot of its raucous fans stuck around, starting an "RIT" chant before the national anthem, booing both Boston College and Wisconsin during the player introductions and taunting both team's fans sections with chants of "We can't hear you" throughout the game. They even threw in a "Let's go RedHawks" cheer for good measure.
Best chant of the night: "Jersey Shore!" directed at a group of shirtless Badger fans.
Bigger Than Ever
Saturday's announced attendance of 37,592 broke the old Frozen Four record of 34,954 … set on Thursday.