After 28 years, it's time.
I saw my first Division II/III hockey game in 1982, a full 10 years before some of the members of this season's rookie class were born. Last year was the first since '82 that I didn't see a Division III game, but I gamely followed from afar and continued to blog about it for USCHO.com.
But I've realized that I can't do a national D-III blog justice anymore, and with USCHO.com's Division III coverage in capable hands, it's time to step away.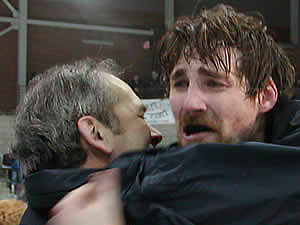 When I started covering Division III college hockey in the late 1980s, USCHO was still several years away and I was writing for publications like College Hockey Magazine and The College Hockey Guide. Back then, even scores and standings were hard to come by.
In 1996, I met USCHO founders Tim Brule and Lee Urton in Cincinnati at the Frozen Four and they contacted me the following season about launching Division III coverage. We started the first national poll in 1998 and slowly expanded our coverage, going full blown with all conferences being covered by 2000.
This year marks the 10th anniversary for full Division III coverage, so between that milestone and my decision to step away, here are some memories and reflections of my time at USCHO.com covering what was at one time the best kept secret in college sports: NCAA Division III hockey.
• The first D-III Frozen Four I covered for USCHO was the last of Middlebury's amazing run of five national championships in a row, in 1999 at the brand new Kreitzburg Arena at Norwich. The Panthers were not supposed to win it that year, and had to win their way into the tournament by taking the NESCAC title and then defeating St. Norbert in Wisconsin. Middlebury came home to Vermont, and on the ice of their arch-rivals, dominated Rochester Institute of Technology and Wisconsin-Superior to get coach Bill Beaney a pinkie national championship ring.
• The 2001 season saw an amazing run by RIT, which made it all the way to the national title game without a loss, before Plattsburgh State spoiled the party with a 6-2 win in the Division III finals. The Tigers defeated Division I Air Force that year, kicking off what would become a future Atlantic Hockey rivalry.
• In 2002, Wisconsin-Superior finally got the national championship that had eluded it, defeating Norwich in dramatic fashion on a fluke bounce with 1:26 to play to tie the game, and then getting the game winner in overtime. It was my first trip to the magnificent Skip Kenyon '85 Arena at Middlebury.
• Norwich got to experience a rare feeling in 2003, winning the title on home ice. It ended a magical postseason for the Cadets, who needed four goals in the third period against Trinity to stay alive in the NCAA quarterfinals.
• The 2004 NCAA championships included two of the best games I have ever witnessed. Middlebury defeated host Norwich in double overtime in the semifinals, and then outlasted St. Norbert 1-0 in overtime to claim its sixth title. USCHO.com Division III player of the year Kevin Cooper got the game-winner. To me, that weekend along with the Division I Frozen Four in Washington, D.C., in 2009 remain the best college hockey I've had the privilege to cover.
• Middlebury would claim two more national titles in 2005 and 2006, not allowing a goal in either championship game to make it three shutouts in a row, four if you include the Panthers' title in 1999.
• 2008 was the last D-III national championship that I covered, as the tournament moved to a neutral site at Lake Placid, N.Y. St. Norbert got its first national title, as goaltender Kyle Jones posted shutouts in both the semifinals and finals.
• I wish I had been able to cover the 2009 D-III championships, which featured a pair of improbable teams in the title game: Gustavus Adolphus and Neumann. The Neumann Knights had gone from being the worst team in Division III less than a decade before to winning it all.
• Besides the memorable games, I think about how the sport grew in the last 10 years, adding programs and new facilities, especially the new rinks at Norwich, Middlebury, Oswego and Bowdoin. But I also remember the old barns that they replaced, like Duke Nelson, the Romney Field House and Dayton Arena. I also am thankful that I got to cover games at venerable Division III rinks like Chapman at Williams, Alfond at Colby, Plattburgh's Stafford Arena and the quirky Murray Center at Elmira and Playland Ice Casino at Manhattanville.
• It's been a pleasure to watch programs move up. Division I programs like Bemidji State, Minnesota State (formerly Mankato State), Union and Massachusetts-Lowell played for many years in D-II/III leagues. In my tenure at USCHO, Niagara, Canisius, Mercyhurst and RIT all moved from the ECAC West to Division I, and all but Canisius have so far played in the Division I NCAA tournament. Hopefully, the ECAC West, whose members have and continue to contribute so much to college hockey, will continue.
I've been doing radio for RIT since the mid-1990s, and "moved up" with the Tigers to begin covering Division I full time five years ago, so it's fair to say that I've seen my share of both Division I and Division III hockey. There may be a skill/size difference, but in terms of heart and dedication, I have never found Division III to be lacking compared to Division I. If anything, the intensity can be higher with fewer games and less influence from professional hockey.
Watching RIT triumph in the East Regional in Albany last season, a line from the movie "Hoosiers" kept coming back to me: "Let's win this game for all the small schools that never had a chance to get here." The Division III years were there in spirit.
It seemed a fitting end for my time covering Division III hockey. As I said, it was once the best-kept secret in college sports, or hockey anywhere, for that matter. But as the attention and popularity of the sport has increased, I'm proud that for the last 10 years we were able to help get the word out and make it a secret no longer.