There are four games left for most teams in ECAC Hockey; five for Harvard and Brown. Here's the state of the chaos in the regular season's penultimate week.
• Colgate (six points) can't finish higher than ninth place.
• Harvard (seven points) and St. Lawrence (11 points) can't finish higher than seventh.
• Brown (13 points) and Quinnipiac (16 points) could finish as high as fourth, but the Bobcats won't finish last.
• Clarkson (17 points) could finish anywhere between 11th and third.
• Princeton (20 points) could still place as high as third, but could fall as far as ninth.
• Both Rensselaer (21 points) and Cornell (22) are still clinging to shots at first place, but could slide to ninth as well in worst-case scenarios.
• Dartmouth (24 points) will wind up somewhere between first and seventh.
• Yale (28 points) and Union (29) have assured themselves top-five finishes.
While it isn't a lock, Union also has what appears to be the record-vs.-top-four edge on RPI in a potential tiebreaker situation; that means that the Dutchmen are looking good (even better than they do at first glance) for a first-round bye.
Forgotten Ivy, memorable team
It's true, Union has never been an Ivy League school, though its standards, traditions and associations overlap those of Ivy institutions quite frequently. The Dutchmen and Dutchwomen don't get athletic scholarships, either, which puts Union on a more or less level playing field with the Ivies.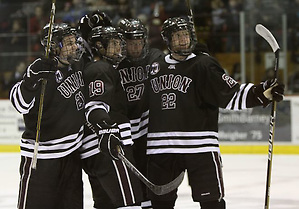 Harvard, Cornell, Yale and Princeton fans may deride the little school in Schenectady as a wannabe, a never-was and never-will-be … but not at the rink. For on the ice, this little school in Schenectady is putting the Ivies in their place. Second place, specifically.
The Dutchmen overtook front-runner Yale last weekend, earning sole possession of first place with four games to go. Union has won more games this year than any other Division I team (22), has been ranked in the USCHO.com Division I Men's Poll for a school-record 31 consecutive weeks, and is a program-best seventh in this week's poll.
These are all hallmarks of a great season — to date.
"It's not even a focus of ours right now," said coach Nate Leaman. "We're not getting a lot of congratulations, actually; we're not going to sit around and let people pat us on the back, or pat ourselves on the back, because there's a lot of hockey to be played and this is an extremely tough league."
The coach didn't say anything any reasonable coach wouldn't say. There is a lot of hockey left, and nobody ever won a ring with two weeks left in the regular season. There are no "first place in February" banners, unless you're in the Beanpot.
The fact is that Union hasn't actually accomplished anything yet, apart from putting itself in a good position for the playoffs, a first-round bye and perhaps an at-large bid in the NCAA tournament, if necessary. Even that is far from assured.
"That's another thing that you can waste a lot of energy looking at or focusing on; it's just not something you have control over," Leaman said about analyzing the PairWise Rankings. The only thing you have control over is your next opponent. It wouldn't be worthwhile for us to spend our energy that way. It wouldn't be smart of us to do that.
"It would be a major mistake [to reflect]. The games that we've been fortunate enough to win have all been tight games because of the competitiveness of the league this year. I know Colgate's in 12th place, but that's the best 12th-place team that we've ever seen in this league. I can say that, because we finished 12th one year. The teams this time of year are very much playing playoff hockey."
The team that started 7-1-3 — the lone loss at then-ranked Alaska — put up gaudy numbers and lopsided results. The team that is now on a 7-0-0 run and has won 11 of 12 is triumphing in tighter contests, so it must be asked: How much have the Dutchmen really changed since November?
"I think we've grown a lot as a team … in a number of areas," Leaman said. "I think our mentality has matured a bit, and we definitely understand our identity a lot better, and I think we're much more road-tested, and as a coach, that's what I'm excited about: Where we've been on the road, where we've played, we took some losses in the first half and I think we've come back and it's helped us in the second half.
"The big thing about our team is that we've continued to improve throughout the year, and right now, there are still areas that we're trying to improve, and that has to be our focus — continuing to improve."
In a number of ways, this has been the best year in the 20-year history of Union's D-I hockey program. In some ways, it has set a new bar for Union hockey, period … but the season, and this team, are not complete entities yet, and Leaman has no desire to compare this team to past vintages just yet.
"That's tough to say. I don't know," if this is Leaman's best team, he said. "That's probably a reflective question that you think about in the summertime, but right now, our focus is all about Clarkson."
Has Yale's recent stumble stood as a cautionary tale against overconfidence? Not so much, says the eighth-year field marshal.
"I have a great respect for how difficult this league is; I have great respect for the balance in this league," he said. "The line between winning and losing games at this time of year is pretty darn fine, and it's about trying to make sure that your team's focused, that we're working hard, and basically that we're putting our best on the ice every shift, because you can still do that this time of year and not win games."
A big reason for Union's recent surge — or resurgence — is the return of senior forward Adam Presizniuk from a broken thumb. With 26 points in 26 games, it's no stretch to presume that Presizniuk is a vital component in the Union machine.
"The difference with Adam is that he had the pin taken out of his thumb the week before we played Yale," Leaman said. "He wasn't able to practice two days that week, because they had to put him under, and we had to make sure that the incision didn't get infected.
"Adam is a very, very good player — I think he's an underrated player. He does so many things well on the ice, as far as getting to the dirty areas, as far as playing physical, as far as being able to come up for us in big moments of big games. I think he's got six goals since he got the pin out of his hand, in six games. That's big for us; that's the same pace he was on before he broke his thumb, and we probably brought him back a little bit too early. In a perfect world, he probably would've been out another weekend, or two weekends, but we needed him.
"His presence was immediately felt, even though he had a big cast on his hand and couldn't really do anything, but when we went up to Minnesota and beat Minnesota, he just brought a different presence to the game for our team. He sparked our comeback against Princeton, and he sparked our comeback against Colgate this weekend."
Union has also been blessed with a remarkably productive and consistent freshman class, as Daniel Carr, Josh Jooris, Mat Bodie and Matt Hatch have each put up at least five goals and 17 points. Carr is tied for sixth in the nation in points per game among freshmen (1.00), and is tied for second in rookie goal-scoring (18).
"What's critical for our freshmen is their work ethic, and their consistency game to game, and that's been our focus. There's certainly some talent there — we're extremely happy with the class — but what's important is the work ethic, because without that, I don't think the talent comes through," Leaman said. "Their energy level has been super, especially coming down the stretch, and I'm excited about that. Our focus with them is that the work ethic is there, that the focus on details is there, and if they are, they seem to have success."
The rookies are learning from one of the best, at least according to his coach: Senior captain Brock Matheson has been anything and everything that a captain should be, and he's having the season he deserves.
"Brock is an outstanding leader," praised Leaman. "From our standpoint, I think a lot of the success we're having as well is due to Brock's leadership capabilities, because we've really been trying to improve and stay consistent over the second half, and ultimately as a coach you rely a great deal on your leadership group — for some of it to come from there — and Brock's done an outstanding job with that. He's plus-23 on the season as a defenseman, he's not an offensive defenseman: He's kind of our [version of Philadelphia Flyers veteran Chris] Pronger, a guy that can chip in offensively but really is able to play a complete game. He logs about 25 minutes for us a game, and he's strong every shift. He leads in every way. He'll be our candidate for defensive defenseman of the year … because I think he's really [at that] elite level.
"There haven't been any big issues [that he's had to solve]; it's more about the day-to-day, making sure guys are coming out of the locker room prepared to practice, making sure the guys are ready to start games. I think a lot of our success this year comes down to how good of a leader Brock Matheson is."
The captain has been getting some nibbles from higher up the hockey ladder, and his coach is hoping that someone will give his leader a chance at hockey beyond this spring. He has the ability and the drive, asserts Leaman.
"I believe he does. There are some teams that have asked me about him, certainly, but I don't think he's focused on that," Leaman said. "He's focused on this year, but he's pretty elite in his leadership capabilities and he's elite in his play as well."
Union has had an elite coach, as Leaman is finally getting some of the attention he deserves for his program's steady climb. The Dutchmen now have the leader they need for this point in their ascent. That makes for a solid, steady squad, one that is willing and able not only to achieve, but more importantly maintain the best view in the league: The one from the top.