According to people who have time to claim an expertise in such things, the ancient Mayan civilization predicted that 2012 will bring a giant shift for humanity. Some claim that Armageddon is approaching, that when our sun aligns with the center of the Milky Way on the solstice in December 2012, civilization will cease to be.
Relax, people. Yes, the end is near — but not that near. Sure, there were uncharacteristic earthquakes and floods this past summer, but do those signs point to The End of Times? Don't we have a better predictor of the end, handed to us by the offseason realignment?
For CCHA fans, the end of the world as we know it comes not Dec. 21, 2012, but a few months after that, whenever that last game of the 2012-13 season is played by a current CCHA member team.
Until then, though, there are two full seasons of CCHA hockey ahead and the hockey should be memorable for more than its finite nature. Call it divinity, call it fate — call it great recruiting and coaching, if you must — but every sign points to sizzling hockey in the CCHA's immediate future.
Judgment day
For the past five years, the CCHA has been well represented in the Frozen Four. After Michigan State took the 2007 title, Miami, Michigan and Notre Dame each made two Frozen Four appearances, with the Wolverines and Fighting Irish twice playing in the same year — including last season, when each ended its campaign with a loss in St. Paul, Minn., to first-time champions Minnesota-Duluth.
The Irish lost to the Bulldogs in a national semifinal game last April, and two days later the Wolverines lost the national title when UMD's Kyle Schmidt got by goaltender Shawn Hunwick at 3:22 in overtime.
Each team lost by one goal, and each team will be motivated by disappointing ends to great seasons — which is good news for CCHA fans.
"I'm excited about their enthusiasm," Irish coach Jeff Jackson said of his squad, picked first by the coaches and media in preseason. "I think they recognize that regardless of what we actually accomplished, we didn't really win anything and there is a lot of work yet to be done. The most important thing right now is to be focused for our first game."
In addition to filling out half of the 2010-11 Frozen Four field, the CCHA boasted three of the nation's top four scorers — all of them RedHawks. Hobey Baker Award winner Andy Miele and classmate Carter Camper are gone, but junior Reilly Smith remains. Miami returns an experienced, talented, veteran team whose mission is to return to the Frozen Four for the third time in four years and win it this time.
It's no surprise that Notre Dame, Miami and Michigan were Nos. 1, 2, and 3 in both the coaches and media preseason polls, nor should it be any surprise that both the RedHawks and Wolverines received votes for the top spot in each poll.
Signs and wonders
Once again, CCHA fans, we have another outdoor game planned. Now that both Michigan and Michigan State have hosted outdoor games, how could Ohio State stand to be left out of the cold, so to speak?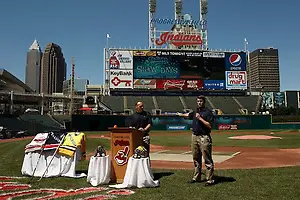 This year's CCHA outdoor offering has been dubbed the Frozen Diamond Faceoff and will be played Jan. 15, 2012, in Progressive Field in Cleveland. Please note that Cleveland and Columbus are not interchangeable, and the professional sports team that calls Progressive Field home is the Cleveland Indians, who play baseball.
Because we need another outdoor game in a venue that isn't designed for hockey, and we need one in a city that doesn't have a college hockey team.
"I don't think we're that excited right now," Michigan coach Red Berenson said. "I know we agreed to this game because I'm a big proponent of outdoor games when they're in large venues and it can be good for college hockey.
"This event in Cleveland is going to be surrounded by a winter carnival atmosphere. I think it'll be more than just a hockey game, and hopefully it becomes a real special event. But right now, we're more focused on our early season games than we are than the game in January."
Nice to see a coach focused on the task at hand. Surely, as the season begins, Ohio State coach Mark Osiecki has a little more enthusiasm for this big, marquee event.
"It's down the road a ways, so we really haven't had much of an opportunity to talk about it," said Osiecki. "Just my personal experience, I've been to a couple of the outdoor games and it's a great experience for everybody, not only for the players, but for everyone involved.
"You look at the game last year in Ann Arbor and it was phenomenal, and I think that it will continue to help college hockey grow and open people's eyes to the product that we have."
Twists of fate
The league welcomes two new coaches to the CCHA, and each new hire was surprising and interesting.
First came Tom Anastos, the former league commissioner who was hired to replace Rick Comley at Michigan State. It's an interesting hire because Anastos is an MSU alum … whose last collegiate coaching experience came as a Spartans assistant in 1990-91.
Anastos said the transition from commissioner to coach has gone smoothly. "The only real surprise is when I transitioned into the role, I didn't know the players particularly well other than from afar, watching them play," he said.
"The biggest surprise, there's real good leadership on the team. Guys who have emerged as leaders are really strong leaders. But there's also lots of leadership among the players we have. Guys did a good job of working together in their offseason training on their own."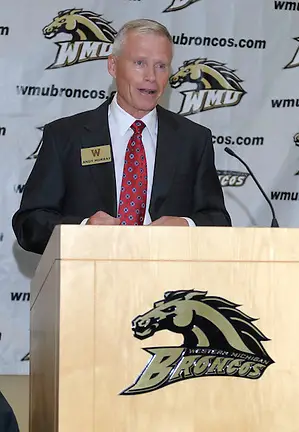 The other new head coach is Western Michigan's Andy Murray, who brings 10 years of NHL head coaching experience to the job. He replaced Jeff Blashill, who left the Broncos after just one season as head coach to become an assistant for the Detroit Red Wings.
Murray certainly understands the role that chance played in bringing him to Kalamazoo.
"They [the Broncos] were in 11 overtime games last year," said Murray. "They had a Ferris State defenseman that fell down after Ferris had some great scoring opportunities that allowed them to go to Detroit … otherwise, maybe Jeff Blashill's not in Detroit and I'm not here right now. That's just the way the game works."
Indeed, that is the way the game works — and the game is more than just what happens on the ice, as we saw clearly this past summer.
Here are my picks for the penultimate CCHA season. Click on a team's name to get to its preview.
1. Notre Dame
2011-12 predicted ceiling/basement: First/third
Quotable: "We've got some shoes to fill," coach Jeff Jackson said. "That group of seniors last year did an incredible job as much off the ice as on, and that's the dynamic you're not sure of right now."
2. Miami
2011-12 predicted ceiling/basement: First/third
Quotable: "Hopefully we can continue to improve daily, which is a part of our culture here at Miami, and hopefully we will be playing our best hockey at the right time," coach Enrico Blasi said.
3. Michigan
2011-12 predicted ceiling/basement: First/fourth
Quotable: "We need players like Chris Brown, Kevin Lynch, A.J. Treais, who all are junior forwards, to have big years for us," coach Red Berenson said.
Quotable: "Certainly there was a standard set here last year," coach Andy Murray said. "Coach Blashill did a tremendous job and Coach Facca and Coach Ferschweiler, with the help of players, obviously got this program going in a positive direction."
5. Alaska
2011-12 predicted ceiling/basement: Fourth/eighth
Quotable: "The culture seems to be real strong right now and guys are excited to be here and get going," coach Dallas Ferguson said.
2011-12 predicted ceiling/basement: Fifth/ninth
Quotable: "Once you're involved in a program or a family, you really look forward to the growth and success," coach Walt Kyle said. "We all want to do well, and there's lots of ways to measure your success."
7. Ferris State
2011-12 predicted ceiling/basement: Fourth/eighth
Quotable: "We have a lot of experienced forwards returning," coach Bob Daniels said. "I am looking forward to the increasing goal production."
2011-12 predicted ceiling/basement: Sixth/11th
Quotable: "The most important thing is to find an identity for our team, and that will take a little time," coach Tom Anastos said. "Our desire is to try and attack as much as we can offensively and defensively."
9. Ohio State
2011-12 predicted ceiling/basement: Sixth/11th
Quotable: "Bringing in 13 new players, 12 freshmen and one junior transfer … we're going to have a lot more gray hair and certainly will have to show a lot of patience," coach Mark Osiecki said.
2011-12 predicted ceiling/basement: Seventh/11th
Quotable: "We're pretty experienced in the back end and a lot of the sophomores now that were freshmen last year played pivotal roles and I expect them to take their games to the next level," coach Jim Roque said. "We have some pretty good leadership with our seniors."
11. Bowling Green
2011-12 predicted ceiling/basement: Ninth/11th
Quotable: "Of the 19 young people that we're going to have in our lineup most nights, most don't have experience," coach Chris Bergeron said. "The brand or the model isn't solidified yet so they're looking for someone to lead the way and we're still trying to figure each other out."