Canada, Finland, Sweden, and the United States met in Nyköping, Sweden, last week to compete for the Four Nations Cup. As has always been the case with this event and its three-nation predecessor, Canada and the United States met in the final; the Americans emerged with a 4-3 win in a shootout.
Occurring while the first semester of NCAA competition is in full swing, the tournament annually causes a number of athletes and coaches to leave their college teams for a week or more. Some teams schedule byes to limit the impact of these absences; for example, the entire WCHA was idle this past weekend.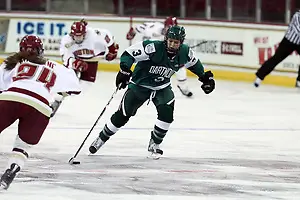 Others do not have this luxury, like Ivy League teams that are restricted by conference limitations on season length. Thus, Cornell, missing coach Doug Derraugh and four players representing Team Canada, and Harvard, minus coach Katey Stone and three players rostered on the U.S. squad, were in ECAC action. Other than Holy Cross, which does not play a Division I schedule, the Big Red and the Crimson went into the weekend as the last remaining unbeaten teams; neither can claim perfection any longer.
Cornell fell to visiting Dartmouth, 5-4, in a game that the Big Red never led, succumbing to a hat trick by Big Green sophomore Ali Winkel.
A day later, the women from Ithaca regrouped sufficiently to hand the Crimson their first setback, 5-3, forcing Harvard to play from behind and netting the game-winner a mere eight seconds after being tied at 3-3 at 12:37 of the third period. The winning goal came off the stick of Jillian Saulnier, her second of the game and 12th in six contests.
The trick for the pollsters and others comparing teams is what significance, if any, should be given to these reverses. I'm inclined to forgive Cornell's loss, because it came versus a Dartmouth team that was intact, while Harvard's defeat was to an opponent that was similarly handicapped. However, the computer rankings will be blind to any circumstance beyond the ultimate outcomes.
Other results
A week ago, New Hampshire scored four of the game's final five goals to pull off a dramatic 5-4 overtime win at Dartmouth that broke a six-game winless skid. That momentum failed to carry over, as league rivals new and old, Boston University and Providence, delivered consecutive UNH thumpings, by scores of 5-2 and 6-2 respectively.
Maine took three of four points from visiting Niagara, but left a little meat on the bone, as they allowed the Purple Eagles to forge a 3-3 tie with only 14 seconds remaining in the second meeting. Perhaps it was destined that these two would work overtime at least once, as it was the fourth OT for each already this season.
The Bulldogs of Yale got in the win column for the first time this season, besting Union, 3-2, in overtime thanks to a Jackie Raines marker. The ECAC standings on the whole are more bunched than is often the case at this point. With each team having played from four to six games, everyone has at least one league win, while only Dartmouth at 3-0-1 has yet to taste defeat in the conference.
The Patty picture
Cornell freshman Saulnier continues to pile up points at a three-per-game clip; she sits atop the national points per game race. Joining her in the top ten are five Shattuck-St. Mary's products: North Dakota's Jocelyne Lamoureux and Monique Lamoureux-Kolls; Wisconsin's Brianna Decker; and Minnesota's Amanda Kessel and Jen Schoullis. Saulnier is also best in the rookie category, while Harvard's Marissa Gedman and Minnesota's Megan Bozek are first among defensemen with 1.25 PPG.
Glancing at the goaltenders, seniors Hillary Pattenden of Mercyhurst (.957) and Florence Schelling of Northeastern (.953) lead in save percentage.