In many ways the second year is the most vital one for a first-time college hockey head coach.
Year two usually represents a coach's first recruiting class and also the year that new systems may finally take hold. More importantly, it is the year that new coaches really start to put their stamp on their program.
However, the second year is when the honeymoon period starts to wear off. Excusable losses during the first year of a new regime stain more in the second. Plus, with programs generally loaded with large freshman classes in that second season, progress can be slow and wins hard to come by.
This season, six head coaches who led a college hockey program for the first time last season — Union's Rick Bennett, Western Michigan's Andy Murray, Clarkson's Casey Jones, Michigan Tech's Mel Pearson, Princeton's Bob Prier and Northeastern's Jim Madigan — will do their best to navigate through their respective year twos and avoid the potential pitfalls of a sophomore slump.
"Last year as a coach it was like having 27 new players, but after one season our returning 18 players got to know our personalities, as we now know their personalities," Madigan said. "The players we are bringing in [to join them] are not specifically Jim Madigan's recruits or [previous coach] Greg Cronin's recruits, but Northeastern recruits, and I think we are going to have a nice blend this season."
How each coach handles his second year will go a long way in determining his program's identity.
Rick Bennett, Union
Coach replaced: Nate Leaman. First-season record: 26-8-7 (14-4-4 ECAC Hockey). School record in 2010-11: 26-10-4 (17-3-2).
Though blessed with an NCAA-bound roster from the previous season, no coach in his first year saw more success than Bennett did with the Dutchmen. All Union managed under the tutelage of the 1990 Hobey Baker Award finalist was match a school record with 26 wins, capture a second straight ECAC Hockey regular season title and reach the Frozen Four for the first time in school history.
"Though we were new to the surroundings, [as a coaching staff] I thought we did a tremendous job relating to our team," said Bennett, who also guided Union to its first league playoff crown. "[This year] it would be easy to sit back and rest on that success, but we're focusing on trying to get better."
The pressure will be on for Bennett to continue the Dutchmen's impressive run as Union remains the class of the ECAC, and the conference's best threat to end a 23-year-and-counting NCAA championship drought.
"Last year was last year, but what we are trying to do is be consistent," Bennett said. "We want to generate more visits to Atlantic City for the league [playoffs] and have more opportunities in the NCAA picture."
Bob Prier, Princeton
Coach replaced: Guy Gadowsky. First-season record: 9-16-7 (6-12-4 ECAC). School record in 2010-11: 17-13-2 (11-9-2).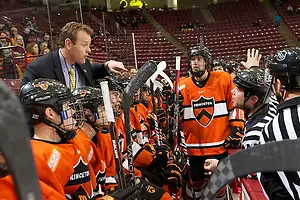 Similar to Bennett, Prier's 2011-12 plan for Princeton was to continue the impressive run from the previous regime. Unfortunately for the Tigers, Prier's first year saw growing pains for the youth-laden team, which struggled to a six-win conference campaign.
"The biggest challenge was getting to know 26 players and two assistant coaches and identifying their strengths," said Prier, who came to Princeton after serving as an assistant at St. Lawrence. "This was a process, but it is clear that I am blessed with a great group to work with."
As Prier's roster matures in his second year, expectations are rising at Princeton.
"We will be a much more experienced team than [we were] last season," Prier said. "We feel we have the ability to contend for a championship."
Casey Jones, Clarkson
Coach replaced: George Roll. First-season record: 16-17-6 (9-9-4 ECAC). School record in 2010-11: 15-19-2 (9-12-1).
For Jones at Clarkson the end goal is simple enough: Return the Golden Knights to their former glory of the 1990s when the program enjoyed 10 straight seasons of 20 or more wins. Jones forged a solid foundation in his first year at Clarkson, guiding the Golden Knights to 16 victories and a top-half finish in the ECAC.
"Our guys were steadfast last season," said Jones, who formerly served as an assistant coach at Clarkson from 1993 to 1995. "We were led by our large senior class, which earned the most wins of any of their four years."
Now the question is whether Jones can continue the Golden Knights' upward climb.
"We are trying to create a culture for development and a commitment to becoming better on an annual basis," Jones said.
Jim Madigan, Northeastern
Coach replaced: Greg Cronin. First-season record: 13-16-5 (9-14-4 Hockey East). School record in 2010-11: 14-16-8 (10-10-7).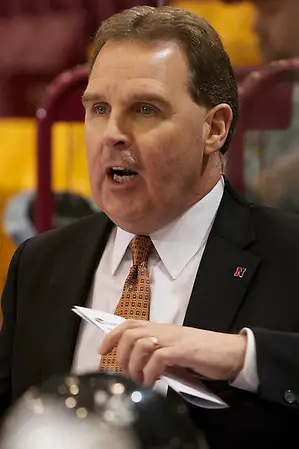 When Madigan took over Northeastern on Aug. 1, 2011, he was thrust into an almost impossible situation. Previous coach Greg Cronin left for an NHL job earlier that summer after dealing with potential NCAA infractions, leaving Madigan to pick up the pieces.
"When I took over there wasn't a lot of time to prepare and we couldn't put the players in situations where they could succeed," said Madigan, who played for Northeastern from 1981 to 1985 and then served as an assistant coach at the program from 1986 to 1993. "We were still finding out what their strengths and weaknesses were, but now that we're a year beyond that, we've reinforced the message about how we want our team to play."
Despite some early successes, including an eight-game unbeaten streak that ran from Nov. 18 until New Year's Eve, Madigan learned in year one just how fine the line in college hockey is between success and failure.
"We were a good team when we had our whole lineup," said Madigan, whose team finished in ninth place in Hockey East, just two points shy of sixth-place New Hampshire. "But for a variety of reasons we didn't always have [that], and we needed it because one more point would have earned us a berth in the Hockey East playoffs."
Mel Pearson, Michigan Tech
Coach replaced: Jamie Russell. First-season record: 16-19-4 (11-13-4 WCHA). School record in 2010-11: 4-30-4 (2-24-2).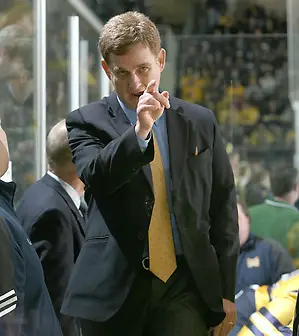 Pearson inherited a program in desperate need of fresh perspective. In the season prior to Pearson's arrival, the Huskies managed just four wins overall and only two victories in the WCHA.
However, using a never-content attitude learned in 23 years as an assistant coach at Michigan, the Michigan Tech alum (1981) guided the Huskies to a 16-win campaign and earned his league's coach of the year honor.
"We can't be satisfied just because we took a step forward last year," Pearson said. "We need to continue that forward progress and get better on a weekly and monthly basis."
With a talented group of freshmen making their way into the lineup, an opportunistic Pearson believes Michigan Tech can be an even more dangerous squad in the final year of the current 12-team WCHA.
"I'm optimistic but cautious about our prospects," Pearson said. "I expect us to be very competitive like we were last year, but one of things we have to avoid is the fact that we aren't going to be able to sneak up on anybody."
Andy Murray, Western Michigan
Coach replaced: Jeff Blashill. First-season record: 21-14-6 (14-10-4-4 CCHA). School record in 2010-11: 19-13-10 (10-9-9-5).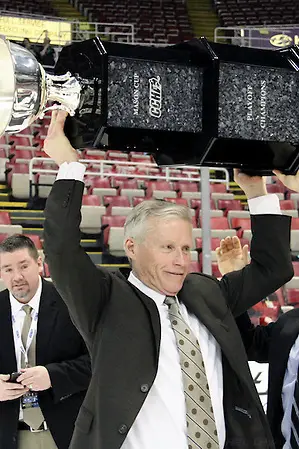 When Western Michigan hired the longtime NHL bench boss to be the hockey program's third head coach in as many seasons, the school was not looking for any surprises.
Instead, the Broncos were searching for right man to ensure that the emerging program would not slip back into the mediocrity it endured from 1996-97 to 2009-10, when the Western Michigan managed just one 20-win campaign.
The 2009 NHL Jack Adams Award winner did just that, guiding the Broncos to 21 victories, a CCHA playoff championship and a second consecutive berth in the NCAA tournament.
"[My first year] was lot like coaching at the NHL level because we had talented players," said Murray, who guided both the St. Louis Blues and Los Angeles Kings in the NHL. "They worked extremely hard and took a lot of pride in their efforts."
This season will be Western Michigan's last in the CCHA before the school shifts its orientation westward as a charter member of the National Collegiate Hockey Conference. Even though the school's 38-year home base is disbanding, Murray expects few easy nights in the CCHA's final year.
"We're going to endeavor to be ready for every game because we saw last year in the playoffs that anybody can win," Murray said. "We finished behind Ferris State and won the championship. [Meanwhile], Bowling Green finished at the bottom of our league, yet found a way to take Michigan into the [second] overtime of the CCHA semifinal game."